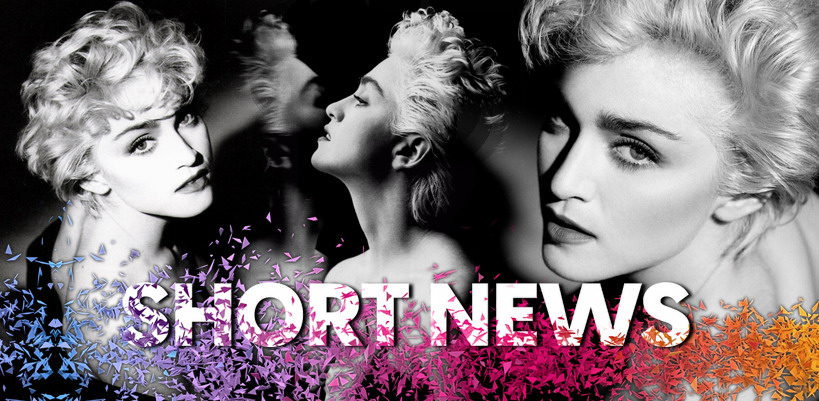 Adam Lambert on his "Ghost Town" vs. Madonna's "Ghosttown"
Adam Lambert says the only thing his new single, "Ghost Town", and Madonna's current single, "Ghosttown", have in common is the title. Issued just two weeks after Madonna's, Lambert explains his shock at discovering both artists were releasing singles with the same title at the same time….
Oh believe me, I thought about that for more than a second. When I found that out, my song was already finished, it had already been mixed, I had already kind of said, 'Hey, I think this is the first single,' and people were like, 'Yeah I think it is too.'

And I'm on my laptop on a little four-day vacation in Mexico and I open up my iTunes, I'm searching through, and I'm like, Oh, Madonna's music is out! I love Madonna! I've always loved Madonna — she's an icon, she's an amazing entertainer. And I see on the track listing a song called 'Ghosttown.' And I thought, What are the chances? What is the hell is going on here?"

My reaction was so complicated, because I think I texted my management, like, 'Did you see this? Did you see this? What are we gonna do?' And they said, 'You know, it's fine because the songs are so different.' Hers is like a post-apocalyptic love song, mid-tempo, and mine's like an existential dance goth rave thing. So they're two different songs — they just share a title.
Check it out…
In case you missed it, here is Madonna's "Ghosttown"…
Madonna banned by Islamic State in Iraq and Syria 'sex crackdown'
Islamic State (Isis) has published a list of banned words, including Madonna's name, as part of a widespread crackdown on "sexual" words and terms.
Also on that list are Nike clothing and footwear, the words "bitch", "whore" and "hussy" as well as religious terms such as "vicar" and "cross".
In leaflets distributed in Raqqa and published on 23 April by anti-IS Syrian activist group Raqqa is Being Slaughtered Silently, IS warns shopkeepers or market traders who sell Nike products could be fined, jailed or publicly flogged.
It is not the first time IS has moved to impose its draconian laws on fashion on the residents of the so-called Islamic caliphate. In April, it banned skinny jeans and activists say many young men have already been punished for flaunting the rule.
IS also banned table football and watching El Clasico, the football match between Spanish football giants Barcelona and Real Madrid.
In October 2014, Al-Qaeda called for a ban of McDonalds and Wal Mart, which it argued were "symbols of crusader globalisation".
Andrea Denver is interested in dating Madonna
A few ago Madonna shared a picture of a topless man on Instagram. It turns out that the guy in question is 24-year-old male model Andrea Denver, who was one of co-stars in Taylor Swift's Blank Space video.
According to TMZ, the model is keen to meet the singer…
I'd definitely go on a date with her.
He also reportedly said she was "really attractive".
Rebel 8 pac!! Hell to the Yeah!
Madonna Refuses To Loan Frida Kahlo's My Birth To Detroit Exhibition
A new exhibition at the Detroit Institute of Arts brings together nearly 70 works of art that depict the evolution of Diego Rivera and Frida Kahlo, including eight of Rivera's epic preparatory drawings for the Detroit Industry murals and 23 pieces by Kahlo, whose work has never before been shown at the DIA.
One that is noticeably absent is Frida Kahlo's My Birth (1932). The painting is owned by Madonna, a collector of the work of this well known artist. But it has now come to light that she has refused to loan it to the museum. The painting is just one of five that Kahlo created while in Motor City and the curators were unable to secure the masterpiece for the show. Mark Rosenthal, DIA adjunct curator for contemporary art told the Detroit News…
We tried to get it.
You have no idea what we went through.
But I can't describe all that.
DIA attempted for over a year to get the Madonna's approval to include My Birth, in the exhibition, which tells the story of the couple's brief time spent in Detroit (see Diego Rivera and Frida Kahlo Blockbuster at Detroit Institute of Arts Traces a Tragic Romance). In response, they received a curt email from Madonna's publicist…
We will not be commenting on this.
In 2005 the painting was included in the Tate's Kahlo exhibition and perhaps the DIA were overly confident that they would also have access to the painting, as Detroit is Madonnas home town.
DIA director Graham Beal said…
To many of us, her lending to the Tate was a bit of a surprise because she hadn't lent before. For a moment there we thought we might have a chance, but it just didn't work out.
Pam Marcil, the museum's PR Director, told artnet News…
There's really not much to say. We tried to get the painting for the exhibition and it just didn't work out.
Rita Ora keeps it together with Madonna
Rita Ora was back in London for less than a week before jetting back to Los Angeles on Thursday.
She arrived at LAX airport in Citizens Of Humanity 'Corey Slouchy Slim' jeans and a T-shirt featuring Madonna.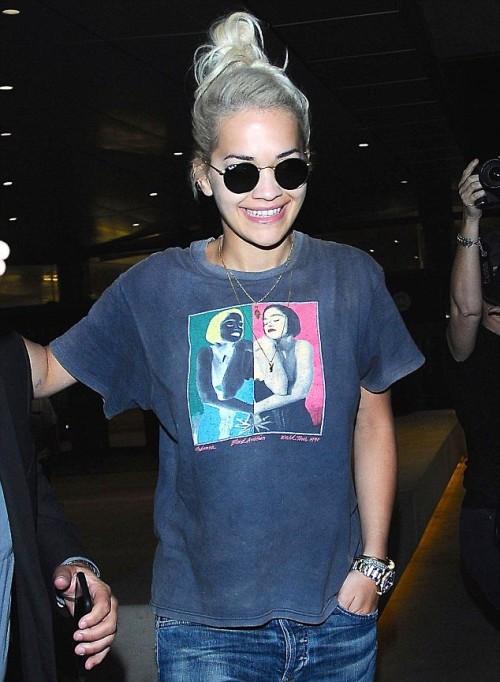 Madame X is available in Box Set, CD, Vinyl and Cassette!
Get your copy HERE!
comments powered by

Disqus