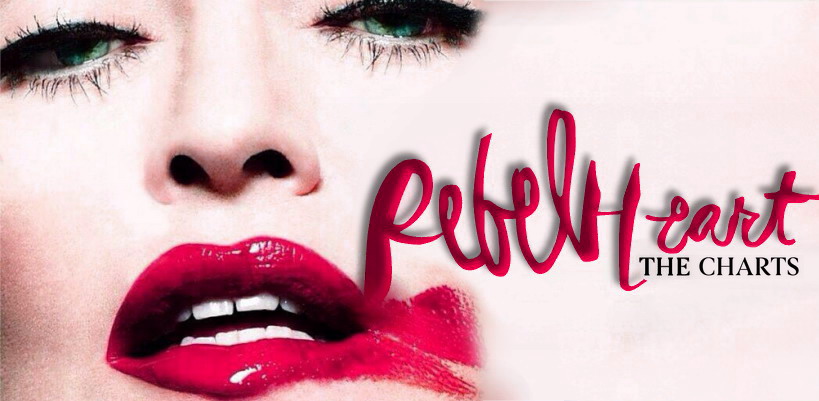 Update: "Ghosttown" debuts on Billboard's Adult Contemporary
Madonna debuts on Billboard's Adult Contemporary with "Ghosttown," the second single from her new album, Rebel Heart. First single "Living for Love" reached No. 36 on Pop Songs, aided by concentrated plays on iHeartMedia-owned stations; spins on certain AC stations in the chain likewise spur the start of "Ghosttown." (It bubbles under Adult Pop Songs, also thanks to iHeartMedia plays in that format).
The bow of "Ghosttown" ends Madonna's longest break from charting on AC: she last reached the list with "Jump," which hit No. 21 in January 2007. She makes her 36th visit to the tally. Since her first week on the chart in June 1984 (with "Borderline"), only Elton John (43), Celine Dion (41) and Rod Stewart (40) have made more appearances.
Madonna's "Rebel Heart" narrowly outpaced the "Empire" soundtrack to win last week's US album sales race. There was nothing narrow about its worldwide victory.
Per an estimate tabulated by MediaTraffic, "Rebel Heart" moved approximately 315,000 worldwide copies during its first week of availability. It was by far the globe's best weekly seller.
116,000 of the ~315,000 "Rebel Heart" sales came from within the United States.
—
The original article continues below:
USA #2
"Rebel Heart" wins the pure album sales race, but the "Empire" soundtrack has a greater first week due to streams and digital downloads.
"Rebel Heart" is number 1 on the album sales chart, but number 2 on the total chart, which counts streaming and all digital downloads. "Rebel Heart" will also finish at number 1 on Billboard's chart, as they now count everything, too.
Actual numbers, streaming plus sales:
#1 Empire – Soundtrack – 128,640
#2 Madonna – Rebel Heart – 121,972
#3 Luke Bryan – Spring Break… Checkin' Out – 95,158
Australia #1
Madonna's new album Rebel Heart has debuted at the top spot on the ARIA Albums Chart, becoming her 11th No. 1 in Australia, a run that stretches back to True Blue which reached the summit in August 1986.
UK #2
Madonna's latest album, Rebel Heart, had been in pole position throughout the week, but Smith's In The Lonely Hour sneaked ahead at the last minute.
In the end, he beat Madonna by 12,000 sales, the Official Chart Company said.
#1 Sam Smith – In The Lonely Hour
#2 Madonna – Rebel Heart
#3 Ed Sheeran – x
Rest of the world
Australia #1
Austria #1
Belgium #1
Canada #1
Czech Republic #1
Germany #1
The Netherlands #1
Portugal #1
Spain #1
Switzerland #1
Taiwan #1

Denmark #2
Finland #2
Singapore #2
UK #2
USA #2

France #3

Greece #4

Ireland #5
Thailand #5

New Zealand #7

Japan #8

Sweden #10
The album even received a few certifications…
Brazil – Gold (20,000 copies sold)
France (17,000 copies sold)

Madame X is available in Box Set, CD, Vinyl and Cassette!
Get your copy HERE!
comments powered by

Disqus