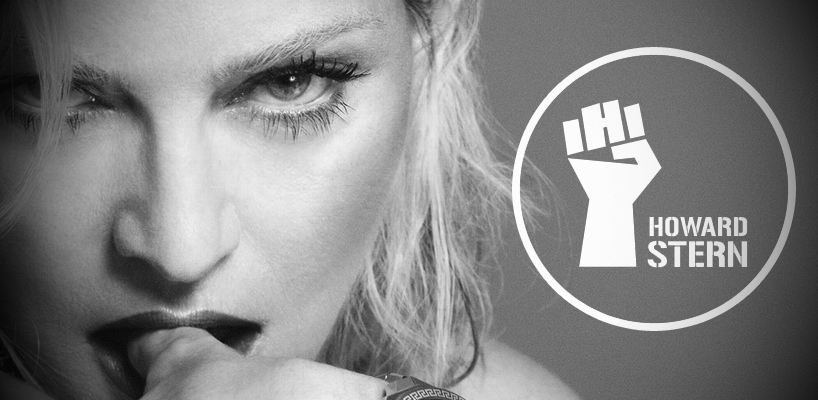 Update: Howard Stern and Madonna – Exclusive Video Highlights added
—
Howard Stern always delivers! He had one of the most interesting and candid interviews with Madonna!
Madonna took some time out of her busy schedule for a 1h30 interview and went right back to rehearsals for the upcoming Rebel Heart Tour and promo performances.
She also confirmed that "Ghosttown" will be the next single and the video will be shot next week.
She did have a cold, but that didn't stop her!
Some interesting quotes…
Howard Stern: I've been dying to get Madonna on the show!

Madonna: Can I say "shit" on the air?

Madonna: Super personal interview… my goodness.

Madonna: I'm pretty fun when I'm drunk.

Madonna just threw out a Beyoncé reference: Bow Down Bitches!

Madonna: My best songs are the ones that I write in a couple of hours

Howard Stern: Was Warren Beatty your best lover?
Madonna: I'm not going to answer that one. I'm pleading the fifth!

Howard Stern: Who's the love of your life?
Madonna: I'm not going there. We're not playing that game. Just shush (laughs)

Madonna: I believe in reincarnation.

Howard Stern: You have to come back!

Why did it take Madonna so long to appear on the Howard Stern Show?
Madonna: I didn't think you guys liked me…
If you missed it or just want to relive it, check out the full 1h30 interview…
—
The original article continues below:
Yesterday, Howard Stern himself revealed the big news: Madonna is going to be a special guest on The Howard Stern Show.
This is huge!
For those who don't know Howard Stern, no topic is off the table!
So get ready for a very interesting session!
The episode will be broadcasted on satellite radio SiriusXM on Wednesday March 11th at 1pm EST. Don't have a subscription? No problem, Madonnarama got contacted by Howard Stern's team to spread the word that every Madonna fan can listen to the interview for free!
Just sign up for a free SiriusXM trial and enjoy!
Here's the announcement…

Madame X is available in Box Set, CD, Vinyl and Cassette!
Get your copy HERE!
comments powered by

Disqus