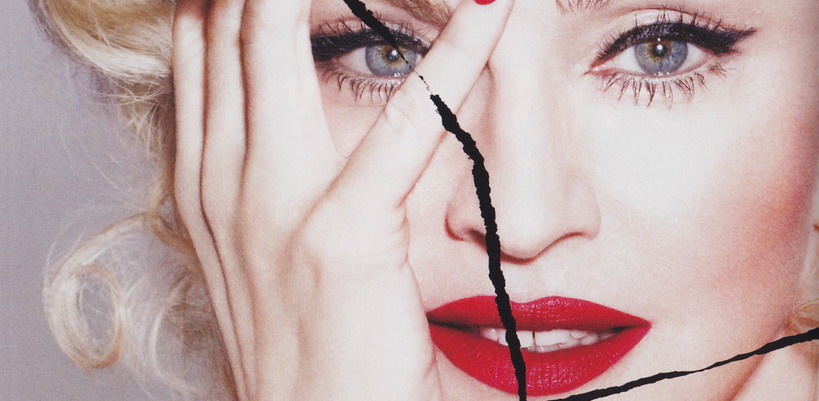 Dan Wootton spent Monday night with Madonna in New York where she gave her only UK newspaper interview to Bizarre on the day she released new album Rebel Heart.
The first part of this three-part interview has been published today.
Here's a transcript by Madonnarama…
Wootton brought up the topic of Madonna's seven-year marriage to Guy Ritchie and even suggested it feels like she rediscovered her voice after her divorce.
Madonna nods and continues…
I think when you get married, you have to be willing to make compromises and that's fair enough. However, I did find myself in a state of conflict.
There were many times I wanted to express myself as an artist in ways that I don't think my ex-husband felt comfortable with. There were times when I felt incarcerated. I wasn't really allowed to be myself.
It doesn't mean that marriage is a bad thing. But if you're an artist, you've got to find someone who accepts who you are and is comfortable with that.
On her family…
I'm the mom and dad. I'm the husband and wife.
I have an unconventional family. I've always had an unconventional family.
It is what it is.
On marriage…
Would I consider getting married again? Maybe. Never say never.
They have to be nice and everything.
I'm single. But I'd like to have a man around the house – that would be nice.
On ageism against women…
It's OK if Mick Jagger dates a 25-year-old girl but if I date a 25-year-old man, I'm, you know… it's ridiculous. It's so unfair. I mean, I don't get it.

I haven't felt it strongly until now. But I do think people have a hard idea getting their head around that a woman in her fifties could have fun, be adventurous, be silly, be sexual, have an active sex life.

They're all the things I was in my twenties and thirties and forties.
I don't know why I should stop now. Is there a manual for living?
On adopting again…
Oh my God, yes. If I could, I would. That's my extended family. There are so many wonderful children that i've watched grow over the years that I make sure are going to school. If I could they'd all be living on East 81st Street with me – one big happy family.

Madonna has revealed she felt trapped during her marriage to British film director Guy Ritchie – but wants to find a new husband.
On not joining Twitter…
It's too time-consuming.
Just doing Instagram takes a lot of my time. I've got lots of jobs and four kids. I'm sure if I was younger and starting my career I'd be doing all those things.
On Giorgio Armani calling her difficult…
I don't know why he said that. When I read it, I was like 'Oh Really?'
He made me a lovely outfit. I was very appreciative.
Afterwards he sent me flowers. He thanked me and applauded me for getting back on stage.
Madonna sings of handcuffs, blindfolds, high heels, perfumes, fishnets, belts, thigh-high boots and silk scarves on her raunchy new song S.E.X. Was this based on personal experience?
Yes.
[Fifty Shades of Grey] was actually quite tame. There was a little spanking, but I was a little disappointed about how little went on in the red room of pain. Just a red bottom, really.

I've never filmed myself. I've never made a sex tape.
I've done alot of sexually provocative things in my career. But the idea of filming myself having sex doesn't turn me on.
The ultimate act of intimacy is to be with one person in a room without any electronics involved.

[Sex] has become a big part of people getting their careers started.
At the beginning I think they were mistakes – then people realised how much publicity they could get out of it so it was sort of like, 'I'll make a sex tape and then it will accidentally get leaked.'
On Kim Kardashian…
I've never seen [Kim Kardashian's] TV show.
I've never seen her sex tape. I don't know the things that have made her famous so I don't have an opinion to tell you the truth. I know Kim, I've had a few conversations with her. She's a very sweet girl.
Does is surprise Madonna that Kim Kardashian has become one of the most famous women in the world without any discernible talent?
Without being an artist? Does it surprise me? I think it's a sign of the times.
On UK Prime Minister David Cameron…
I have not been following politics in England that closely. That said, I did have dinner with him once and his wife years ago when I was married.
They came over to our house. Guy [Ritchie] was keen on meeting him. I liked him.
On the troubled state of the world…
We're living in a scary time. It feels like the downfall of civilisation
Thanks to @keithbrichards for the scans

Madame X is available in Box Set, CD, Vinyl and Cassette!
Get your copy HERE!
comments powered by

Disqus