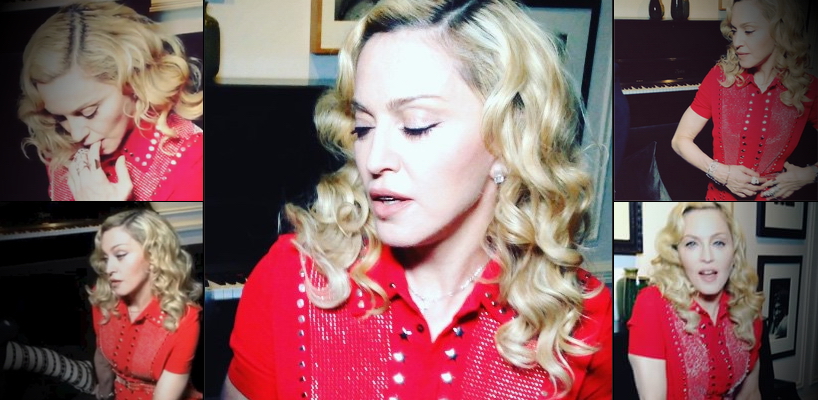 To celebrate the March 10th release of her new album Rebel Heart, Madonna will hosted an exclusive Instagram Q&A!
Fans could ask Madonna a question by posting a video on Instagram with the hashtag #AskMadonna.
Madonna was then going to film video answers to her favorite questions and post them to her Instagram & Facebook pages!
Here are some of them…
zizibello: Which song do you want to sing most on tour?
Madonna: I'm really looking forward to Holy Water.

Alinattybee: Can you incorporate yourself in one word?
Madonna: I can incorporate myself into three words: Bitch, I'm Madonna

@katerina_mandarina: What sort of question about Russia would you raise if you had a chance to meet with Vladimir Putin?
Madonna: Bitch get off my pole.

jayjaywilson_76: Can you please replace the speakers on my car? I've been playing Rebel Heart too loud.
Madonna: Depends on how much it costs, what will you do in return? Earn those speakers bitch.

madonnasfffu: If the world would really turn to dust tomorrow, what would you do today?
Madonna: Chatting with my fans

_malin4ik_: Do you remember you kids' fist words or just some other funny words they've ever told you?
Madonna: "No" is the first word my daughter said to me and she's still saying it.

billyasksmadonna: You say New York city was more fun in the 80s. What's something that's actually better about New York today?
Madonna: THere are more vegan restaurants, more whole foods… thats it.

1ofdem: I want to know if you regret not releasing a song as a single from any of your previous albums? In my case I wanted "Thief of Hearts"
Madonna: Thief of hearts is too submersive, it would never get played on the radio.
The video replies…
Have you ever slapped a sock? #AskMadonna #bitchimasock #rebelheart
Thank You @instagram #livingforsocks #rebelheart
@Alinattybee i have 3 words for you #AskMadonna #bitchimmadonna #rebelheart
@zizibello thank you Zorian #AskMadonna #bitchimasock #rebelheart
Just dropped my new record so I'm celebrating with my sock! #bitchimasock #rebelheart

Madame X is available in Box Set, CD, Vinyl and Cassette!
Get your copy HERE!
comments powered by

Disqus