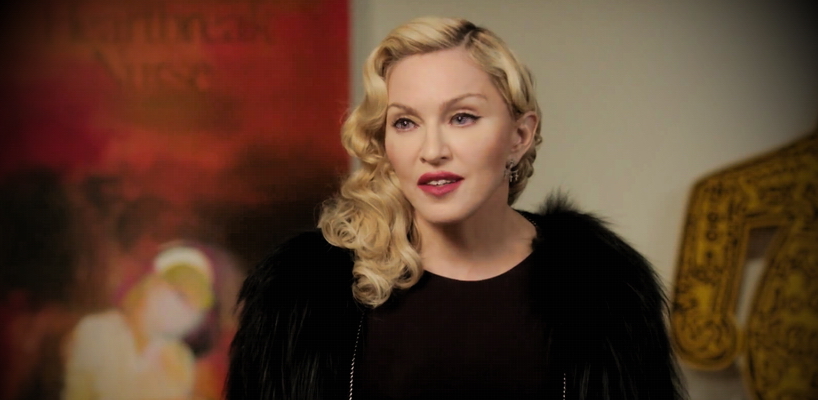 Last night, Complex' Sean Evans had a very chill and relaxed 20 minute interview with Madonna. The full interview will be posted on Monday 9 March at 10am.
According to Madonna, Kanye West was initially interested in going through all of the Rebel Heart tracks and offering feedback, as Rick Rubin did for Yeezus. But because of West's schedule…
He ended up only working on four songs, and then we wrote another song together, which is going to be on his record
In addition to a new song with West, Madonna also hinted that she and Drake's mutual Instagram appreciation has led to a real-life collaboration…
We're gonna work together. Yeah, baby, it's in the pipeline.
Here's a preview…
That same night, Madonna was also interviewed by The Associated Press.
She says thanks to staying active, she didn't suffer much after falling during her performance at the Brit Awards…
If I wasn't in good shape — tuck and roll. I attribute a lot of the fact that I came out all right because I'm in good shape.
Madonna said she's switched up her workout routines over the years to "keep things interesting, shock my body."
I still do a lot of dance cardio. I started doing yoga again. I do interval training, metabolic interval training … jumping ropes; something called body art. It has to change. You get bored doing the same thing over and over again.
Anywhere from 120-128 beats per minute is a like good tempo for me.
Madonna added that her iPod currently is playing EDM producer Kidnap Kid and Diplo, who produced some of her new album "Rebel Heart," out next week. She's also been listening to electronic duo Disclosure and rapper Drake – acts she may collaborate with in the future.
I almost worked with Disclosure, but it didn't work out because they were on tour while I was making my record. I don't know, maybe I'll collaborate with Drake.

Madame X is available in Box Set, CD, Vinyl and Cassette!
Get your copy HERE!
comments powered by

Disqus