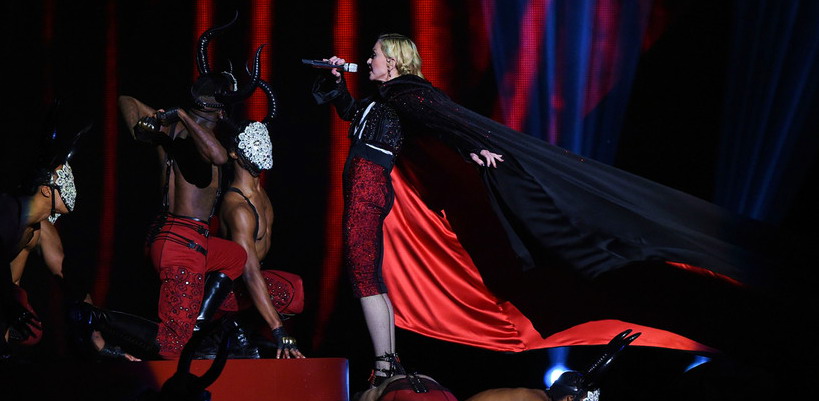 Last week, Madonna fell onstage while performing at the Brit Awards in London. The singer quickly recovered and impressively performed the rest of the choreographed number. Afterwards, she blamed the tumble on her Armani-designed cape, which was tied too tight for her to remove.
She told ITV's Jonathan Ross…
Everybody was worried that my cape was going to slide off because it's quite heavy, so they tied it really tight around my neck. So here I am marching in like a queen, and I got to the top of the stairs and I pulled my silky string, and it would not come undone. And my two lovely Japanese dancers basically strangled me off the stage. I had a choice: I could either be strangled or fall with the cape, and I fell.
In an interview with the Associated Press, Giorgio Armani revealed that he tried to use a different fastener on the piece…
Madonna, as we know, is very difficult. This cape had a hook and she wanted a tie, and she wasn't able to open it with her hands. That's all there is to it.
Here is the full BRIT Awards performance…

Madame X is available in Box Set, CD, Vinyl and Cassette!
Get your copy HERE!
comments powered by

Disqus