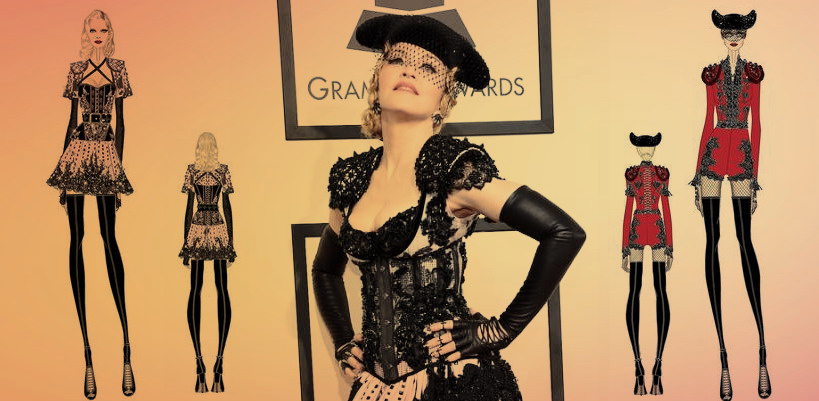 Style.com chatted with Riccardo Tisci and stylist B. Akerlund who worked on Madonna's look for the 57th Grammy Awards.
Tisci collaborated with Akerlund and Madonna on two custom Givenchy Haute Couture looks—a pastel and black corset dress for the red carpet and a crimson leotard, jacket, and cape for the stage—that brought something extra to the ceremony in a way only Madonna can. Madonna's team and the Givenchy team had been working together on the Grammy looks since Christmastime.
Tisci's creations took 50 people 2500 hours of hand-beading the couture tradition, but it was worth it…
Tisci explained…
Madonna is a real life friend and working with her is always effortless, like collaborating with family. We created a Matador inspired set of Haute Couture pieces to match her theme of "Living for Love." I loved the idea of her as this Givenchy warrior in full Couture embroidery and color blocking.

M is famous for knowing how to take a risk in multiple fields at the same time, and as usual, we all saw how it pays off.
Akerlund said…
Me and Madonna love collaborating with [Givenchy] because we did the Super Bowl together, and we thought that it would be perfect to call Riccardo again. They're really good friends and we thought he'd be perfect to do the iconic [Matador look], and we wanted him both for the performance and the red carpet to do the theme.

I think the whole relationship between the matador and the bulls is something that we find a beautiful relationship, and [we] played with that—how she's killing off the bulls and she's the matador standing in the end. There's a beautiful story for why the matadors fight the bulls and that also reflects life.

I love bling, so we always have lots of bling up to the last minute. I always like to do bling last because it's hard to predict what might work for the performance and what she can dance with and all those things factor in the decision making of adding jewelry— everything goes down to the performance, if it works or not.

We and the Givenchy team are closely married. It's a gut feeling. I always go with my gut. I like it, she likes it. If I don't like it she doesn't like it. That's how I weigh it. I've worked with her for like nine years now, so I feel like I understand what she likes and it goes along with my personal taste and what I like. We're definitely in a matador world and we're owning it.
In addition to Givenchy, Madonna wore Miu Miu shoes, Lynn Ban earrings, and rings by Loree Rodkin and Elise Dray to perform and earrings and ring cuff by Yeprem and rings by Lyn Bann on the red carpet.

Madame X is available in Box Set, CD, Vinyl and Cassette!
Get your copy HERE!
comments powered by

Disqus