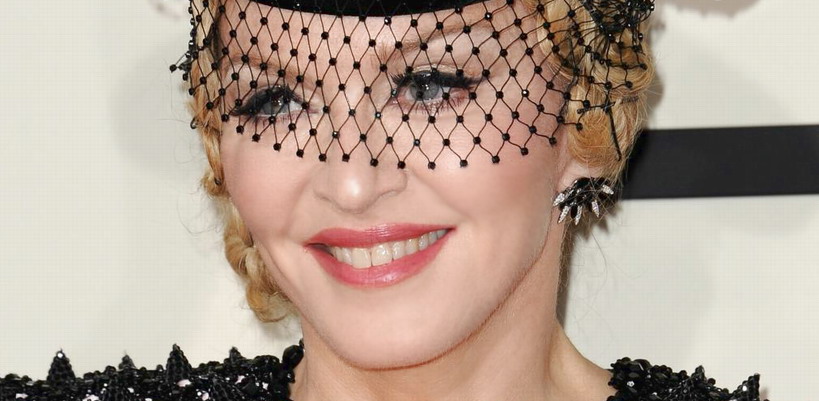 After last night's Grammy Award performance, Madonna called Ryan Seacrest while still lying in bed and gave a radio interview. She also called it "the most decadent interview she has ever done."
Here's a transcript by Madonnarama.
About the Grammy Awards…
It felt amazing.
Doing live tv is always super never wracking.
So many possibilities of everything going wrong.
We've had a lot of rehearsals.
It went really well.

The one thing everyone forgot to do,was tell me when I could sit up [in the harness].
So, I'm laying back there, like forever… in this super extreme backbend, hanging over the audience. I was like "Can I sit up now? Is the camera off of me?"
It was the one moment everyone overlooked. Eventually, I sat up and was like "Screw this, my back is killing me."
About showing her ass on the red carpet…
I had an inspired, accidental wardrobe malfunction moment.
For lack of a better phrase… it was just me having fun, being cheeky. No pun intended.
That was a part of my Rebel Heart.
About Diplo…
Diplo is incredibly charming, but the dude has ADD times a billion. Getting him to pay attention… So I was like the school teacher "Guys, guys, we have to finish this song! Can you stop tweeting? Stop talking to that girl. No, you can't leave right now to go to a red carpet event."

People have their personalities and their work habits. I was up a lot, late. People have very strange work hours. I kept going "Look, I have to get up in three hours, cause my kids are going to school. Can we finish this?"
About Mike Tyson…
I just called him. I got his number.
I had recently seen his HBO documentary, which I thought he was incredibly funny and inspiring in. I wanted him to be in the song that I wrote, called "Iconic", because I do believe that he is iconic. He is one of those people that survived so much… been to hell and back.
I find him inspiring. There aren't a lot of people like him right now.
That dude has earned his place in the world. He's made a mistake. He's worked hard. He's a legend. There's no one like him. I wanted him on the record.
He doesn't rap, he doesn't sing, he kind of goes on a rant about being the greatest, but what it takes to be the greatest.
He was wonderful. He was actually one of my favourites.
The only thing he asked for was red vines.
Will you go on tour?
Yes, I'm going to tour.
I'm a stage girl.
What should people know about Living for Love?
It's a song about taking a bad situation and turning it into something good. Having your heart broken and instead of being bitter about it, learning about it and rising above it.
Recognising that you deserve better.
I hope that it inspires people, because we've all had our heart broken. People can become bitter about love afterwards. I'm not, I'm a hopeless romantic. That's what the song is about.
About marriage…
I'm not gonna say never. Maybe… if the right person came along.
Here's the full interview…

Madame X is available in Box Set, CD, Vinyl and Cassette!
Get your copy HERE!
comments powered by

Disqus