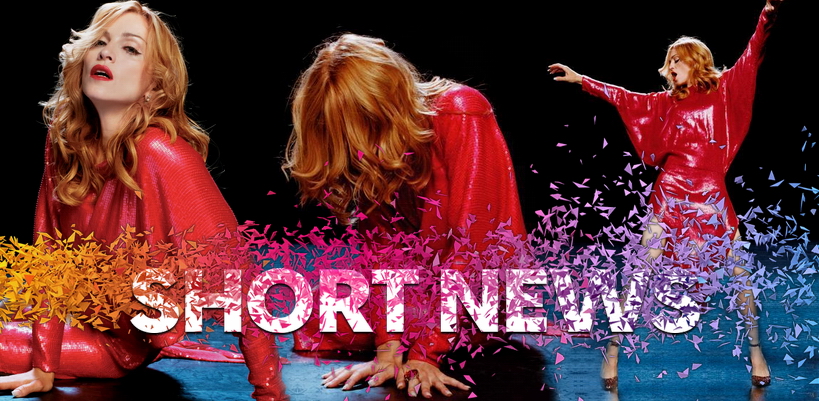 A$AP Rocky wants to fuk Madonna
VH1 reports that an hour before rapper A$AP Rocky premiered his new video for "Lord Pretty Flacko Jodye 2," he engaged in a Q&A with fans on his Tumblr and RESPONDED IN ALL CAPS to questions about past and perhaps future romantic conquests.
One fan, user foreveryungfam, posed a question about A$AP Rocky's "ultimate sexual fantasy and/or fetish," to which Rocky responded…
I JUST WANNA FUK MADONNA OLD ASS B4 I DIE, FEEL ME, CAN U BLAME ME ?
Madonna Spotify Playlist
Madonna revealed her Spotify playlist, available HERE!
Check it out, share and enjoy 1h30 of music chosen by Madonna!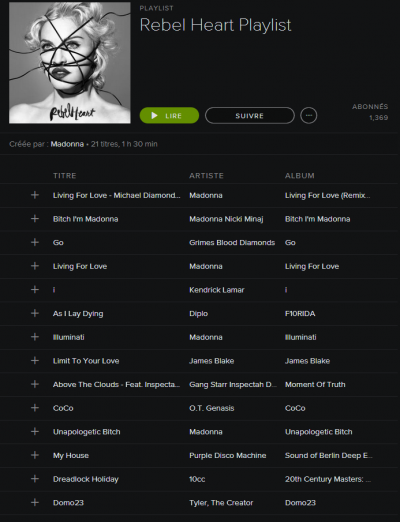 LL Cool J: I was excited to see Madonna at the Grammy Awards
Yahoo Style chatted with LL Cool J. about the Grammys and what it's like to run the show every year.
When asked if there was anyone that gets him star-struck he replied…
I'm excited to see Madonna. I think star-struck is a little strong, but definitely excited. I admire her career. I admire her intelligence. The way she's built her career and her brand, and as a woman grow old gracefully. Being in shape and taking care of herself. I think that's very admirable.
Kim Kardashian listened to Erotica on repeat
Kim Kardashian listened to Madonna during a sexy photoshoot session for Love Magazine.
She posted the following on Twitter…
Morrissey still doesn't like Madonna
Morrissey has published an online rant about the Brit Awards, accusing them of killing off British music while giving unnecessary airtime to "frightening" Madonna and the "rank fraud" of Taylor Swift.
In 2015, we have MacDonna, who had a quiet 2014 (but who is quite usefully about to release her new album!), yet here she is again promoting her frightening career on the Brit Awards even though her music has not ever said anything at all about British life.
Charlie Hides goes "Living for Gloves"
Check out Madonna fan and comedian Charlie Hides' latest Madonna parody, "Living for Gloves".
What do you think? Hilarious or too bitchy?
Hard Candy Wants Madonna Deposition Taped In TM Fight
Cosmetics maker Hard Candy LLC urged a Florida federal judge to allow it to videotape the pop star Madonna's upcoming deposition in a trademark suit alleging she infringed "Hard Candy" trademarks with clothes and other goods to promote fitness DVDs, saying there wasn't enough evidence the video would be leaked.
The plaintiff claimed it would be prejudiced if it wasn't allowed to videotape the deposition and thus requested that the judge undo a magistrate judge's decision preventing it from doing so.
Ricky Martin Remembers His Historic Grammy Performance, Getting Love From Madonna
Ricky Martin remembers meeting Madonna after his Grammy performance…
Madonna showed up in my press conference that night. I already knew her – I'd met her years before that. She's always been extremely kind and very respectful. When she walked onstage at the press conference, I was like, 'Yeah, hey hey, what a moment!"
Sofia Boutella: Madonna treated us like actors
Sofia Boutella, talked about her experience as dancer for Madonna during an interview with the Daily Telegraph…
Working with Madonna, she always told me the meaning behind the steps and why I was doing these steps — she treated us like actors. So I feel like I've always been an actor, truly.
SEX is not the No. 1 most searched-for out-of-print book in America anymore
For the first time since 2010, Madonna's coffee table book "Sex" is not the No. 1 most searched-for out-of-print book in America.
That honor now belongs to Norman F. Dixon's "On the Psychology of Military Incompetence" (Basic, 1976).
"Sex" has fallen all the way to No. 3, giving up the No. 2 spot to the always arousing "Lovely Reed: An Enthusiast's Guide to Building Bamboo Fly" by Jack Howell (Pruett, 1998).

Madame X is available in Box Set, CD, Vinyl and Cassette!
Get your copy HERE!
comments powered by

Disqus