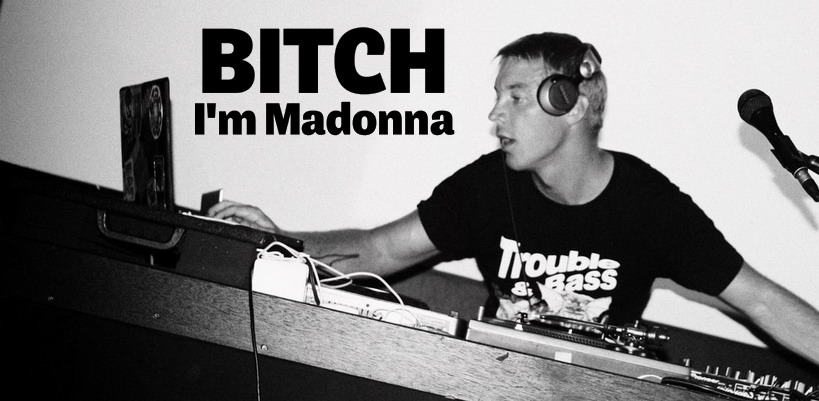 Diplo launches 2015 with a powerful 2 hour solo mix on BBC Radio 1 Xtra, featuring a mind-blowing collection of today's biggest mainstream tracks and underground hits, including an exclusive "Bitch, I'm Madonna" remix.
It starts around the 1h14m51s mark, check it out…
Here's the full tracklist…
Tracklist:
Jack Ü – Take U There ft. Kiesza (#NolaSwiftRmx) X Diplo Theme
Yellow Claw, Cesqeaux & Tropkillaz – General
Quickie Mart – A$$ Rotation (Smookie Illson Remix)
Nas – Made You Look (Aazar Remix)
Busta Rhymes & Pharrell Williams – Pass The Courvoisier (DJ Scooter Twerk Remix)
DJ Kool – Let Me Clear My Throat (Party Favor Remix)
DeeWunn – Mek It Bunx Up ft. Marcy Chin
Shabba Ranks – Ting A Ling (Deejay Dario Bootleg)
Jeremih – Don't Tell 'Em (Falcons & Promnite Trap Remix)
Major Lazer – Come On To Me ft. Sean Paul (TWRK 2 TomSsize Trans)
Stinkahbell – Film Noir (Trap Refix)
Rickyxsan – Like This (Original Mix)
Shelco Garcia & Teenwolf – That's My Jam (Hasse De Moor Remix)
N*E*R*D – Everybody Nose (Spydat.E.K. 'Hundreddollabill' Remix)
Remedy – Cake
Beyoncé – 7-11 (Jack Ü Remix)
Flosstradamus & TroyBoi – Soundclash
Joker – Midnight
Rudimental – Ella Eyre (RVBRA Bootleg)
Boys Noize – Dog Blood Vs. Josh Wink
Party Thieves & ATLiens – Chief
YOGI – Burial
Robin S. – Show Me Love (Benzi X Alvaro Edit)
Wiwek – Ground Shake ft. Stush
Tiga – Bugatti (Jauz Remix)
Criminal Vibes – Push The Feeling On
Botnek – Vikings (Bixel Boys Remix)
Cobra Effect & Duke Dumont vs Oliver Heldens – 100 Percent Vs. Gecko ft. A*M*E* (Cobra Effect Biteleg)
Tchami – Promesses (Pep & Rash Bootleg)
Kaskade & deadmau5 – I Remember (Shiba San Remix)
Ariana Grande & The Weeknd – Love Me Harder (Gregor Salto Amsterdam Remix)
Tony Romera – Dear François (Original Mix)
Zeds Dead & Oliver Heldens – U No
Justin Martin & Ardalan – Function ft. Partypatts
Boys Noize – Yeah
Champion – Execution
Hasse De Moor – Voodoo
Torro Torro – Ca$hville
Madonna – I'm Madonna ft. Nicki Minaj
Alvaro, Carnage & Flosstradamus – The Underground Anthem (Grandtheft Edit)
Diplo & Alvaro – 6th Gear ft. Kstylis (GTA Remix)
Busta Rhymes – Twerk It (RVBRA Bootleg)
Trey Songz & Nicki Minaj – Touchin Lovin (DJ Fire JerseyClub Remix)
Mr. Postman – (AMG REMIX)
Salva & Brenmar – Let Me Bang (Pyramid Juke Remix)
4B & Gianni Marino – Hands Up
deadmau5 – Some Chords (Dillon Francis Remix)
Galantis – Runaway (U & I) (Kaskade Remix)
Bunji – Differentology (Major Lazer Remix)
Yves V vs Enur – Manga Calabria (Sikduo Edit)
Wuki – Backdown
Jesse Slayter & Wuki – That's Right
Champion – Listen Da Bass ft. Serious One
Tujamo – Hey Mister
A$AP Mob – Hella (Jauz Hella Deep Remix)
Pep & Rash Bootleg – Rumors
Jack Ü – Take U There ft. Kiesza (TJR Remix)
Knife Party – EDM Trend Machine
Tim Berg – Seek Bromance (Jerome Price Remix)
Major Lazer – All My Love (Mendoza Remix)

Madame X is available in Box Set, CD, Vinyl and Cassette!
Get your copy HERE!
comments powered by

Disqus