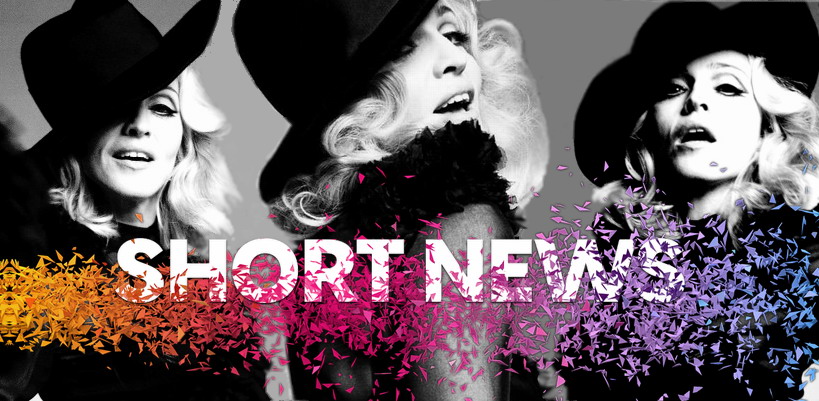 New "B*tch I'm Madonna" t-shirts
The official Madonna store has just added two different "B*tch I'm Madonna" t-shirts. Pre-order your favorite design now and let the world know how much of a Rebel Heart you are!
Icon members can get a 10% discount, but they need to be logged into Madonna.com and to click on the 'Store' link found on the site's homepage.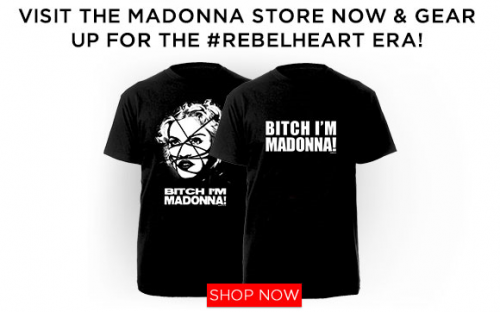 Anderson Cooper would rather have sex with Madonna than Cher
Anderson Cooper appeared on Andy Cohen's Watch What Happens Live and played "Plaid the Fifth" with Kelly Ripa.
Here's a transcript by Madonnarama…
Who would you rather have sex with: Madonna or Cher?
Oh, that's an impossible choice!
That's like Sophie's choice… I can't decide.
Neither would be interested in having sex with me, so…
I'm more familiar with Madonna's oeuvre, so I'll go for Madonna.
Andy Cohen really wants Madonna on his show
During a Q&A with Andy Cohen and Sarah Silverman at the Writers Bloc back in November, he was asked which celebrities he'd really like to get on his show "Watch What Happens Live"
Top 3 people who you really would covet to get on your show?
I would say… Michele Obama, Madonna and Beyoncé.
The Madonna question is around the 19:15 mark…
Living for Love Djemba Djemba Club mix
The first official remix of Madonna's "Living for Love" is the club mix by Djemba Djemba and has been sent out.
She told me I would Die Another Day…
No Valentino New Year's Eve party because of Madonna
According to Page Six, Valentino didn't throw his annual New Year's Eve party in Gstaad, because Madonna brought her kids at last year's bash.
Their source says…
Valentino's party last year had a 'no kids' rule. But Madonna brought all her kids anyway, and it screwed up the seating for the party.
Living For Love (Tracy Young Remix)
Piers Morgan can't stop talking about Madonna
Piers Morgan was a guest on the Meredith Vieira Show and when asked which celebrities he banned and why, he replied…
Madonna was always the first one I banned, because she's so incredibly annoying. I just find her one of these people that always wants to shock and offend us. It's fine when you're 22. It's a little bit awkward when you're like 58…
He probably forgot the letter he sent to Madonna's manager Guy Oseary asking for her to be one of his guests…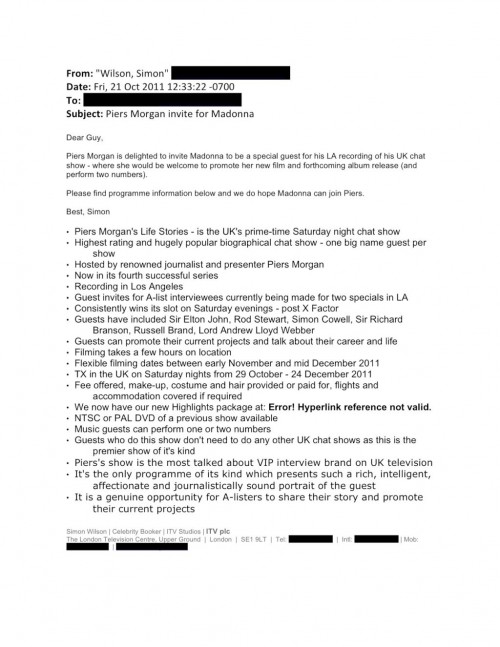 Material Girl Spring 2015
Material Girl just launched their Spring 2015 collection.
Madonna and Lola said…
Zendaya personifies the Material Girl, she loves to have fun and is constantly experimenting with trends. Her daring personal style and high energy made her the perfect face for our new collection.
Zendaya stated…
Shooting this campaign was so much fun! I love the new Material Girl collection, it's all about bold pieces that you can mix and match. All of the looks are girlie with a little bit of tough edge to it — very much like my own style!

I am very excited to be working with Madonna and Lola again and continuing to work with them for another season — it has been fantastic so far. I think Madonna is one of the biggest influencers the world has every seen, in fashion. She created a style. If anyone were to do that nowadays, it's like 'No, that's Madonna.'

First of all Madonna knows who I am, check. Bucket list, I'm over. That's all I need. When Madonna Instagrammed a picture of me I think I died, came back to life again, then I had a party, and then I died again, came back again, went to heaven, said hello to everybody, came back down and here I am. It was crazy, it was awesome.

Madame X is available in Box Set, CD, Vinyl and Cassette!
Get your copy HERE!
comments powered by

Disqus