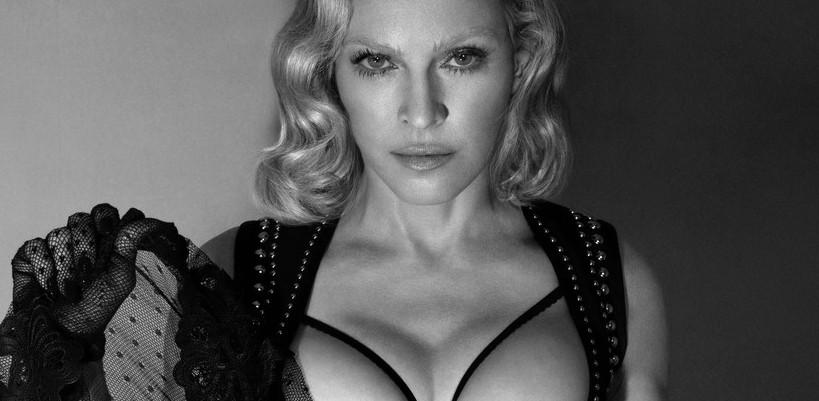 Madonna's latest photoshoot by Mert Alas and Marcus Piggott for Interview Magazine has everyone talking.
Here's an overview, including transcripts by Madonnarama…
The Talk (TV show)
Sharon Osbourne…
There's no age limit on it.
If you're beautiful and you want to share your body, we all got the freedom to do that.
However… I do think that she must be very insecure as a women and I think she is insecure about her age, because she constantly has to keep showing it.
It's not on an occasion… it's constant.
I think that comes from a place of insecurity.
Sara Gilbert…
I don't know if she's insecure or not… she's always done this. She's always posed in provocative ways.
Aisha Tyler…
I do think that there's something more provocative about doing it at 56. It's like "yeah, I'm a 56 year old woman".
She looks better than a lot of 36-year old women.
If I had Madonna's boobs, I would definitely show them.
Sheryl Underwood…
You are never too old to go topless.
The Wendy Williams Show
The Madonna segment starts around the 16min25 mark…
I think she looks terrific, haters.
I'm not offended by a 56-year old woman, who's a pop star… not the nurse or the school teacher… a pop star. I'm not offended by her dressing like this.

What I think I don't need, is the lust phase… I don't need that part.
Let me just tell you… every man on our staff, gay and straight, gives her tens accross the board.
Everything is sitting lovely. They're not saggy, they're not swinging down here, they're good.
I'm not offended by this.

Kim Kardashian got totally naked and for what? Madonna's been doing this for decades. She gets naked so much and does provocative things so much, it's not longer provocative.
I also feel that Madonna showing her boobs, but having on the rest of her clothes is more artsy… When I said that during our morning meeting, I was informed by my staff that this was the art issue of Interview Magazine.
Kim Kardashian
This new @Madonna shoot for Interview Mag is EVERYTHING!!! She looks soooo good! Bravo Mert & Marcus!

— Kim Kardashian West (@KimKardashian) December 3, 2014
The View (TV show)
Rosie O'Donnell…
I've seen them, but not in real life. Actually I have but not in that way. We're friends, get over it. The thing is, she's beautiful and proud of her body and always has been.
Express yourself, don't repress yourself.
If my titties looked like that, I'd be nude right now.
Nicolle Wallace…
If I looked like that, I would be naked all the time.
Loose Women (TV show)
Annie Lennox
I did get things off occasionally but not to that extent. I don't think it's down to me (to judge Madonna) … I think already the verdict is probably out, would you not agree on that one? I think the question is, 'What is Madonna telling us?' Anybody know?
'Loose Women' panelist Janet Street Porter interjected, saying…
I think it's attention seeking.
To which Annie Lennox replied..
I think it is.

Madame X is available in Box Set, CD, Vinyl and Cassette!
Get your copy HERE!
comments powered by

Disqus