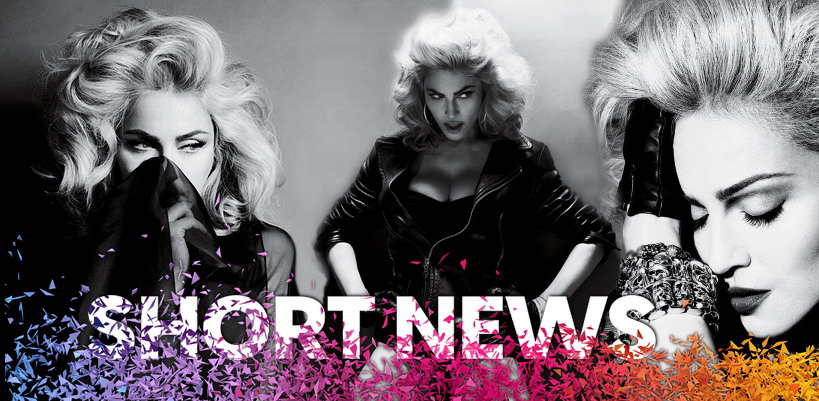 Simon Cowell: Madonna won't perform at the X Factor final
Simon Cowell told Metro that Madonna won't perform at this year's X Factor final…
Is there any artist I want on the show I haven't had before? Madonna.
Will she be on the final? I don't think so. But always next year. We always send an invite out.
Anna Wintour compares Kim Kardashian and Madonna's first Vogue cover
Before Kim Kardashian's controversial nude Paper Magazine cover, made its rounds of the internet, she was first featured in another controversial magazine cover earlier this year. Kim's appearance with her husband Kanye West on the April issue of VOGUE magazine has been the source of a lot of criticism both for the couple and the magazine.
During an interview with former CNN correspondent Alina Cho, she said…
I think if we just remain deeply tasteful and just put deeply tasteful people on the cover, it would be a rather boring magazine!
The first celebrity that I put on the cover of Vogue was Madonna, and that was considered completely controversial at the time, too
She said that nobody remembers the uproar about the Madonna cover but the move generated a buzz much like Kimye on account of Madonna's image as a controversial figure. She stated further that the magazine should reflect what is going on in present day culture because at the end of the day, what's important is that the magazine gets talked about.
Jeremy Scott: Madonna taught me about being a Leo
Jeremy Scott has released a new retrospective book and thanks Madonna for teaching him about being a Leo.
During an interview with NYMag he went more into detail…
She very astutely pointed out, when she realized that I was a Leo as she is, that we have a hard time asking for people's help. Even in the most small way, it's very difficult. She helped me get better about it, because I didn't realize how bad I was about asking for people to help in any kind of way, because I guess we're fiercely independent and feel like we have to do things on our own or whatever. But I've been better about realizing that it's fine, I'm human, I can ask for people's help, and it's not a bad thing. So she definitely helped, and I'll remember it all the time. There will be things where I'll be all clammed up inside, and it's like, It's okay, you can ask.
Nile Rodgers: Do as Madonna says
During a recent interview with Q magazine, Nile Rodgers gave Q magazine one of his golden rules for life…
Do as Madonna says.
When I did Like a Virgin, I thought Material Girl was the best song to lead with. Madonna was convinced it was Like a Virgin. But I was like, 'Material Girl's ten times better.'
She taught me that it was about being a girl, losing your virginity, and how relevant a lyric like that would be. Sometimes there's an intellectual component to a record that can trump its primal component.
Veronica Maya's "Material Gil" nip slip performance
Veronica Maya performed a cover of Madonna's "Material Girl" on "Tale e Quale Show" a sort of Italian answer to "America's Got Talent" or "American Idol.
The performance didn't really go as planned…
Ariel Pink: Interscope actually called and asked me to work with Madonnna
Ariel Pink made headlines after revealing he was working on Madonna's upcoming album, while critisizing her previous work. He then blamed the journalists of taking his words about the collaboration, which has been denied by Guy Oseary, out of context.
Now he says that Interscope actually called him…
I was only repeating what Interscope told me about why they needed me. They're not my opinions. It's clickbait journalism. The media lies to us all the time, and we always believe the media.
What do you think?
Andy Cohen: Madonna is everyday people
Andy Cohen, has just released his personal, top-secret musings on a panoply of celebs, The Andy Cohen Diaries. In it, he dishes on his employees, his besties, a lot of others things and… Madonna.
When I [later] marveled that she was on a commercial plane, she texted that she does it all the time. She said she is 'everyday people.' Uh-huh … She said it's too expensive flying private all the time and that you can feed a lot of people with the amount it costs to fly back and forth from LA.
Dermot O'Leary: I went to a cocktail bar with Madonna
Dermot O'Leary stopped by eat Towers for a chat on Heat radio with Lucie Cave about all things Dermot ahead of the release of his biography Soundtrack To My Life… including Madonna!
Halfway through the interview, she said 'What kind of cocktails do they do here?' and immediately you're like 'THINK OF A THING! AAAAH I DONT KNOW!' and then someone saidthey had mojitos so she was like 'OK after this we're going to have mojitos'.
You think, well, we're not really going to are we. After the interview, your PR is going to whisk you away and I'm never going to see you again, but its a nice thing to say. We wrapped the interview, and she said 'OK come on lets go!' so fifteen minutes later, myself and my producer (who was beside himself) and two quite bemused cameramen were at a cocktail bar.
But what did they talk about?!
Oh, smalltalk. That's the lovely thing about our job, with big stars you always find commonality, people are either 'people people' or they're not and obviously Madonna is her own woman, and really strong, but i found her really personable!
SPIN magazine 1985 Madonna cover story
For the celebration of the 30th anniversary of Madonna's "Like a Virgin", SPIN magazine digged through their archives and published the original 1985 cover story…
Here's a snippet…
I couldn't be a success without also being a sex symbol. I'm sexy. How can I avoid it? That's the essence of me. I would have to have a bag over my head and over my body; but then my voice would come across, and it's sexy.

If I were a girl and knew me, I'd want to dress like me. If I were a guy, I'd dress either like Gregory Peck, when he was really young, or James Dean. I'd either wear ripped jeans and a T-shirt or a suit and tie.

I wouldn't like to sleep with a guy who was a virgin. I'd have to teach him stuff and I don't have the patience. I'd rather deal with experience. When I say virgin, like in my song, I'm not thinking about sexual virgin. I mean newness. Even after I made love for the first time, I still felt like I was a virgin. I didn't lose my virginity until I knew what I was doing.

I get so much bad press because people associate a girl who's successful with a bimbo or an airhead. Sexy boys never get bad press. Do you think they'd bug Prince if he pulled out his dick on stage? If I ever did something like that, I'm the slut of the year.
Check out the full article at spin.com
Ariana Grande listens to Madonna
During her InStyle magazine December cover shoot, Ariana Grande listened to Madonna's "Ray of Light" and "Like a Virgin" to get into the groove.

Madame X is available in Box Set, CD, Vinyl and Cassette!
Get your copy HERE!
comments powered by

Disqus