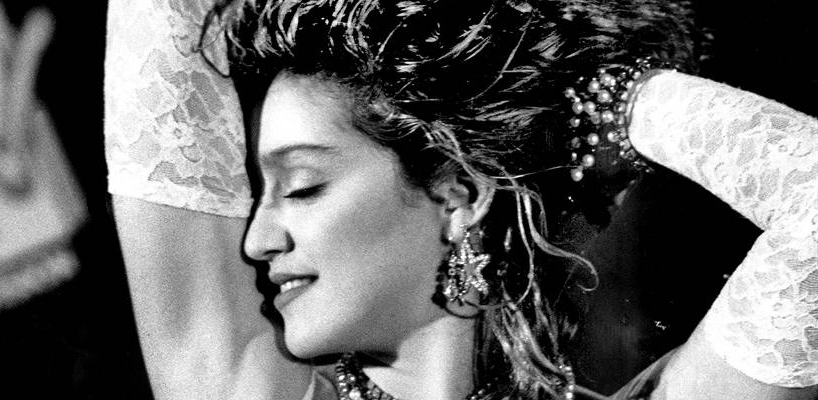 Billboard.com wrote an article on Madonna's "Like a Virgin" performance at the 1984 VMAs…
Madonna wanted to sing a new song, "Like a Virgin," to a full-grown, white Bengal tiger. The big cat was nixed. Instead, she decided to emerge from a 17-foot tall wedding cake and sing the song in a white wedding dress, a bustier and a BOY TOY belt buckle — a classic Madonna mixed message.
About one of her white stilettos slipping off while she descended, Madonna later said…
So I thought, 'Well, I'll just pretend I meant to do this,' and I dove on the floor and I rolled around. And, as I reached for the shoe, the dress went up. And the underpants were showing.
Her former manager Freddy DeMann says…
Was it perfect? No, but it worked.
Les Garland, former executive vice president of programming at MTV…
I think we all know she had a few drinks, because she had to get up the nerve to crawl around like she did.
Her longtime publicist Liz Rosenberg…
She stole the show, but people came up to me and told me her career was over before it started.
Huey Lewis recalls that his longtime agent Dan Weiner scoffed and said…
This gal, Madonna — this is not going to happen.
Robert Pittman, MTV Networks Senior Executive Vice President…
Ratings for the show were good, which "allowed us to assert a certain pull in the music industry".
Soon, music's biggest stars were vying to appear at the VMAs. The next year, the awards were hosted by Eddie Murphy, who was, in Garland's words, "the biggest star in the world." MTV — thanks largely to Madonna — had launched its first franchise.

Madame X is available in Box Set, CD, Vinyl and Cassette!
Get your copy HERE!
comments powered by

Disqus