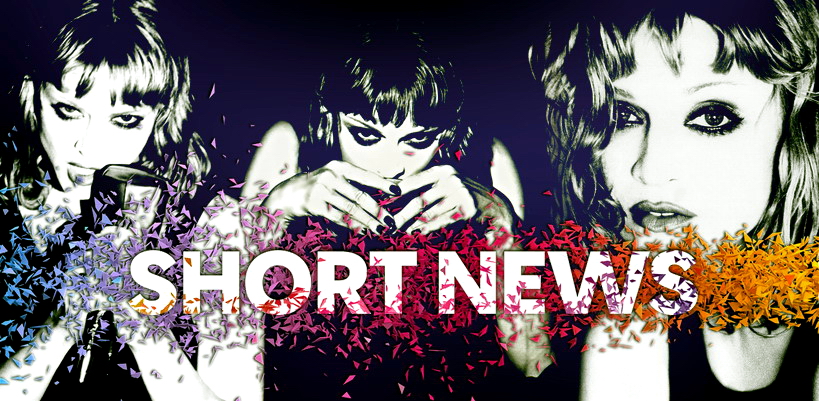 Largest Gathering of People Dressed as Madonna – Guinness World Record
This year's Fire Island Drag Party broke the Guinness World Record for the "Largest Gathering of People Dressed as Madonna." The party gathered 440 people dressed as Madonna.
Here are a few pictures…
Thanks Mike
Paloma Faith: Madonna is entitled to wear whatever she wants
Paloma Faith reflects on how female singers are perceived in the music industry and how they should act during an interview with the Mirror.
This is what she he had to say about Madonna…
People talk about Madonna, saying she should stop wearing all that stuff, she's too old for that kind of thing now.
But why? She's been doing it all along. She's entitled to wear that but at the same time, it was important for her to do that, back in the day.
I feel like now it's reverse feminism. I don't understand the whole 40 is the new 30 thing, and why you can't just be like, 'yeah, being 40 is cool'.
You're still the same age, it's just that people move on and generations have been brought up differently.
It's not like 50-year-olds are so much younger now – they're not. I don't see why we should have to be grateful for that, we should have just done it in the first place.
Betsey Johnson didn't know Madonna wore her clothes
Legendary New York designer Betsey Johnson sat down with Yahoo Style's Editor-in-Chief Joe Zee in the second installment of Fashion Bites. They were talking about how celebrities often get free clothes from designers, but that it took real passion and dedication to go to the store yourself…
Joe Zee: Early Madonna to me was very much inspired by you.
Betsey Johnson: She wore my clothes and I didn't know… she went to my store.
Jennifer Lopez loves Madonna
Jennifer Lopez was interviewed on the red carpet at Fashion Rocks 2014. When they asked her who her favourite musical style people were, she replied…
I think mine go back a little bit. Like I love Tina Turner's style on stage, I loved Madonna when I was growing up, I was very influenced by old Hollywood. It was different things. Like the musicals, and how they were in that. And I think you'll see that in my performance tonight. Those are my things.
Hazel-E: My all time favorite is Madonna
Hazel-E, star of VH1's Love & Hip Hop, talked with The Source about music…
The Source: Who inspired you musically?
Hazel-E: My musical influences, my all time favorite is Madonna, you know. I was a military brat grew up in Colorado, so I'm a pop, rock, hip hop kind of chick, you know. Madonna definitely is my first love in addition to her Gwen Stefani, Fergie. I feel like they're like pop rapper even though they're pop artists.
Sibling Revisits '80s NYC With Madonna as Muse
Always a creative highlight of London fashion week, the Sibling trio (Cozette McCreery, Joe Bates and Sid Bryan) toned it down this time around with a highly salable collection inspired by New York City in the 1980s.
Joe Bates said…
It wasn't the fact that it was Madonna. It was that she actually summarised that moment in that time when she was wearing that granddad overcoat literally over her pyjamas with a scarf. It didn't matter if everything came out of a rubbish bag or off a designer rail. What mattered was that it had a look. What came through was just the pure joy of dressing up – day, night, disco, supermarket, it doesn't matter.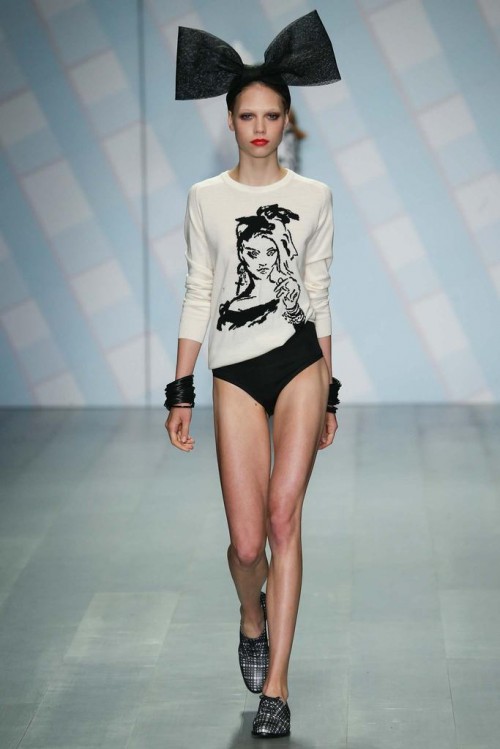 Madonna exhibition in Italy
The Ono Arte Contemporary gallery of Bologna is hosting "Madonna New York 80's", an exhibition of 40 images shot by Deborah Feingold from September 18 until October 31.
For more information: http://onoarte.com/upcoming-exhibition.html
The Juan MacLean sees Madonna as an example
The Juan MacLean's latest album "In a Dream" is a departure from their usual sound. They old Exclaim! they use Madonna as an example for the way they want their sound to continue evolving.
We want to sound like her at some point. Madonna 30 years ago, not the Madonna that jumped onstage at Ultra Music Festival and said something about Molly.
Soraya Arnelas is not a big Madonna fan
Before Madonna arrived in Ibiza to celebrate her birthday, she allegedly had her security team check the hotel for any secret recording equipment in the bedroms.
One of those rooms was Spanish singer Soraya Arnelas who was offended by the intrusion, describing it "over the top" and complaining about the treatment her friends received.

Madame X is available in Box Set, CD, Vinyl and Cassette!
Get your copy HERE!
comments powered by

Disqus