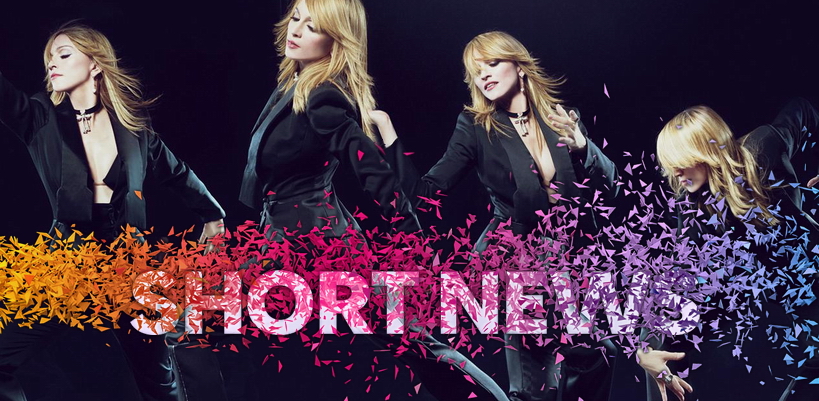 Madonna is one of Sky Ferreira's big influences
When inStyle asked Sky Ferreira who her primary influences from the 80s are, she replied…
There are a few. Obviously Madonna's a big one for me, and Debbie Harry also. I love Kate Bush too. Visually, my favorite movies are from the '80s, like [Lou Adler's] Ladies and Gentleman, The Fabulous Stains. I love David Lynch, [Tony Scott's] The Hunger, and [director] Ridley Scott too.
Check out her latest video…
Madonna wears Jennifer Behr
Madonna wore Jennifer Behr's 'Cosmos Bandeaux' headpiece ($625) at her 56th birthday party in Cannes…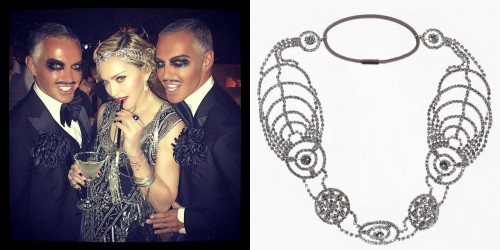 Lindasy Lohan plays Madonna's role in Speed-the-Plow
Lindsay Lohan will be making her theatrical debut at the London's Playhouse Theatre as Karen in Speed-the-Plow.
When asked how her take on the part of Karen would compare with Madonna's performances in the role, she replied…
I wasn't alive when Madonna performed in Speed-The-Plow – or was I?
It was 86 so I would have been a year old.
It would have been inappropriate if my parents took me to see the play when I was one. Enough inappropriateness has happened with my family. So let's just leave it at that!
Zendaya celebrates her birthday with Madonna
Zendaya, the new face of Material Girl, celebrated her 18th birthday with a special Material Girl-themed cake sent by Madonna and her daughter Lola…
Madonna and Lola spotted dining at Café Felix
Last week, Madonna and her daughter, Lourdes Ciccone Leon, were spotted dining at Café Felix in Ann Arbor.
The bar manager said…
She was delightful. She was really low key about it.
The staff was aware Madonna was there, but went out of their way to not draw any attention to the table. It's part of the business. We try to be pretty respectful of that.
That was the coolest part was at the end she said 'I really enjoyed myself'.
Piers Morgan is at it again
If you desperately need attention, but everything you try doesn't seem to work, what can you do?
Just bash Madonna…
After his show on CNN got cancelled due to poor ratings, Piers Morgan falls back into his old habits when talking about his new project…
She's also banned. If Madonna was in here now, naked, and begged me and offered herself on a plate, I would run a mile. And then I'd reinforce the ban for another 10 years.
If you're watching, [Madonna], you're not coming on. stop begging me.
What's funny in all this, is that a few years ago Piers Morgan claimed he didn't want Madonna on his CNN show. He probably forgot the letter he sent to Madonna's manager Guy Oseary asking for her to be one of his guests…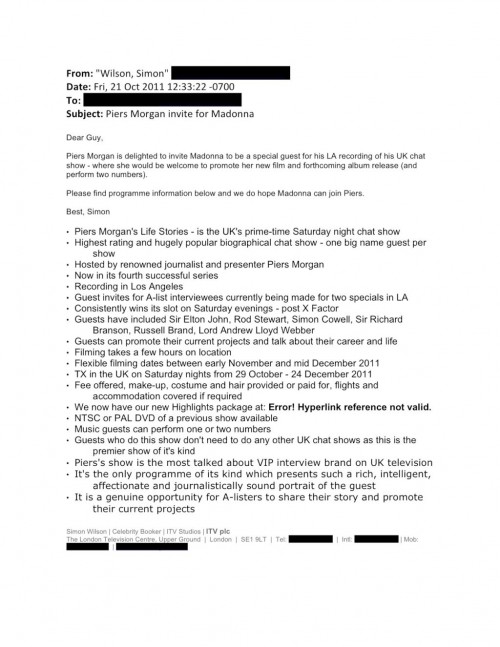 Rita Ora wanted to kiss Iggy Azalea at the VMAs
She told The Sun newspaper…
I said to Iggy we should just make out on stage, kiss during our performance.
She told me that would be crazy because it's already been done.
Britney Spears and Madonna kissing was my favourite VMA performance ever.
Daniel Root Rewinds To 1984, When Madonna Walked St. Marks
Photographer Daniel Root documented the East Village of New York City in 1984. Today, he revisits the locations and documents their current state. One of these locations features Madonna from the movie Desperately Seeking Susan…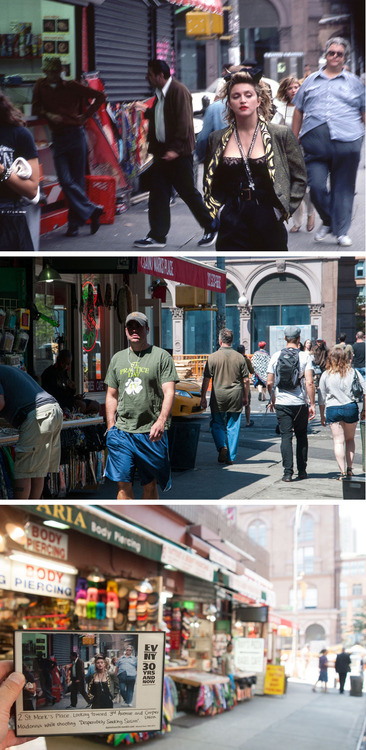 Wiz Khalifa's favourite VMA moments
MTV caught up with Wiz Khalifa and quizzed him on his favourite VMA moments…
In the history of the VMAs what do you think is one of the most shocking moments you've ever seen.
When Madonna, Britney and the other girl kissed. That was pretty crazy.
New Madonna.com logo
Madonna's official website updated their logo.
Check it out…

The top five most expensive music videos of all times
According to Forbes, Madonna has three spots in the top five most expensive videos.
Check it out…
1. Michael Jackson and Janet Jackson – "Scream," $10.7 million (originally $7 million)

2. Madonna – "Express Yourself," $9.4 million (originally $5 million)
Madonna's "Express Yourself" video cost $5 million to make back in 1989, making it the most expensive video ever made at the time. The clip, which was inspired by 1927 German science fiction film Metropolis was directed by David Fincher, who would go on to be nominated for Academy Awards for also directing both The Curious Case of Benjamin Button and The Social Network. The video sees the singer dressing in a masculine fashion, yet being as sexual as ever.

3. Madonna – "Die Another Day," $7.9 million (originally $6.1 million)
While the song received mixed reviews from critics, Madonna's Bond song went on to be the best-selling dance song of 2002 and 2003, and its video was nominated for a Grammy. The James Bond-inspired video has the legendary pop star fighting herself, which was a mixture of green screens and intricate and expensive special effects. A few years ago, Billboard ranked the song the #6 song from the Bond franchise.

4. Madonna – "Bedtime Story," $7.7 million (originally $5 million)
"Bedtime Story" is the first of three Madonna music videos on this list, though the single it was made to promote is not one of the singer's greatest successes. Directed by Mark Romanek, who would also direct the music video that ends up surpassing "Bedtime" as the single most expensive of all time. Not one to miss a publicity opportunity, Madonna premiered the video at movie theatres in New York City, Chicago, and Santa Monica. These days, it is housed permanently in a collection at the Museum of Modern Art in New York.

5. Michael Jackson – "Black or White," $6.9 million (originally $4 million)
Madonna may lend her Frida Kahlo paintings to the Detroit Institute of Arts
The Detroit Institute of Arts and several Metro Detroit arts organizations will celebrate Diego Rivera and Frida Kahlo next year in a series of events focused on the famed art couple's time in Detroit.
Madonna's passionate support of Kahlo, combined with her Detroit ties, leads to speculation the pop star could play a role in next year's exhibit. A DIA spokesperson acknowledged last week that Madonna is a known collector of Kahlo's works. However, no announcement from the DIA or the singer herself has been made to include her paintings in the collection.
Several attempts by MLive.com to reach Madonna's publicist Liz Rosenberg, to gauge her client's interest in selling or loaning part of her Kahlo collection to the DIA, were unsuccessful.

Madame X is available in Box Set, CD, Vinyl and Cassette!
Get your copy HERE!
comments powered by

Disqus