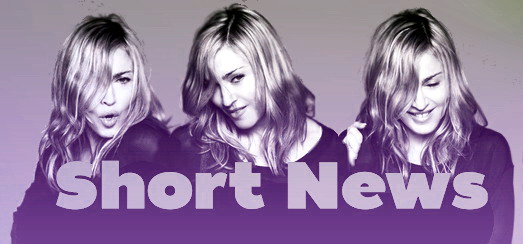 Taking a night flight with Madonna!
Matthew Aidan was on the same "New York – London" flight as Madonna a few days ago and posted the following pictures on Instagram…
Another picture from Madonna at JFK Airport, New York…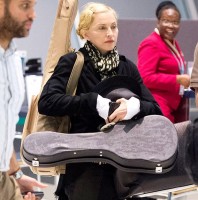 Top 10 list of artists who have helped the LGBT movement
LGBTeen made their top 10 list of artists who have helped the LGBT movement. Guess who's at #1…
1. Madonna
2. Janet Jackson
3.Macklemore & Lewis
4. Demi Lovato
5. Melissa Etheridge
6. Christina Aguilera
7. Pansy Division
8. Mika
9. Kurt Cobain
10. Johnny Dangerous
They wrote…
In the 1980s, many people were using the AIDS epidemic as an excuse to perpetuate homophobia. Madonna was one of the first mainstream figures who spoke out in defense of the gay community at this time. She got involved in the fight against AIDS, encouraging research and the practice of safe sex. She brought vogueing—a style of dance started in New York's gay club scene—to the mainstream and featured footage from a gay pride parade in her tour documentary, "Truth or Dare." She also featured gay, lesbian, and bisexual affection in "Truth or Dare," the "Justify My Love" video and her "Sex" book. This was still in the early 1990s, before it was a trendy thing for female pop stars to do. More recently, Madonna has spoken out against bullying, anti-gay laws in Malawi and Russia, and the Boy Scouts' anti-gay policy. Madonna's advocacy for the LGBT community was acknowledged when gay news magazine, "The Advocate," named Madonna "the greatest gay icon" in 2012.

There you have it. From the eighties to nineties to now, LGBT representation in music has a long history. Whether they're a pop icon or an unknown independent artist, these artists have used their position to help make progress for LGBT people. They have risked their own popularity to stand by what they believe in. And that is what makes these artists so admirable.
William Orbit: Madonna and I created "Ray of Light" together
Electronic provocateur William Orbit talked about Madonna and "Ray of Light" during one of theEchoes Podcasts…
Here's a transcript by Madonnarama…
People will say that "Ray of Light" was kind of [William Orbit's second album] "Strange Cargo" with Madonna on top. I dispute that by the way, but I've heard it said. Clearly, my sound and her sound fused together. People maybe attribute some of that sound purely to me, whereas in fact the two of us created "Ray of Light".
Listen to the full interview at echoes.org
Want to hear more about his collaboration with Madonna, then don't forget to check out his interview with hungertv.com
On the cover of a magazine
Madonna is on the cover of "Classic Pop" and "L'Express Histoire"…
Monte Pittman on Madonna's upcoming album!
Check out what Madonna's guitarist, Monte Pittman, had to say about Madonna's upcoming album!
"@Lorena_MDNA: @montepittman what do you think of Madonna's upcoming album?" What I heard was awesome!

— Monte Pittman (@montepittman) July 15, 2014
Desperately Seeking Susan to be released on Blu-ray
U.S. distributors Kino Lorber have confirmed that they will release on Blu-ray director Susan Seidelman's comedy Desperately Seeking Susan (1985), starring Madonna, Rosanna Arquette, Aidan Quinn, Mark Blum, and John Turturro. The release will be available for purchase on October 14th.
Special Features:

Audio Commentary by the Producers
Original and Alternate Endings
Original Theatrical Trailer
Optional English Subtitles
Source: Blu-Ray.com
Darren Hayes: Help us Madonna Louise Veronica Ciccone. You're our only hope!
Australian singer-songwriter and once frontman of pop duo Savage Garden, Darren Hayes, wrote an article for UK gay magazine Attitude on why the world needs a brilliant new Madonna album.
Madonna is consistently brilliant. When she hits her sweet spot, it is the music equivalent of orgasm. Moments like Holiday, Into the Groove and Hung Up are prime examples. Reckless abandon on the dance floor yet not throw-away gibberish.
[…]
Some might argue her last studio album MDNA was a disappointment. I actually loved many moments on the album but there was a sense, right before the album dropped, that something was out of alignment.
[…]
She had a clothing line, a world tour, a film and a perfume to promote. Music – the source of all her power – had been relegated to a mere portion of her time, a part-time job and unfortunately something had to give.
Read the full article at attitude.co.uk
"Like a Prayer" on guitar
Want to play "Like a Prayer" on guitar? Check out the chords of the song at UKuTabs.com
Why did Tori Amos Cover "Frozen"?
Talking to the Huffington Post, Tori Amos explained why she performed a cover of Madonna's "Frozen" during her concert in Amsterdam…
This girl had been asking me for it and asking me for it and asking me for it and I'd been thinking, OK. Yeah. Let me get my head around it. And then she told me in a different city that she had a muscle issue she was dealing with and all of a sudden the poetry lined up. She is so beautiful — so beautiful — and I'm not talking about on the inside, she's stunning. She's a looker. And you wouldn't realize that she's going through this and all of a sudden the muses said to me "the muscles are frozen." From that moment, the song was for her. She was bringing her parents that night in Amsterdam and it all came together at soundcheck and I told the crew, "Let's work this out." She had been to a few shows and sometimes when the young ones come out, I don't know if they're leaving school to come or what but I don't want their parents to think I'm [cult leader] Jim Jones because that isn't my thing [laughs]! I'm not handing out space cakes to people at the stage door… you see what I'm saying. So I wanted the parents to also feel like their daughter's request was being met. But I had no idea people would respond to it. I didn't have a way in to "Frozen" until it all came together with why she was asking me for that but she told me afterward that she hadn't been asking me for it for that reason.
Boxer Tommy "The Hitman" Hearns: Madonna is awesome
Boxing Hall of Famer Tommy "The Hitman" Hearns, who grew up in Detroit, is praising Madonna after her announcement of making significant donations to 3 organizations, including the Downtown Youth Boxing Gym..
I think it's awesome for her to help, being as big as she is. The people who get the help she provides will probably shed tears.
[Other successful Detroit natives] should do as much as they can. It's where they came from, and it's ot a great situation right now.

Madame X is available in Box Set, CD, Vinyl and Cassette!
Get your copy HERE!