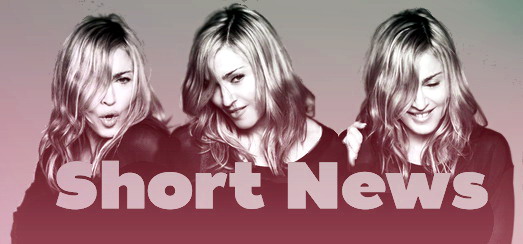 Madonna "Vogue" DJ Turntable birthday cake by The Pastryarch
Madonna fan and cake artist Tony "The Pastryarch" Albanese surprised Shep Pettibone with this custom-made "Vogue" DJ Turntable birthday cake.
Check it out…
Elliot Gleave aka Example: Madonna's mic was special
English singer, songwriter and rapper Elliot Gleave aka Example used Madonna's old "Confessions on a Dance Floor" microphone during the recording sessions with Stuart Price for his latest album…
I was recording on this microphone in LA and I was like: 'This mic is f***ing amazing.
When you hear the opening track on the album my voice has a sound quality that I've never been able to capture before.
Stuart said: 'Oh this is the mic we did the whole of the Confessions On The Dance Floor album with.'
I've used famous microphones before like Sinatra's, but Madonna's mic was special.
There's a certain mystique around it that you can't explain, because that album reignited her career, I don't think she's had the same success since. It must be the magic mic!
Katie Price: Madonna can have anyone she wants
Katie Price, previously known by the pseudonym Jordan, is an English celebrity, former glamour model, and businesswoman who has been married to singer Peter Andre.
On her new radio show, Fubar, she was what she makes of Madonna's penchant for younger men after the 55-year-old singer was spotted out with a new toyboy.
Madonna, she can have anyone she wants. She'd rather have a 20-year-old bouncing on her than a 50-year-old who'll groan putting his socks on. That's what puts me off about older men, would they be able to keep up in the bedroom? I seem to always go for younger guys.
Madonna performing "Open Your Heart" at Grammy Rehearsals
What William Orbit thinks of Madonna's new album
William Orbit already heard a few songs of Madonna's upcoming album and tweeted about it…
Heard some of Madonna's new album. Sounds good

— William Orbit (@WilliamOrbit) 20 Juin 2014
Diplo & Madonna trying to push the envelope
In an interview with Papermag, Diplo talked about his collaboration with Madonna for the upcoming album:
If I'm doing something with Madonna, I'm trying to push the envelope
Madonna "True Blue" Makeup Transformation by Kandee Johnson
Arsenio Hall talks Madonna
Arsenio Hall sits down with Vlad TV and talks about his past interviews with Madonna…
Here's a transcript by Madonnarama…
VLAD TV: You and Madonna had a very interesting interview…

Arsenio Hall: Yeah, a few of them. Yeah we had a few interviews.
I had one where she came with Rosie for League of their own.
She was at my one-thousand anniversary at the Hollywood Bowl, where I had Anthony Kiedis do Fever with her. We ended that show with her on my neck, running around the Hollywood Bowl and I said "I smell your pussy". You probably remember that.

Bottom line is, she was always good to the show.
The good thing about Madonna is there's always that little bit of tension where you don't know if this is going to go right. You don't know if she likes the host or whether she's going to co-operate. She was always good.

When she came with Rosie, that was my favourite appearance.
Her and Rosie together were amazing.
Then we went to a Laker game where Charles Barkley was Madonna's date and I was Rosie's date.

The crazy thing about me and Madonna is we always left there and got along. It was one of those cool relationships where you throw barbs and then you to a Laker game.
She's a good girl.
Sir Alan Parker talks Evita
Sir Alan Parker sat down with The Economist at the Brussels International Film Festival…
The Economist:There was talk of you filming a remake of the Marlene Dietrich movie "The Blue Angel" in the 1980s, with Madonna in the lead role. What happened to that?
Sir Alan Parker: Diane Keaton was keen to produce the movie, I was enthusiastic about making it and we had Madonna and De Niro pegged for the lead roles, but it just never came to anything. Everyone just lost interest in it.

The Economist: You worked with Madonna on "Evita" a few years after that. What was that like?
Sir Alan Parker: When you make musical films you either have to work with actors who can sing or singers who can act. Somewhere along the way, you have to compromise, let's put it like that. Madonna sent me a six-page letter detailing why she thought she would be perfect for the role, which must have worked because I eventually cast her. We had originally wanted Michelle Pfeiffer, but she had two young kids and wouldn't leave Los Angeles.
Hannah Arterton covers "Holiday"
The upcoming romantic musical film "Walking on Sunshine" features a cover of Madonna's "Holiday" sung by Hannah Arterton…
Thanks @runaway_lover

Madame X is available in Box Set, CD, Vinyl and Cassette!
Get your copy HERE!