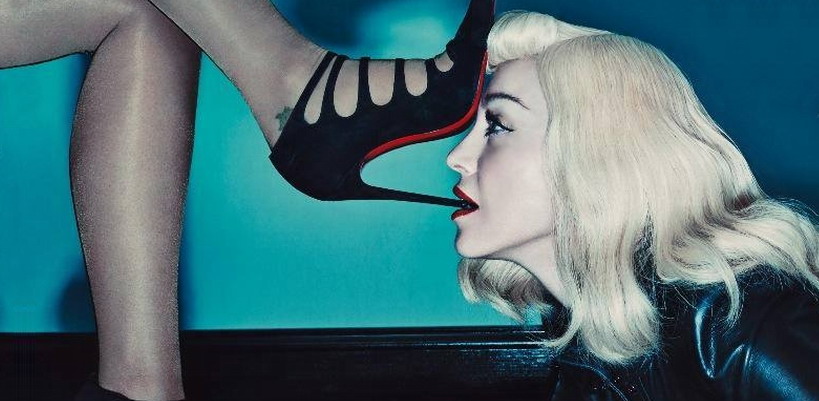 Update: New pictures from the "Limited Edition":
—
Update: HQ pictures added:
—
Access Hollywood revealed a new picture from the photoshoot that won't be included in the magazine.
Check it out…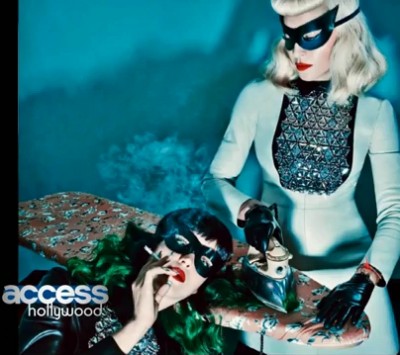 —
The original article continues below:
US magazine gives us a first look at the cover of V Magazine shot by Steven Klein, featuring Madonna and Katy Perry.
Madonna told V Magazine…
I would always say, 'Dad, I'm an artist, I have to express myself. You don't understand.
I think he's finally come to terms with it. It's only taken 30 years.
He's like, 'Do you have to simulate masturbation on the bed? Do you have to?' Yes, Dad, I do.
Katy Perry about the shoot…
I was sore in my upper body and in my butt area from all that squatting.
Madonna added…
It's good to be sore in your butt. My neck is sore from that wonderful moment when I was sucking on your heel.

I really enjoyed working with you on the photo shoot.
People always expect when two divas get together that there might be weird vibes or a strange competitiveness, but this was nice and easy and fun.
To which Katy Perry replied…
If you ever come to the show, there's a little wink to you. I'm paying my dues!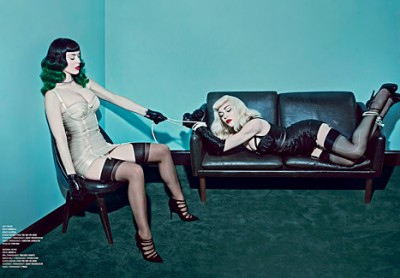 —
The upcoming summer issue of V Magazine will feature a new Madonna photoshoot with Katy Perry shot by Steven Klein and styled by Arianne Phillips.
After a long and arduous winter, it's time to bask in the sunshine. V want you to have a fulfilling summer season, and for that reason we've packed this issue with the best of what's to come: faraway festivals (for the avid music fan) and the most enticing reads, exhibitions, movies, and so forth. Of course, who better to cap off this season of everlasting glow than the eternally youthful Material Girl, accompanied by pop's reigning princess of the charts? In a worldwide exclusive, V Magazine and Steven Klein come together again to capture Madonna and Katy Perry in their element, under the sartorial eye of Arianne Phillips. Here, they delve into the importance of being creatively liberated, in a celebration of music, fashion, and artistic freedom. After all, isn't that what summer is all about?
Pre-order your copy now and get it in your hands by Memorial Day!

Madame X is available in Box Set, CD, Vinyl and Cassette!
Get your copy HERE!