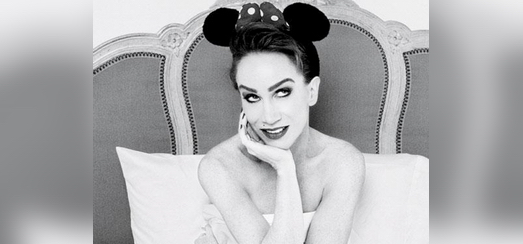 The hilarious Kathy Griffin appeared on "Jimmy Kimmel Live" and revealed how she "met" Madonna at this year's Grammy Awards. Just after Kathy won an award for Comedy Album, she spotted Madonna and her entourage walking up the aisle, and she explained how she freaked out!
Here's a transcript by Madonnarama…
Something came over my body where I thought I knew Madonna. This was at the Grammys. I had just won and I'm drunk with excitement. I see Madonna coming down the red carpet.
I can hear the gay gasps as she's coming. I clutch my imaginary pearls. Being a gay man, it's my job. I love her.

I had it planned in my head. You know, you plan these speeches. I thought I was going to say "Hello Madonna, you look beautiful tonight. I just won a Grammy and I look forward to your performance."

Madonna walked past and my inner gay boy took over and I stood there like a fool in a Roberto Cavalli gown just going like this: "FIERCE, FIERCE, DIVA, DIVA, DIVA, FIERCENESS, FIERCE!".
Yes, I clapped and I don't know her…
Watch the full video…

Madame X is available in Box Set, CD, Vinyl and Cassette!
Get your copy HERE!