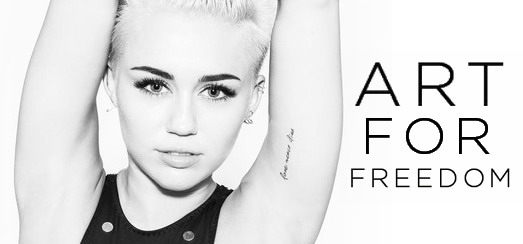 Art for Freedom Has Received Over 7000 Submissions Globally Since Launching in September 2013.
Madonna announced today that Miley Cyrus will be the guest curator for Art for Freedom for the month of April. Miley will collaborate with Madonna to select daily submissions which will be showcased on artforfreedom.com. Launched in September 2013, Artforfreedom.com was created by Madonna as a vehicle to inspire artists around the globe to share their artistic representations on the subject of freedom and human rights.
Madonna commented…
There has never been a more crucial time to participate and help create change in the world. I've been so inspired by people's submissions since we began and I welcome Miley's input along with her fans to express themselves artistically and to share their creative ideas on the subject of human rights and freedom of speech. Miley and I look forward to hearing your voices in the format of your choice throughout the month of April and onward.
Miley Cyrus stated…
Art can speak volumes – I'm glad to join Madonna in encouraging people to have their voices heard at artforfreedom.com. It's an ideal home to see how each of us can participate in changing the world for the better.
Miley Cyrus and Madonna will select the winning artist's submission at the end of April and will award a $10,000 grant to a nonprofit organization of the winning artist's choice. All projects must be focused on the values of Art For Freedom.
Launched in September 2013, Art For Freedom is a global digital initiative, led by Madonna in partnership with VICE Media, designed to fuel free speech – to respond, address and protest persecution and discrimination around the world. It is an online public art project encouraging people to express their personal meaning of freedom and revolution, in the form of video, music, poetry, and photography. Public submissions become part of the Art For Freedom website: contributors can join the project by uploading original artwork or tagging original posts #artforfreedom. The project was launched with the film secretprojectrevolution, co-directed by Madonna and Steven Klein.

Madame X is available in Box Set, CD, Vinyl and Cassette!
Get your copy HERE!