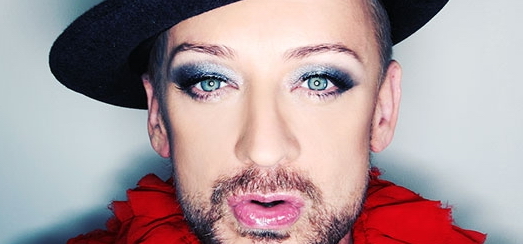 At the end of last year, French gay magazine Têtu featured an interview by Romain Burrel with Boy George.
According to the magazine he allegedly said…
I've never been willing to sacrifice myself for the latest trends. It's never been my thing. [Madonna and Kylie Minogue] try to cling to their pop crowns at all cost and even go as far as denying who they really are.
It's better to take a break for a few years than denying who you really are, just for fame!
He quickly took to Twitter and denied ever having said those negative comments about Madonna and Kylie Minogue.
In a recent interview with the Huffington Post he talked about it once more…
Boy George: It doesn't look good if you kind of bitch and berate people. There's a point in your life where it isn't classy. And one thing you can say about Kylie is that she doesn't do that and bless her for that.

Huffington Post: You have a reputation for doing that.

Boy George: In the past! I'm very conscious about what I say. Recently I was kind of quoted as saying something about Kylie and Madonna, which I didn't actually say and I think sometimes the idea of me as a kind of an uber-bitch is more interesting for some people. I mean, I'm critical, but when I say things it's usually really in jest. I'm not really a mean person. If I saw someone bleeding in the gutter I wouldn't just step over them, whoever it was. My point of view isn't mean, but I've said stupid things about people.

Huffington Post: When I told my deputy editor, who adores Madonna, that I was interviewing you he said, "Don't ask him about Madonna — he hates Madonna!"

Boy George: I don't hate Madonna! That's such rubbish. I mean I've said awful things about Madonna and I'm not proud of that at all — I'm really not proud of that because I didn't know her. And like everyone, I've always secretly kind of been into her. I have a lot of her records and I think that really is the measure of what you think of someone. If I have like 5 or 6 singles of Madonna that I love, that makes me a little bit of a fan. I have a massive painting of her in my spare room that I got in the '80s from some shop on Broadway.

Huffington Post: People do love to pit celebrities against each other.

Boy George: There was a point where Madonna was just everywhere you looked and you couldn't not comment! In the same way that it's the same way not to have a comment about One Direction! They're everywhere you look. And there was a point where Madonna was just everywhere, running around the park — she was just everywhere. And you can't be that famous and not have people make comments, especially other people that are in your business. People are always asking me, "What do you think of this" and "What do you think of that," but I don't know her. I can't see us ever being friends now but she's going to be at this event that I'm going to tonight. I said to my friend, "If you can get a picture of me and Madonna, you'll get a medal." Can you imagine? I'd be really happy! It would be great to just have a photo with her and to fucking put this shit to bed. I don't hate her at all!

Madame X is available in Box Set, CD, Vinyl and Cassette!
Get your copy HERE!