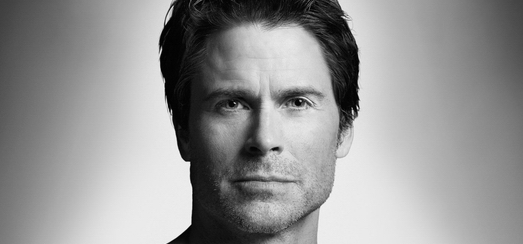 Update:
Rob Lowe sat down with Oprah on "Oprah Prime" and talked about his first encounter with Madonna.
Here's a transcript by Madonnarama…
She was the 'it' girl. Literally, the 'it' girl at the height of her explosion.
I knew she was cute and single.
So I went backstage and met her.
We had a nice talk.
We're trying to get together, but we couldn't because of our schedules.
We had one night in New York at this nightclub and I thought 'This is it. This is the night. It's happening tonight. I'm the boy toy. I am the boy toy!'
…and it was not to be.

The reason the night ended the way it did, was that it was a night honoring her full of her fans on the dancefloor. Crazy, rabid fans at the nightclub celebrating one of her albums.
She goes,' I'm gonna go dance and I was like, 'You're gonna go out there?'
I said, 'You're crazy. You can't – you're crazy.' And I said, 'I'll wait here.'
So she went off to dance and of course never came back.
That was the end of it.
But right before she walked away she turned to me and said, 'I'm not gonna let success fuck up my fun.'
And I never forgot it. And it's such an important lesson.
—
The original article continues below.
It seems American actor Rob Lowe wanted to sleep with Madonna - not dance with her, as he writes in "Love Life," the sequel to his best-selling 2011 memoir, "Stories I Only Tell My Friends."
He told the New York Post that his new book (due out April 8) is racier than his first; it tells of meeting Madonna after a show in Los Angeles in 1984.
He writes…
She was cute and she was young and she was single, and so I sat front-row … she was a revelation.
Madonna would like to see you backstage, a security guard said as the house lights came up.
She had flawless skin and eyes that imparted secrets… she asked what movie I was working on and so I told her a little about 'St. Elmo's Fire,' which I had just finished. 'I play the bad boy,' I said. Madonna just smiled. She seemed to like that.
Months later, they made a date to meet up at the Palladium, "a giant dance club that was filled with rabid 'boy-toy' doppelganger fans of both sexes. It was a madhouse…"
Madonna and I were discussing where we would sneak off to at the end of the evening when she suddenly jumped up and said, 'Let's dance!'… 'I'll wait here,' I said.
'Suit yourself,' she replied as she waded beyond the velvet rope into the fray.

Madame X is available in Box Set, CD, Vinyl and Cassette!
Get your copy HERE!