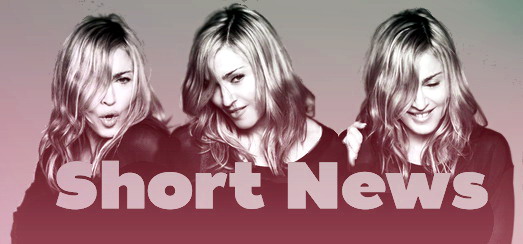 Francois Sagat as Madonna for Loverboy Magazine
Ex-gay porn star Francois Sagat channels Madonna for the first cover of Loverboy Magazine
Francois says…
I could only re-incarnate Madonna's early 90s look because back then she was the 'gay' fantasy, she was presenting what gay men think is feminine. The look was beyond true femininity, it was 'hyper-feminine.' But my face is so sharp, I think it would have been useless to try and make it softer… I could easily look like a mix between Madonna and Glenn Close. The transformation worked so well because we both have the same bodies!! LOL, only joking…People keep saying I'm trying to do these pop stars in drag. So ok, let's do this properly. Let's do the QUEEEEENNNN!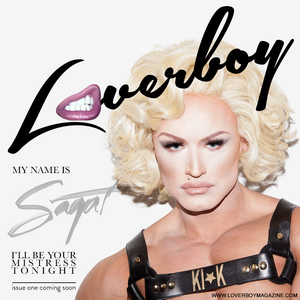 Madonna Grillz Cake
Petition to release Madonna tours on Blu-Ray and DVD
Madonna fan Chad Siwik created his own online petition in the hopes of releasing Madonna's past tours and videos on Blu-Ray and DVD.
Go check it out…
Jared Leto enjoyed Madonna's Oscar Party
Jared Leto was a guest on "The Ellen DeGeneres Show" and talked about his favorite moment from the Oscar after party…
One of the highlights of the night was my Mom dancing with Madonna
Most Iconic Video
Pop Icons is looking for the most iconic video of all time and Madonna's "Like a Prayer" video is included.
You can vote HERE!
I'm Going To Tell You A Secret Tour Documentary Now On iTunes
Madonna's I'm Going To Tell You A Secret tour documentary, which was originally released on DVD, is now available on iTunes!
The 2-hour documentary directed by Jonas Akerlund follows Madonna and her band on stage and backstage during her 2004 Re-Invention Tour and includes live performances from the show.
Mel C: I am a huge fan of Madonna
Former Spice Girls Mel C mentionned Madonna and Miley Cyrus in an interview given to BANG Showbiz.
She said…
We were so innocent but the funny thing is, back in the mid 90s, we were criticised for being too sexual because we wore cropped tops, and you think what Miley's doing now!

People who've worked quite close to Miley think she's pretty savvy, I just hope that really is the case, it's mature of her, if that's all her own work.

I am a huge fan of Madonna. She really pushed the boundaries, and I don't think it affected me too much, watching her in videos and live concerts being very provocative.

We're living in a society where it's becoming more and more sexualised early on. I just think it's a wild horse, you can't tame it, it's your responsibility to guide your children in the best way you can.
Madonna's Oscar Party outfit
Neil Lane announced on Monday morning Madonna wore 1,000 carats of diamonds up the wrist and on her ears, including diamond and platinum bracelets and earrings at her Oscars after party on Sunday, March 2nd. In addition to the Neil Lane jewels, she adorned her eye-catching gown with even more jewels.
She also wore a headpiece by Australian designer Johanna Johnson called the "Libertine head chain".
Inside Madonna's Oscar Party
Madonna has done it again.
The Queen of Pop threw her annual celeb-filled post-Oscars bash last night at her manager Guy Oseary's house.
And we're not talking about just any celebs. Guests included Brad Pitt, Angelina Jolie, Leonardo DiCaprio, Jennifer Lawrence, Ellen DeGeneres, Portia de Rossi, Bradley Cooper, Lupita Nyong'o, Julia Roberts, Miley Cyrus, Charlize Theron, Madonna's ex Sean Penn and spouses-to-be Mila Kunis and Ashton Kutcher.
A source told E online…
Brad and Angie were talking to Julia and hanging out with Lupita, who was walking around with her Oscar telling everyone it was the best night ever.
Miley was dancing with Madonna, and Julia was dancing with her friend.
Sean and Charlize were making out on the dance floor.
Nicole Winhoffer talks working out with Madonna
In an interview with US Weekly, Madonna's trainer Nicole Winhoffer dishes on a normal workout with the queen of pop…
We warm up always! I change her program every week. This is important to shock the body. Without change, you can't achieve results.
We love to work on triceps, obliques, and of course, my favorite part – the butt! One of our favorite moves is the plank on chair butt press. We get into the plank position with one foot on a chair and the other leg bent with knee on the ground. Kick the bent leg back and return the knee to the ground. It's a full body move and a butt-lifter!
The beat dictates my movement and rhythm for her program. One of my favorites is Offer Nissim's remix of [Madonna's] Frozen. It is such a sick beat and gets our adrenaline going.

Madame X is available in Box Set, CD, Vinyl and Cassette!
Get your copy HERE!