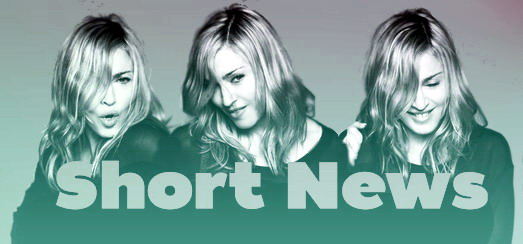 Harvey Weinstein: Madonna only called me The Punisher
"Madonna only called me The Punisher because I told her to get out of her house and promote a movie. In a world where so many people say, 'Oh, Madonna, if you want to sleep today, it's OK, sweetie. Let me tuck you in', I was honest with her." Movie mogul Harvey Weinstein on why Madonna dubbed him 'The Punisher' at the Golden Globes in 2012.
Paulina Rubio: Madonna is an inspiration
Mexican singer and 'The X-Factor' judge Paulina Rubio talked about her favorite female artists in a recent interview with the Huffington Post…
I love Madonna. I've admire her since I was a little girl and I love her because she is strong, she's a warrior, and she doesn't let anybody tell her what to do. She's an inspiration.
Material Girl Instagram
@MaterialGirl: Spotted this amazingness by spray paint artist @ChorBoogie on our walk to the MG office today! #ArtThursday #LUV
Brahim Zaibat: Madonna is a woman like any other
Brahim Zaibat recently gave an interview to Mouloud Achour for "Clique" on French TV network Canal+…
Is it dance that brought you together?
Yes. I met her while I was dancing.

How was you first encounter with Madonna?
Nice, we danced, we laughed, everything went well.
It's the best feeling, talking directly to the person. Not going through an agent or something like that…

What went through your mind when you kissed Madonna for the first time? You close your eyes, you wake up and you go "It's Madonna!"
She's a woman like any other.
Bonnie McKee: Madonna is still the queen
American singer/songwriter Bonnie McKee was last week's guest on the web chat show "In Bed With Joan", where she talked about her previous writing experiences for Ke$ha, blowing off Chris Brown and about her musical influences.
Here's a transcript by Madonnarama…
Joan Rivers: Who really influenced you? I read you said Madonna… still or was?
Bonnie McKee: I'm obsessed with eighties culture, so early Madonna was I think the more exciting era. Of course, she's still the queen. I have a lot of respect for her and I'd love to work with her.
The Madonna-talk is around the 6m30 mark. Check it out…
Nile Rodgers: I want to work with Madonna again
At 61-year-old, the legendary Nile Rodgers – who recently collaborated with Daft Punk, Pharrell and Stevie Wonder – said he wants to team up with Madonna again, having previously hit the studio with her on her Like A Virgin album.
He said to Metro…
I adore Madonna. If she ever wants to work, I am totally down.
For a gazillion years I have always said she is the hardest-working person I have ever worked with. She is the most dedicated. The most focused and I absolutely adore her.
Anderson Cooper: Madonna is a hard interview
On the February 17th episode of Watch What Happens Live with Andy Cohen, Anderson Cooper talked about past interviews and why it's not easy interviewing Madonna…
Madonna is a hard interview, since I have interviewed her so many times, so you want to try to do something that's not going to bore her. And she will tell you if you are boring her. She'll be like 'That was a really stupid question' and you're like, 'I know, but I am nervous.'
Paris Hilton channels Madonna in new video
Paris Hilton released a teaser of the video for her upcoming single "Never be Alone" which features clips of various singers and actresses, including Madonna…
Welcome to Bay City: Birthplace of Madonna
The idea came with much enthusiasm at a meeting Monday night. Bay City Commissioner Chris Girard, 6th Ward hopes honoring the diva will bring some tourism to the town.
He said…
People see something like that. They may have interest in exploring our town a little more. I think it's something we've missed the boat on for many years, and so let's take advantage of that fact.
When I go in the community and people ask me where I'm from, I say, I'm right here!
Bay City, Michigan! I also talk about Madonna's birth town, and I think a lot of other people I've talked to kinda do the same thing.
The Material Girl was born in Bay City, and frequently visited her grandparents during her childhood. Their home on the west side of the city still attracts some tourists.
For years, the city has had a love/hate relationship with the Queen of Pop. After she publicly called her birthplace a "smelly little town in Northern Michigan." This was not out of distaste for the town, but in reference to the smell from a petroleum plant close by that is now closed.
But now, city commissioners think it's time to change that image.
City Resident Rody Dodd…
Just having that name on there, I think a lot of people will see that when they come in to town. I think that'll be great.
George Herron in Bay City…
I grew up in New Jersey and Martha Stewart grew up there and they honor her. I think we outta do the same idea to Madonna here.
The new signs will be funded privately and visible to citizens not too long in the future.
Project Remix Teaser


Madame X is available in Box Set, CD, Vinyl and Cassette!
Get your copy HERE!