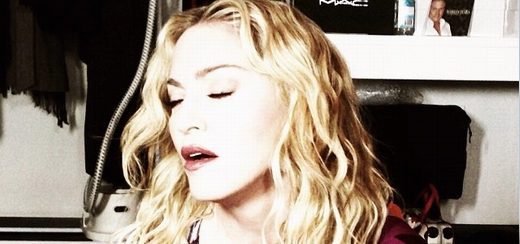 Yesterday, Madonna attended the grand opening of the Hard Candy Fitness Center in Toronto. During one of the red carpet interviews, she talked about Hard Candy Fitness and also about the new album.
Here's a transcript by Madonnarama…
Madonna: Dance has always been a big part of my shows, my work… I started out as a dancer.
So I can't imagine not having movement, dance and fitness being part of my work. It's just all interconnected.
When I do shows, they're very physical, sometimes not just dancing… jumping rope, slacklining, roller skating, whatever.

Are there any Canadian artists on your playlist?
Madonna: Drake, Michael Bublé.

Any collaboration with Drake in the future?
Madonna: If he'll have me.

What about a new album? Any plans for that in the works?
Madonna: Yes, plans are in the works already. Don't ask me with who. It's a secret. Top secret!

Madame X is available in Box Set, CD, Vinyl and Cassette!
Get your copy HERE!