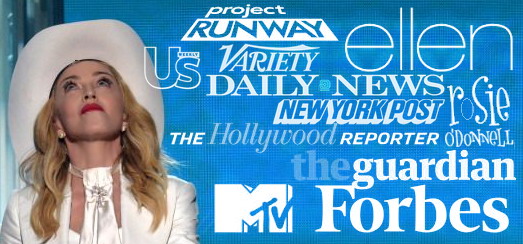 Madonna performed yesterday at the Grammy Awards and shared the stage with Macklemore, Ryan Lewis, Mary Lambert and Queen Latifah.
On Facebook, 6.3 million people lit the world's largest social network with more than 13.5 million interactions related to the Grammys. A Facebook spokesperson told Mashable Monday morning that these were the top five moments:
1. Queen Latifah presiding over weddings while Macklemore, Ryan Lewis, Mary Lambert and Madonna perform a mashup of "Same Love" and "Open Your Heart"

2. Kendrick Lamar and Imagine Dragons performing "Radioactive/M.A.A.D City"

3. Metallica and Lang Lang performing "One"

4. Macklemore and Ryan Lewis winning Best New Artist

5. Beyonce and Jay Z opening the show
Celebrities also took to their Twitter to express their admiration…
William Orbit:
And yes, M-A-D-O-N-N-A at the Grammies: FAB FAB FABULOUS!!!

Neil Patrick Harris:
My face hurts from smiling. That was one of the coolest things I've ever gotten to see. Much much love. Well done, Grammys.

Ellen DeGeneres:
#SameLove was incredible. Love to @macklemore, @RyanLewis, @marylambertsing @Madonna & @IAMQUEENLATIFAH for a beautiful performance #GRAMMYs

Rosie O'Donnell:
GAY PRIDE AT THE GRAMMYS – very touching @macklemore @Madonna @marylambertsing

Nina Garcia:
We just witnessed the ultimate gay dream: Madonna singing in your wedding 🙂

Dwayne Johnson:
That was one of the coolest things Ive ever seen on TV. Macklemore & Lewis, Queen Latifah, Mary Lambert & Madonna. #SameLove #GRAMMYs

Project Runway:
Leave it to @macklemore, @IAMQUEENLATIFAH + @Madonna to make us cry. #GRAMMYs

Jane Velez-Mithcell:
#Grammys wow – kindness and acceptance is so cool – #madonna

Tim Pocock:
I have to say, I was an emotional wreck after the Macklemore/Madonna/Queen Latifah/ceremony of LOVE at the #Grammys. I cried like a baby!!

Billy Eichner:
I'm Team Madonna, always was, always will be. Deal with it. #VogueMotherfuckers
Reviews from the press were for the most part very positive…
Forbes
Madonna wowed the Staples Center crowd by joining Macklemore & Ryan Lewis for an emotional rendition of "Same Love" that featured Queen Latifah marrying 34 couples–gay, straight, young, old–during the song.
Guardian
… a curiously geriatric looking Madonna dressed as Colonel Sanders presiding over a mass wedding of 33 gay and straight couples. It may have felt like a mass hallucination, but the marriages – a coda to Macklemore's performance of gay marriage anthem Same Love – were apparently completely legitimate.
Hollywood Reporter
The gay and straight weddings were officiated by Queen Latifah while the hit song about equality was performed by the rap duo with Madonna hitting the stage with them, along with Mary Lambert and jazz artist Trombone Shorty.
The mass of couples exchanged rings at the same time as the singer pronounced them wed while Madonna emerged to sing her classic "Open Your Heart."

The Material Girl changed into a white Ralph Lauren suit for the ground-breaking performance after wearing a dramatic black tux on the carpet.
HuffingtonPost UK
Madonna may be controversial at times, but she proved her heart to be in the right place, as she donned a cowboy hat at this year's Grammy Awards, to sing her hit 'Open Your Heart' gospel-style as the soundtrack to 33 weddings, live in the arena.
MTV
The performance, which took place near the end of the show, was one of the more sentimental sets of the evening. "This song is a love song, not for some of us, but for all of us," Latifah said before introducing Macklemore and Lewis. From there, the rapper unveiled the gospel-infused track amid a church-inspired atmosphere.
Then, as Latifah announced the marriages, Madonna — clad in all white — joined her, Macklemore and Lewis as the newly married couples walked through the arena arm in arm. It was a touching cap on a tolerant track, but we can't help but ask: Is Queen Latifah really an ordained minister?
NBC Bay Area
Macklemore & Ryan Lewis took their tear-jerker hit "Same Love" to new heights Sunday night when they were joined on stage for a performance of the song featuring Mary Lambert, Queen Latifah and Madonna. If that powerhouse line-up weren't enough, 33 gay, straight and lesbian couples in the audience were simultaneously married under Latifah's command. Katy Perry caught a bouquet as the newlyweds received a standing ovation, and Keith Urban wiped a tear from his eye.
New York Daily News
Macklemore & Ryan Lewis — who have famously rebuffed the major labels' repeated attempts to sign them — snapped up four awards, including the coveted Best New Artist prize. The pair made history with their performance of the hit "Same Love." While the openly gay author of the song's chorus, Mary Lambert, crooned the main hook, 33 real life couples — some straight, some gay — exchanged rings in a make-shift wedding.
During the ceremony, guest star Madonna worked in her old hit "Open Your Heart." As an early supporter of gay rights, she fit in seamlessly.
New York Post
The Grammys is usually where artists strive to please everyone. But despite knowing full well that the issue of same sex marriage is still hotly debated across the country, Macklemore & Ryan Lewis still performed "Same Love" with pride and commitment before marrying 33 couples of both mixed and same sex. It wasn't just a performance, it was a statement. And whether gay or straight, who wouldn't want Madonna to sing "Open Your Heart" at their wedding?
Us Weekly
A legendary collaboration took place at the 2014 Grammy Awards, which aired live from the Staples Center in Los Angeles on Sunday, Jan. 26. Pop icon Madonna took the stage with rapper Macklemore & Ryan Lewis and featured vocalist Mary Lambert to sing the marriage-equality anthem "Same Love."
Variety
The show-stopping moment of the 56th annual Grammy Awards was the live nuptials of 33 couples, a mix of gay and straight, who tied the knot during a performance of Macklemore & Ryan Lewis' same-sex marriage anthem "Same Love."
Queen Latifah officiated the ceremony, while Madonna joined the crowd on stage for "Same Love" and a rendition of "Open Your Heart." The moment marked a remarkably overt political statement for the Grammycast, albeit one for a cause that has broad support throughout the entertainment industry.

Madame X is available in Box Set, CD, Vinyl and Cassette!
Get your copy HERE!