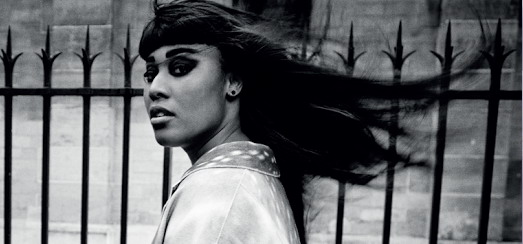 British indie pop singer-songwriter V V Brown recently release a new album called "Samson & Delilah".
The album, which received rave reviews, has two tracks titled "Substitute for love" and "Nothing Really Matters", and the geisha theme is also featured in one of her videos.
So, we were wondering if Madonna was one of her inspirations for the record and as she recently gave a small private concert in Paris we, at Madonnarama, had the opportunity to ask her a few questions.
Here's what she had to say…
I love Madonna. I think she's an incredible artist.
We weren't listening to a lot of Madonna. We were listening to a lot of Björk.
You can't help but be inspired by Madonna anyway. She has such a huge catalog. When you grow up with her, it would naturally come out through the things that you create.
I also found out something very interesting, that our track listings on the album were very similar. That was such a coincidence. So maybe subconsciously I was inspired by Madonna.
But either way, I love her and she's amazing.
V V Brown is currently on tour in Europe and in case you haven't heard any material of "Samson & Delilah", make sure to check it out!
From her previous album…

Madame X is available in Box Set, CD, Vinyl and Cassette!
Get your copy HERE!