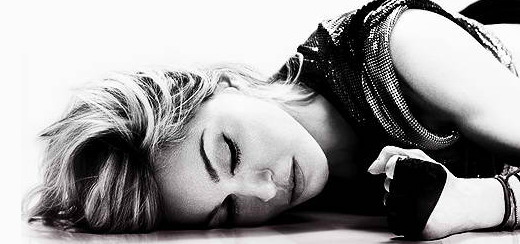 New "I'm a Sinner" remix by William Orbit
GLEE covers "Into the Groove"
The upcoming episode of GLEE "Puppet Master" features a cover of Madonna's "Into the Groove" sung by Adam Lambert, Demi Lovato, Chris Colfer and Lea Michele.
What do you think?
Thanks Jason L.
"Songs for the Philippines" features "Like a Prayer"
The global music community has come together for the worldwide release today of a new compilation that features the biggest names in music to raise money for those affected by supertyphoon Haiyan in The Philippines. "Songs for the Philippines," a unique collection of 39 chart-topping hits and classic tracks, is now available worldwide on iTunes.
The "Songs For The Philippines" track listing is as follows:
The Beatles – "Across The Universe"
Bob Dylan – "Shelter From The Storm"
Michael Buble – "Have I Told You Lately That I Love You"
U2 – "In A Little While"
Bruno Mars – "Count On Me"
Beyonce – "I Was Here"
Eminem – "Stan" (Live from BBC Radio 1)
Cher – "Sirens"
Adele – "Make You Feel My Love"
Katy Perry – "Unconditionally" (Johnson Somerset Remix)
One Direction – "Best Song Ever"
Fun. – "Carry On"
Lady Gaga – "Born This Way" (The Country Road version)
Justin Timberlake – "Mirrors"
Justin Bieber – "I Would"
Alicia Keys – "New Day"
Imagine Dragons – "30 Lives"
Madonna – "Like A Prayer"
P!nk – "Sober"
Kylie Minogue – "I Believe In You"
Enrique Iglesias – "Hero"
Red Hot Chili Peppers – "Factory Of Faith"
Linkin Park – "Roads Untraveled"
Kings Of Leon – "Use Somebody"
Muse – "Explorers"
Lorde – "The Love Club"
Josh Groban – "Brave"
Kelly Clarkson – "Stronger"
Paolo Nutini – "Simple Things"
Ellie Goulding – "I Know You Care"
James Blunt – "Carry You Home"
Pitbull feat. Christina Aguilera – "Feel This Moment"
Earth, Wind & Fire – "Sign On"
Apl.de.Ap – "Going Out" feat Damian Leroy
Sara Bareilles – "Brave"
Jessica Sanchez – "Lead Me Home"
Lily Allen – "Smile"
The Fray – "Love Don't Die"
The Beatles – "Let It Be"
All proceeds from "Songs For The Philippines" will be directed to the Philippine Red Cross.
Follow "Songs For The Philippines" on Facebook.com/SongsForPH
Keep the chain going on Twitter and Facebook #GiftsongsforPH
Go to www.songsforphilippines.com for more details
Kate Middleton as Madonna
Michele Moricci made a series of drawings of Kate Middleton re-imagined as the pop stars of the moment.
Here's his take on Madonna…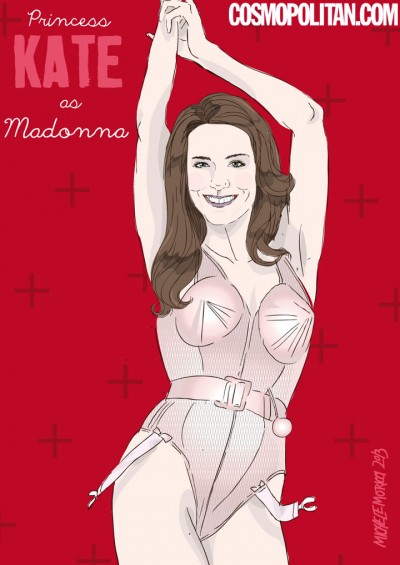 For more pictures, check out cosmopolitan.com
Marge Simpson as Madonna
Artist Alexsandro Palombo – known for his irreverent and colourful fashion cartoons – reimagines Marge Simpson in some of the most iconic dresses of all time.
One of those dresses is the famous Jean Paul Gaultier outfit Madonna wore during the Blond Ambition Tour.
Here's what he had to say…
There is a Marge Simpson is every women and with this tribute I wanted to ignite the magic that is in every women; the strength, femininity, elegance, eroticism and beauty," Palombo told us. "I made a strict and careful selection of what, in my opinion, has really influenced the style of the last 100 years. Each of these dresses really changed the course of the history of costume, giving a new aesthetic vision that has anticipated major changes in our society. We may not consider these clothes as art, but the aesthetic vision that they emanate has played an important role in giving strength to the path of emancipation of women since 1900. In many cases it's the dress that has transformed a woman into an icon, but in many others, it's the personality of the women that has enlightened the dress.
Check out more at Vogue.com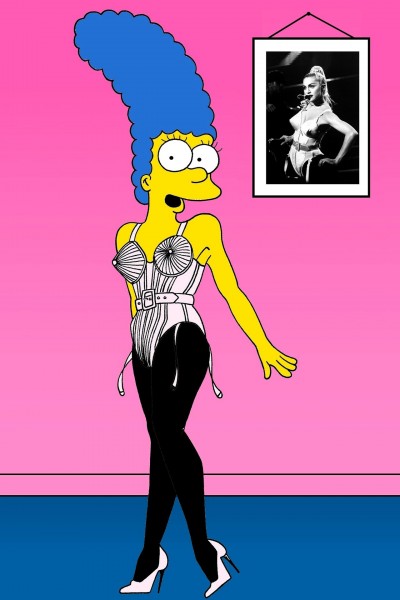 Madonna and Lourdes in Michigan
Madonna caused quite a stir on campus when she visited the University of Michigan with her daughter on Wednesday.
Dressed in black and wearing oversized sunglasses, the pop icon was apparently trying to go incognito as she exited the dean's office at the music school with her daughter, 17.
Lindsey Meekhof, a vocal performance senior told PEOPLE…
There was a lot of excitement.
[Madonna's] daughter was learning about our musical theater program
Someone announced to my choir class Madonna was in the building, and choir wasn't productive anymore after that.
People that weren't music school students were all over the area. Madonna tried to keep the attention on her daughter but … people were everywhere.
They also had dinner at Sava's, as they posted the following on their official Facebook page…
Madonna just ate dinner at Sava's! Yes, you heard that right. Madonna means the world to your Sava's Management team, we live and breathe her. This is a big day for us! Hopefully Lola chooses U of M so we can see more of them!!!!!!!!!!
Madonna NYC83 by Richard Corman
Check out this interview with Richard Corman by Brandon Smith for Blouin Artinfo…

Madame X is available in Box Set, CD, Vinyl and Cassette!
Get your copy HERE!