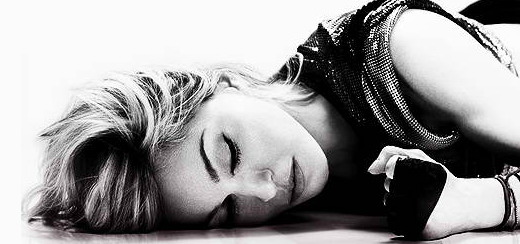 Khaya Cohen covers Madonna's "Borderline"
On X Factor USA, Khaya Cohen covered Madonna's Borderline.
What do you think?
MDNA Tour on Spanish TV
CANAL PLUS SPAIN will broadcast the MDNA WORLD TOUR LIVE in December 31 at 22.00.
Thanks to Richard C.
Madonna by Pedno
The Galery D in Montréal, Canada is currently exhibiting the work by Stéphane Pedno and features one piece inspired by Madonna.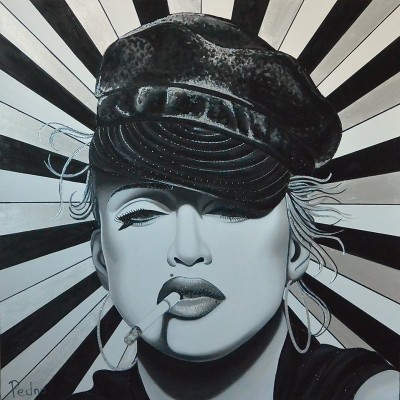 More details at Galerie D
Thanks to Marianne B.
Madonna Wins 'Vogue' Sampling Lawsuit
Back in July 2012, a Delaware company hit Madonna and her label WB Records with a lawsuit claiming she stole portions of one of their songs for her hit 1990 hit "Vogue."
The Hollywood reporter announced that the issue has been resolved with a ruling favor of the defendants.
The original lawsuit was filed in July by VMG Salsoul, the copyright owner of a 1976 composition called "Love Break." The plaintiff alleged that it was only through new technology that the "deliberately hidden" sampling had been detected.
But a U.S. District Court judge in California has ruled on summary judgment that sampling of the Horn hit was "trivial," in that in could not be recognized.
The ruling reads…
Having listened to the sound recordings of Chicago Bus Stop, Love Break, and Vogue, the Court finds that no reasonable audience would find the sampled portions qualitatively or quantitatively significant in relation to the infringing work, nor would they recognize the appropriation," "The Court finds that any sampling of the Horn Hit was de minimis or trivial.
Attorney Richard Busch, who represented the defendants says…
We are thrilled with the decision, and believe it is absolutely the right result.
Lynn Goldsmith's 'Rock and Roll Stories' Book
Lynn Goldsmith's 'Rock and Roll Stories' is an expanded version of her 1995 book "Photo Diary" and goes into much greater detail about the musicians she's photographed in her career.
One of the best stories: Goldsmith shot a couple of early Madonna shows but decided not to work with the Queen of Pop, because she thought Madonna didn't have any talent. A few months later, she saw "Desperately Seeking Susan" and changed her mind about Madonna!
Rare Photos Of Madonna In NYC Circa 1983
GIANTlife attended the opening of the Richard Corman exhibition at Milk Gallery in New York. Check out some of the pictures…
Kelly Brook's style icon was Madonna
English model and actress Kelly Brook took style tips from Madonna as a teenager.
She told the Daily Telegraph newspaper…
I would buy tonnes of hairspray. I had a bad perm and would scrunch my hair. I'd go through a can of hairspray a week.
(RED) the ultimate soundtrack to this year's World AIDS Day weekend
(RED) Brings Together The World's Biggest DJs + Pop Artists To Release DANCE (RED) SAVE LIVES(2) On iTunes November 25, 2013.
The ultimate soundtrack to this year's World AIDS Day weekend celebrations, the DANCE (RED) SAVE LIVES2 compilation features new and original collaborative dance tracks, including Madonna…
Proceeds from the sales of DANCE (RED) SAVE LIVES2 go to the Global Fund to fight AIDS.
DANCE (RED) SAVE LIVES2 album tracklist…
01. Katy Perry – Roar (DallasK Remix)
02. Coldplay – Every Teardrop Is A Waterfall (Swedish House Mafia Remix)
03. Major Lazer ft. Bruno Mars, Tyga and Mystic – Bubble Butt (Flosstradamus Remix)
04. Empire of the Sun & Tommy Trash – Celebrate (Tommy Trash Remix)
05. Madonna vs. Avicii – Girl Gone Wild (Avicii's UMF Mix)
06. Bob Marley – Sun Is Shining (Jesse Rose 'Bootleg' Remix)
07. Calvin Harris ft. Ellie Goulding – I Need Your Love (R3hab Remix)
08. Dada Life vs. Josh Wink – Higher State of Dada Land
09. Robin Thicke ft. Kendrick Lamar – Give It 2 U (Benny Benassi Remix)
10. Capital Cities – Kangaroo Court (Robert DeLong Remix)
11. Banks – Waiting Game (Kaytranada Edition)
12. Baauer & RL Grime – Infinite Daps
13. Claire – Broken Promise Land (Giorgio Moroder Remix & Vocoder)
14. Bingo Players – Buzzcut (Popeska Remix)
15. Icona Pop – All Night (Crookers Remix)
16. Tiesto, Mark Alston, Baggi Begovic, Jason Taylor – Love & Run ft. Teddy Geiger (MOTi Remix)
17. Deadmau5 vs. Eric Prydz – The Veldt (Prydz Festival Edit)
18. Martin Solveig & The Cataracts – Hey Now ft. Kyle (Pierce Fulton Remix)
19. Gorgon City – Voltage
20. Felix Cartal ft. HAERTS – Slow Motion
21. Rebecca & Fiona ft. VICE – Hot Shots (RED Edition)
22. Tritonal ft. Underdown – Deep Into Black (Club Mix)
23. Chuckie – Skydive ft. Maiday (Candyland Remix)
24. Far East Movement – There Will Be No Rain (Kill Paris Remix)
Madonna — still daring after all these years
In her latest column, Liz Smith gave her opinion on the Madonna piece in the latest Harper's Bazaar issue. Here's an excerpt…
I suppose Madonna has changed a lot over the years, but this determination of hers to provoke and dare and take her audiences on that journey — even if some would rather be taken on a less challenging, more nostalgic journey. This never changes. And I doubt it ever will.
Madonna nudies big sellers at Guccione auction
Nude photos of a teenage Madonna proved to be big sellers at the Guccione auction of items from Penthouse founder Bob Guccione's collection of erotic art.
The never-before-seen images of the pop queen netted more than $30,000 for Guccione Collection LLC, the Englewood company led by Jeremy Frommer that purchased the late publisher's photos and artworks from his creditors.
If you haven't seen the pictures yet, go check them out HERE!
U2 and Madonna managers come under the Live Nation tent
According to FT.com, two management companies representing U2 and Madonna are close to being folded into Live Nation Entertainment in a deal that gives the concert and venue promoter new influence in artist representation.
Under the deal, Paul McGuinness's Principle Management and Guy Oseary's Maverick will become part of Artist Nation, Live Nation's artist management company.
Guy Oseary, who manages Madonna, will become chief executive.
Live Nation declined to comment.

Madame X is available in Box Set, CD, Vinyl and Cassette!
Get your copy HERE!