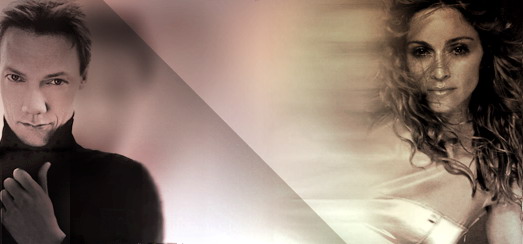 Update: The official William Orbit remixes have been added in great quality on his SoundCloud!
—
London Electronic Arts Festival (LEAF) is a major new city-wide event for London, showcasing its innovative heritage in electronic music.
Through a series of talks, technology masterclasses, installations, screenings, parties and performances, LEAF explores and reclaims the legacy of London as a pioneering figure in the global electronic music movement.
William Orbit performed a prototype concert in Shoreditch on November 9th 2013 as part of LEAF where he talked about his career, answered questions and also played some music.
One of the questions from the audience was of course about Madonna.
Here is a transcript by Madonnarama…
Tell me a little bit more about how Madonna happened. How you sort of walked into that?

William Orbit: I've done a couple of remixes. It was "Justify my Love".
I might play it later because I've done a remix version of it.
I sent them off on cassette and I've written my phone number on it and I got a call… from her.

What happened? I had an album, but nobody liked it. Warner said "it's not working for us, it's just not happening, sorry."

Then I was getting called by Guy Oseary, who is her manager, saying "got anything for Madonna?" In fact, we were driving around LA, working with Laurie and she said "send it." I didn't want to, but she said "send it, you got nothing to lose." I sent the whole album and [Madonna] called me five days later, when I was back in England, out of the blue, in the kitchen.
I said "How did you get my number?"
She said "Oh, it was on a cassette. We dug it out of a pile of cassettes, your number. By the way, I've written loads of stuffs on these songs I really like. Would you like to come to New York and carry on?"
I went out there, to her apartment in New York with all these cassettes and things… no organisation, no idea how I was going to do this. I never done anything of that level at all.
She said "This is great. Let's start tomorrow."
We did the songs and they worked out brilliantly. I felt really good.

It was like love at first site and then it quickly turned into frustration… deep frustration on her part, because I was so a rookie. I didn't know what I was doing at all… with equipment.
I was on an Atari games computer, two of which I had, because they would catch fire. They would literally burn if they got hot, so I always had to have two. They were brown, nicotine stained and she likes things clean and pristine. There's all these professional American engineers coming in. I was like "I can't compete with you guys." Then she got very frustrated. She called me in and was like "I liked you, but now I'm starting to really hate you."

Then, the song "Ray of Light" happened and people came to the studio… she brought a couple of people. They were all digging it, so she was like "hmm.. maybe we could do something if we keep going on."

I had this engineer, American guy, but he was really angling to get into this whole thing. He was making me feel quite insecure with my little homemade rig. She knew that it was going to be one of us two.
She said "It's the haircut. His haircut is wrong. I can't work with people if the hair…"
That was her way of getting out of this difficult question with dignity.
He also said…
Her voice is so sweet on [Justify my Love], actually "Erotica", it's so sweet.
She has this voice that nobody has.
There's not anybody that can sound like her.
She actually has a fantastic instrument, technically speaking.

When we recorded [Falling Free] it was Madonna's favourite.
She just sang it. She usually picks holes in everything. Everything gets changed obsessively. That's what we do. She's great to work with creatively
But this one, she just loved it straight away, sung it, never changed a note. Just enjoyed it.
She had a very bad cold, but she wouldn't be put off.
William Orbit played three different Madonna remixes:
– a "Nasty" version of Gang Bang (around the 30m50s mark)
– Justify my Love (around the 1h35m40s mark)
– Falling Free version based on Rico Conning remix and the unreleased Ferry Corsten remix (around the 1h40m50s mark)
Check it out…
Interested in those remixes in better quality? It probably doesn't hurt to tweet @WilliamOrbit about this!

Madame X is available in Box Set, CD, Vinyl and Cassette!
Get your copy HERE!