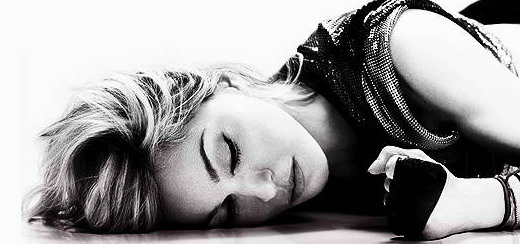 MDNA US Sales
Madonna's latest album MDNA sold a total of 533,000 units in the USA.
Kid Rock not a big Madonna fan
Kid Rock went to the radio morning show "Squawk Box" and didn't hold back when he heard Madonna's name mentioned as a musician that's a supporter of Detroit.
He said…
Madonna ain't done nothing for Detroit!
Madonna Tape Art
Check out this incredible piece of art by Bronya Benidetter & Sonya Benidetter created from duct tape…
Hard Candy Fitness Opens Its Doors In Toronto
Hard Candy Fitness announced the October 31st opening of Hard Candy Fitness Toronto located at 382 Yonge Street. The exquisite 42,000 sq. ft. facility is the brand's first club in North America and the largest of all current Hard Candy Fitness gyms whose current locations include Rome, Sydney, Santiago, Mexico City, Moscow, St. Petersburg, Russia, and Berlin.
Leonard Schlemm, chairman and co-owner, of Hard Candy Fitness Toronto said…
We are very excited about the opening of Toronto's new Hard Candy Fitness.
The club is in one of the city's most beautiful condominium towers in arguably the most vibrant neighborhood in Toronto.
This full-scale club will exude the brand's signature modern style with high-end amenities, extensive cardio, functional strength and personal training spaces, state-of-the-art equipment, saunas, steam rooms, custom juice bar and an all-around rooftop terrace. Hard Candy Fitness Toronto members will benefit from unique group fitness programming with studios for everything from cycling and Pilates to yoga and cardio-dance – including Hard Candy Fitness' signature Addicted to Sweat workouts. Madonna and her long-time personal trainer, Nicole Winhoffer were directly involved in the selection of each Addicted to Sweat instructors at the Toronto location.
The club will be located on the top retail floor of the newly-constructed, 78-story Aura building at College Park. Built by the Canderel Real Estate Development Corporation, the building will be the tallest condominium in Canada with stunning views of the cityscape with an adjacent three acre park. The Toronto team, led by its President and CEO Annick-Isabelle Marcoux is made up of some of the top fitness experts and trainers in Canada.
Exclusive promotional membership packages are now available. For details, or to enroll, visit www.hardcandyfitnesstoronto.com, email [email protected], or call 416-979-1645.
Madonna is not a Diva
Madonna and Mariah Carey are not the divas the press make them out to be, according to G-A-Y's Jeremy Joseph.
The nightclub boss recalled the time the US superstars played shows at the famous London venue and praised them for their professional attitude.
He told Digital Spy…
Someone like Madonna, the team around her are phenomenal. Everyone's got a role to play and they just get on with it. It runs so smoothly.
I think anyone who plays G-A-Y does it because they're a certain type of person and they're not this OTT diva.
Madonna apparently gave some advice to Lindsay Lohan
According to America's OK! magazine, Madonna told Lindsay Lohan to stay off the drugs, during her film event for SecretProjectRevolution in New York recently.
She apparently said…
It's never too late to start over.
You can't expect people to hand you a career again.
If you fight for success, you will appreciate it more.
You need to be independent and not depend on people or drugs, but rely on yourself.
Nicki Minaj: Oprah & Madonna Get Me Through The Tough Times
Nicki Minaj told Access Hollywood…
I don't even know how [I make my schedule work] — it really is just mind over matter. Like, you've really gotta will yourself to do it, because sometimes I feel so overwhelmed, like I'm not gonna get this done.
I just have a desire to be that kind of woman that I look up to when I was young. That kind of woman like the Oprahs and the Madonnas.
Those are the women that I look at and I'm like, 'If you can do what you do, I can do this,' because what I'm doing is such a small fraction of what their days must be like.
Mexican singer Paulina Rubio admires Madonna
In an interview with the Huffington Post, Mexican singer and actress Paulina Rubio revealed that she looks up to Madonna–although she refused to be called 'Latin Madonna.'
She said…
I've admired here since I was a little girl.
I love her because she is strong.
She's a warrior.
Thanks Luis
Nelly Compares Miley Cyrus To Madonna
Nelly thinks Miley Cyrus is acting the way she should at that age. He compares her to Madonna and says she's not hurting anyone…
She's not bullying people. She's not talking about other people. She's doing her.
We've had artists that have done that, and they've [wound] up turning into some of the biggest stars we've ever heard of before…Does Madonna ring a bell?
Britney Spears' Ray of Light album
Here's what Britney Spears' manager Larry Rudolph had to say about her upcoming album…
There are a couple other songs that have a really modern EDM vibe and other stuff that has more of a Ray of Light (Madonna) vibe.
I really think of this as Britney's Ray of Light album – it's kind of like that in a lot of ways. She wrote everything on the album with collaborators. There's one or two she wrote herself.
That's something she wanted to do coming in. She wanted to make it very personal. They're all custom-made for her, based on what's going on with her life and in her head.
Madonna's SecretProjectRevolution Tops 1.2 Mil Downloads via BitTorrent
Vice Media teamed with Madonna to release the "Art For Freedom" bundle via BitTorrent on Sept. 24. In less than three weeks, the "Art for Freedom" bundle has been downloaded more than 1.2 million downloads, according to the companies.
Vice, encouraged by the Madonna project, now plans to release an upcoming series of BitTorrent Bundles starting in mid-November featuring original video content that will "explore the relationship between open expression and open technology."
M.I.A. offered "Sexodus" to Madonna
In a recent interview with The Guardian, M.I.A. revealed that she offered the song "Sexodus" to Madonna…
I actually played that song to Madonna when I wrote it and said, 'Oh, you can have this.'
She gave it back to me.
Madonna didn't think it was right for her, but MIA still wanted to know what she thought of the question behind it: when you have it all, what should you do with it?
M.I.A.: So I was like, what d'you do? And she said, 'You spend it!' And I said, no, I don't think that's the right answer.
Did it change her opinion of Madonna?
M.I.A.: No, because Madonna is true to Madonna. She always said she was a material girl.
Jean Paul Gaultier Exhibition at the Brooklyn Museum in New York
The Brooklyn Museum is the only East Coast venue for The Fashion World of Jean Paul Gaultier: From the Sidewalk to the Catwalk, the first international exhibition dedicated to the groundbreaking French couturier. Playful, poetic, and transformative, Gaultier's superbly crafted and detailed garments are inspired by the beauty and diversity of global cultures.
October 25, 2013–February 23, 2014
Morris A. and Meyer Schapiro Wing and Iris and B. Gerald Cantor Gallery, 5th Floor
Leona Lewis takes a 'Holiday'
Leona Lewis has announced that she would be making her film debut with Max and Dania's British film 'Holiday.'
The musical, which will be shot in the UK and Italy, stars comedienne Katy Brand, the BBC reported.
The film will feature Madonna's hit 'Holiday', 'Wake Me Up Before You Go Go' by Wham and Cyndi Lauper's 'Girls Just Wanna Have Fun.'
Gang Bang Music Video (Secret Project Version)

Madame X is available in Box Set, CD, Vinyl and Cassette!
Get your copy HERE!