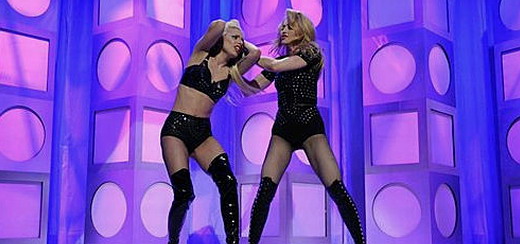 Is Lady Gaga playing the victim card again or does she desperately need some attention?
She says Madonna is "over" and tweeted a YouTube link to the famous "reductive" interview with ABC's Cynthia McFadden…
MADONNA HATES GAGA SHES OVER http://t.co/zrxU9k3Ho2 i dont need anybodys permission to be remembered. I will be. Whether they like it or not

— Lady Gaga (@ladygaga) October 20, 2013
According to some fans, Lady Gaga is just promoting her new single "Do What U Want" by tweeting some statements made by the press, critics and media.
Another explanation might be that Lady Gaga's Twitter account has been hacked or fake hacked… or maybe she's just having a nervous breakdown.
Here are some other things she recently tweeted…
LADY GAGA IS FAT NOW!

LADY GAGA IS A REDUCTIVE MADONNA COPY! SHE'S OVER NOW!

LADY GAGA IS A HERMAPHRODITE! LOOK AT THIS PIC OF HER D*CK

LADY GAGA IS ON DRUGS! HER CAREER IS OVER! (been an addict for 10years)

GOD HATES LADY GAGA! #YouCantHaveMyHeart ill always fight for equality, got my own relationship with God

APPLAUSE didn't DEBUT AT #1! KATY IS BETTER THAN HER!
Update: Clarified that the tweets might also be related to Lady Gaga's new single

Madame X is available in Box Set, CD, Vinyl and Cassette!
Get your copy HERE!