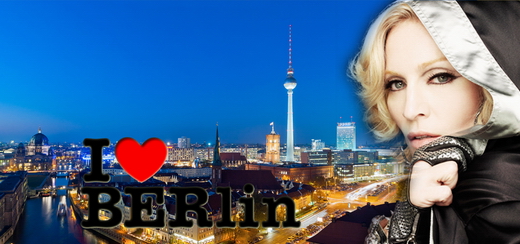 Update:
Interested in an audition slot for Madonna's upcoming Addicted To Sweat class in Berlin (Oct 17th)? Upload a Youtube video (4 minutes or less) or Instagram video of you dancing to one of the MDNA Live album tracks.
Share it using the #HCFBerlin hashtag for a chance to audition!
Deadline: Oct 16th, 12pm ET
—
The original article continues below.
Madonna will host the official grand opening of her first Hard Candy Fitness® location in Berlin on Thursday, October 17th, 2013.
Madonna is scheduled to teach her signature Addicted to Sweat cardio based dance class in the club with the Hard Candy Fitness Dance Team as part of the festivities.
Hard Candy Fitness Berlin will be holding a contest in which randomly selected entrants will be able to audition for the workout. Anyone can enter, and all entries will be taken online at www.hardcandyfitness.de, or at the club. On Thursday, October 17, the selected winners will work with the Hard Candy Fitness Dance Team to learn the Addicted to Sweat training routine. The event will culminate with Madonna leading the class in the workout.
Madonna commented…
I'm looking forward to getting Berlin 'Addicted to Sweat' and am excited to be attending the grand opening the first of several Hard Candy Fitness Clubs in Germany.
The club, located at Clayallee 171-177, will be the first of several Hard Candy Fitness locations in the city developed in partnership with fitness entrepreneurs Dr. Jürgen Jopp and Ralf Jopp.
The club boasts a 25-meter pool, steam room, sauna, café, and three large terraces providing plenty of space to exercise and outdoor relaxation. The facility spans almost 2,500 square meters, allowing members to enjoy stunning views of the man-made lake specially created for the new Fünf Morgen Urban Village. Members also have access to the most revolutionary strength equipment and free weights, along with dedicated spaces for personal training, group cycling, yoga, Pilates, and a large group fitness studio with floor to ceiling windows.
Dr. Jürgen Jopp stated…
We are thrilled to bring this unique and dynamic fitness brand to Germany, and are honored to have Madonna host our official grand opening.
Hard Candy Fitness, founded in partnership with Madonna and New Evolution Ventures (NeV), recently announced the opening of Hard Candy Fitness clubs in Toronto and two clubs in Rome. These new locations follow current locations in Sydney, Santiago, Mexico City, Moscow, and St. Petersburg, Russia. The brand is expected to announce the opening of multiple locations this year as it continues its expansion into destination cities around the world.
For more information about Hard Candy Fitness Berlin and exclusive membership opportunities, visit www.hardcandyfitness.de.
For more information about entering for a chance to be part of the auditions, visit the above website or visit the club at Clayallee 171-177, 14195, Berlin.

Madame X is available in Box Set, CD, Vinyl and Cassette!
Get your copy HERE!