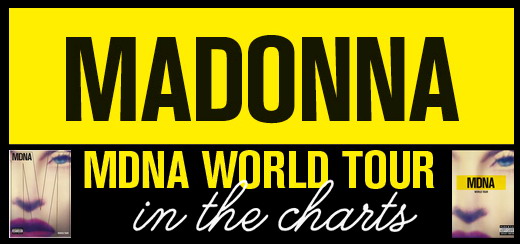 Update from Billboard.com:
Madonna, "MDNA World Tour" (No. 90): The album version of Madonna's "MDNA World Tour" concert video release debuts at No. 90 with 4,000 sold. It was issued only as a digital album and a CD-R on demand from Amazon.com. It is her 26th chart entry on the Billboard 200.
Meanwhile, on the Music Video Sales chart, the blu-ray and DVD version of the "MDNA World Tour" release combine to sell 11,000 for a No. 1 debut. It's her 10th No. 1 and sixth chart-topper in a row.
Her last live album and video release, 2010's "Sticky & Sweet Tour," was released on blu-ray, CD/DVD and as a digital album. The former configuration enabled its No. 1 debut on Music Video Sales with 5,000, while the latter two combined for a No. 10 arrival on the Billboard 200 (28,000).
Had "MDNA World Tour" been issued on traditional CD and CD/DVD (and/or CD/blu-ray combo), then the album would have naturally charted much higher than No. 90 on the Billboard 200.
—
The original article continues below.
The MDNA Tour was released last week on CD, DVD and Blu-Ray, but everything didn't go as planned.
Lots of fans complained about the quality of the DVD/Blu-Ray and Madonna commented during the Reddit AMA that they are currently looking into it as it might be a case of old technology not working with new technology.
This, however, didn't stop it from entering the charts at number one all around the world!
MDNA Tour DVD
#1 USA
#1 UK
#1 Australia
#1 Finland
#1 France
#1 Germany
#1 Israel
#1 Italy
#1 Netherlands
#1 Portugal
#1 Spain
#2 Belgium (Wallonia)
#2 Denmark
#2 Taiwan
#3 Ireland
#4 Belgium (Flanders)
#9 UK (Blu-Ray)

MDNA Tour CD
#2 Italy
#4 Israel
#6 France
#18 Portugal
#50 Netherlands
#55 UK
#66 Ireland
Madonna's MDNA World Tour enters Top Music Videos at #1 in the USA. It's Madonna's 10th music video to top this chart.
It follows:
– Madonna (four weeks at #1 in 1985),
– Madonna Live: The Virgin Tour (10 weeks in 1986)
– Ciao Italia: Live From Italy (eight weeks in 1988)
– The Immaculate Collection (four weeks in 1991)
– Drowned World Tour 2001 (one week in 2001)
– I'm Going To Tell You A Secret (two weeks in 2006)
– The Confessions Tour (two weeks in 2007)
– Celebration: The Video Collection (one week in 2009)
– Sticky & Sweet Tour (one week in 2010)
Thanks to all our readers for all the info!

Madame X is available in Box Set, CD, Vinyl and Cassette!
Get your copy HERE!