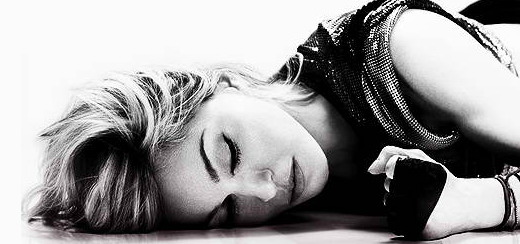 Debbie Harry: I think Gaga has probably been more influenced by Madonna than me
During an interview with Austin Monthly, Debbie Harry was asked how she felt about nw female artists who are inspired by her. Here's what she said…
I'm sure that they're lots of girls out there that I'm not aware of. I think that we all build on what we see and what we hear around us. You choose the things that you like and the things that are more instinctive for you. I think Gaga has probably been more influenced by Madonna than me, but then Madonna has said that she was influenced by me. It really is a layering and a building process.
"Vogue" single horn chord was not copyrightable
Madonna and record producer Shep Pettibone on Monday urged a California federal judge to toss a copyright suit over their 1990 hit "Vogue," saying a single horn chord that they allegedly sampled from the Salsoul Orchestra's 1975 song "Chicago Bus Stop" was not copyrightable.
Pettibone's attorney Richard Busch of King & Ballow said the "horn bit" — which was also allegedly included in an instrumental version of "Chicago Bus Stop" entitled "Love Break" — did not merit copyright protection because, among other things, it lacked originality and lasted only two-tenths of a second. VMG Salsoul Inc. owns the copyrights to both "Chicago Bus Stop" and "Love Break."
VMG filed its suit in July 2012, alleging its predecessor had hired Pettibone to remix "Love Break" for the Salsoul Orchestra before he went to work with Madonna.
Pettibone has also claimed the suit was prompted by VMG Senior Vice President Tony Shimkin, a former Pettibone assistant. Pettibone and Shimkin were romantic partners who vacationed with Frasca in the Caribbean before Pettibone ended the relationship, according to a court filing.
Jo Whiley on Madonna
Speaking to the Express, Radio 2 DJ Jo Whiley talked about interviewing celebrities.
About Madonna she said…
I've never had a bad experience with her at all.
She co-presented my radio show once, and she's always been really sweet to me.
Borderline by The Flaming Lips
Whether you like it or not, Madonna's Borderline being covered by a critically acclaimed rock band like The Flaming Lips shouldn't go unnoticed!
Drew Dollaz on working with Madonna
MDNA Tour dancer Drew Dollaz is featured in the latest ad campaign for Topman and talked about Madonna during an interview with them…
Topman Generation: Having worked with a number of high profile names including Queen of Pop Madonna – do you ever get star struck? Are there any artists/shows you're dying to dance for?
Drew Dollaz: I feel we must always keep it professional in the work place so becoming star struck is something you can never let happen. When working with high profile names, the last thing they want to worry about is their dancers being crazed fans. There are a few artist I would love to dance for, of course the late, great Michael Jackson, Chris Brown and Justin Timberlake. I would also love to work on a Broadway show in New York and feature in a Cirque Du Soleil show in Las Vegas.
Would you ever get star struck? Not even a little bit?
Alison Brie as Madonna
Alison Brie And Adam Pally Reenacted Madonna And Rosie O'Donnell's 1992 'Arsenio Hall Show' Appearance
The Saturdays' Una Healy defends Miley Cyrus
After Miley Cyrus' performance at the MTV VMAs this year, Una Healy wrote in her blog for Heat magazine…
Madonna was always controversial with her outfits and performances and of course Lady Gaga has shocked people in the past.
I can see how it might offend some people but personally I really enjoyed it.
Madonna's Diet Is the Hardest I Have Ever Tried
Rebecca Harrington decided to attempt Madonna's apparently draconian fitness and nutritional regimes. Read all about it here.
Her conclusion…
Is Madonna's diet hard? You bet your ass it is. Is it fun? No! Do you have to eat sauerkraut? Yes! But what I really realized is that Madonna is a feminist revolutionary and it's hard to be on a revolutionary's diet. She danced in a wedding dress! She called David Mamet a chauvinist! She made a sex book called Sex! Paul McCartney may have suspiciously brown hair but no one says he tries too hard to be young! I guess the question is this: did Susan B. Anthony eat sauerkraut every day? Probably she did.
Madonna on the 10 August 1985 cover of TV Guide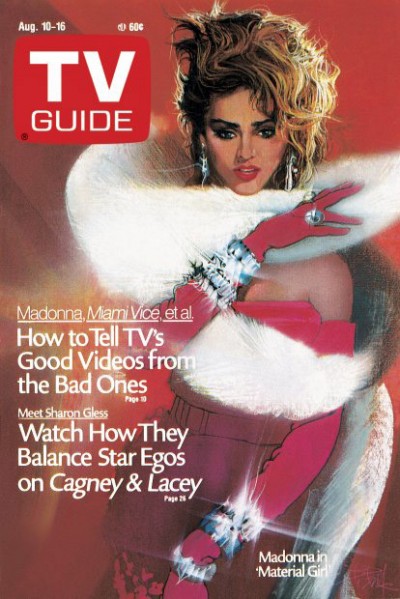 Madonna & Keith Haring
"Keith Haring All-Over" exhibition, currently running in New York until November 13th, features the jacket Madonna wore during one of her performances at the Paradise Garage in 1984!
More details at NYhistory.org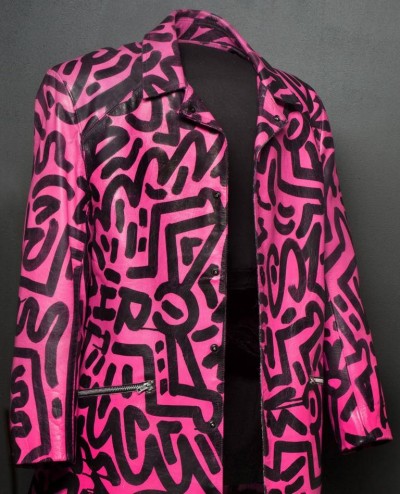 Madonna & Jellybean by Andy Warhol
This very rare photo of Madonna & Jellybean by Andy Warhol will be shown at the New York Design Center for the "I'll Be Your Mirror" exhibition, starting Sept 3. More details at NYDC.com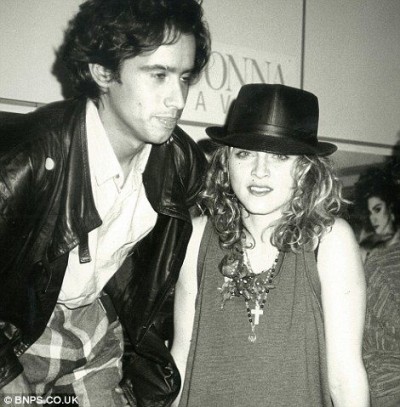 Katy Perry on Madonna
Raised in a firm God-fearing household, nine-time Grammy nominee Katy Perry had to endure a number of restrictions. Chief among them, she recalls, was a veto on certain television shows. There was also a no-sleepover rule and an absolute ban on both Madonna and, strangely enough, small, blue animated men.
I always had to hide my love for Madonna and The Smurfs.
Can you imagine? Madonna and the Smurfs as taboo.
Epic shot of Madonna
Extreme Jibs Filmed Madonna's concert, mounted a Gopro on the arm. This was the result "Epic shot of Madonna"…
Gigwise's "35 women who changed the music world forever"
In what has historically been a male-dominated industry, there have been a number of innovative and ground-breaking female musicians who have paved the way for women in modern music.
In the absence of any female role models for them to aspire to, women in the music industry have created and popularised their own individual identities – breaking records, destroying barriers and changing the entire landscape of music as they did so.
Without these women we wouldn't have musical techniques we consider as standard or songs we define as classics today.
No matter what genre, from jazz and soul to punk and and hip hop, these are just a few of the women who have trailblazed their way through their careers and carved out their own paths in music, inpiring whole new generations of female musicians. Here's to them.
A great list including Aretha Franklin, Annie Lennox, Tina Turner, Janis Joplin and… Madonna.
Madonna is the best-selling female recording artist of all time and has arguably set the gold standard for being an independent, controversial and successful female artist. Constantly reinventing herself and maintaining a distinctive identity both with her music and appearance; it's no wonder she's known the world over as the 'Queen of Pop' and has inspired generations of artists such as Lady Gaga and Katy Perry.
Madonna and Debi Mazar in Japan
Teaching Geisha Girls in Japan how to wink!:)1987 "who's that girl tour" #tokyo
Vanity Fair
Vanity Fair France takes a look back at previous covers in a feature called "Their First Cover", including the incredible Madonna picture shot by Herb Ritts that graced the cover of the December 1986 issue.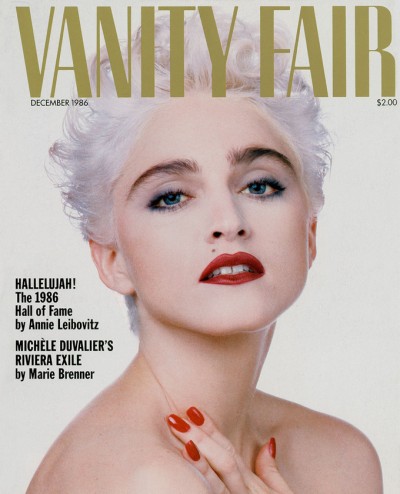 Madonna joins worlwide call for the release of Pussy Riot
More than 100 internationally-renowned musicians, including Madonna, have joined a worldwide call for the release of the two jailed members of the Russian feminist punk group Pussy Riot ahead of their parole appeal hearings this week.
The full list of artists is: Madonna, Bryan Adams, Adele, Alt-J, Laurie Anderson, Animal Collective, Anti-Flag, Arcade Fire, Arch Enemy, Archive, Joan Armatrading, Joan Baez, Beardyman, Jeff Beck, Yasiin Bey, björk, Rubén Blades, Billy Bragg, Jackson Browne, Peter Buck, Tracy Chapman, Chase & Status, The Chemical Brothers, Neneh Cherry, The Clash, Coldplay, Lily Rose Cooper, Dido, Django Django, Melissa Etheridge, Siobhan Fahey, Paloma Faith, First Aid Kit, Franz Ferdinand, Foster the People, fun., Peter Gabriel, Bob Geldof, Kim Gordon, Debbie Harry, PJ Harvey, Don Henley, The Hidden Cameras, Niall Horan, Billy Joel, Sir Elton John, Ke$ha, Angelique Kidjo, The Knife, Mark Knopfler, Tom Lehrer, Sean Lennon, Annie Lennox, Lykke Li, Sir Paul McCartney, Romy Madley-Croft, Zayn Malik, Stephen Malkmus, Marina & The Diamonds, Johnny Marr, Massive Attack, Mike Mills, Moby, Thurston Moore, Tom Morello, Alanis Morissette, James Morrison, Graham Nash, Kate Nash, Youssou N'Dour, Karen O, Yoko Ono, Clock Opera, Ozzy Osbourne, Liam Payne, Peaches, Joe Perry, Phoenix, Rain Phoenix, Portishead, Portugal. The Man, Cat Power, Radiohead, Bonnie Raitt, Rise Against, Patti Scialfa, Scissor Sisters, Paul Simon, Sleigh Bells, Patti Smith, Esperanza Spalding, Bruce Springsteen, Dave Stewart, Sting, Michael Stipe, Harry Styles, Neil Tennant, Louis Tomlinson, Pete Townshend, K T Tunstall, U2, Eddie Vedder.
In an open letter, coordinated by Amnesty International as part of its ongoing campaign to free 25-year-old Maria Alekhina and 23-year old Nadezhda Tolokonnikova, the artists pledge their support and state that the impact of Pussy Riot's "shockingly unjust trial and imprisonment has spread far and wide, especially among your fellow artists, musicians and citizens around the world."
Madonna is possessed by a demon
On his most recent "Pray In Jesus Name" program, "Dr. Chaps" Gordon Klingenschmitt dedicated an entire segment to investigating the question of whether pop star Madonna is possessed by demons.
Citing lyrics from her song "Revolver," which he judged against the "Warning Against the Adulterous Woman" from Proverbs 7, Klingenschmitt concluded that, in fact, Madonna is possessed by a demonic spirit of adultery.
Klingenschmitt then added that he has heard of people being cured of liver cancer after repenting for this sin of pornography, before politely declining Madonna's invitation to engage in intercourse because he has been happily married for 22 years:
Vogue – Sticky & Sweet Tour Choreography by Alexander
MDNA London Party on September 15th
ONE HUGE MDNA EVENT featuring the 'MDNA MASTERMIND QUIZ' with compere and host, David Robson and screening of 'THE MDNA CONCERT FILM' with vintage and extremely rare MADONNA performances hosted by Madonna Celebrates, Kurt Hoffman.
The first 20 guests at the event will receive a exclusive "MERT & MARCUS" MDNA giant poster.
All ticket holders receive an exclusive MDNA event gift on the night. Promo prizes while stocks last.
MDNA Tour release party in Rio De Janeiro, Brazil on September 6th
Press release…
Oh my God! Finally the most anticipated DVD of the year will turn out! And TvBar invites you to celebrate in style, this release: Madonna – MDNA World Tour.

On September 6, come enjoy the greatest hits of the show and the entire career of the Queen of Pop with DJ Garrido and VJ Valdo S, on a night very pop and house.

And if you're a fan of Madonna, come praying to win one of several official and exclusive gifts that we give away.

For the first 50, a delicious welcome drink to arrive and get in the mood.

Many new features will be announced here on the event, stay tuned;)

All this and much more on 06 September from 10pm in TvBar.

If you're birthday, celebrate with us! Sending your list, you and a guest have free entry. His other guests enter the friend list. 15 If guests are present, you win a bottle of bubbly. 20 come up, you get more of a surprise TVBar!

Confirm attended this event and pay R$26 all night.
You can also submit your name and your friends to [email protected]

More details on their Facebook page

Madame X is available in Box Set, CD, Vinyl and Cassette!
Get your copy HERE!