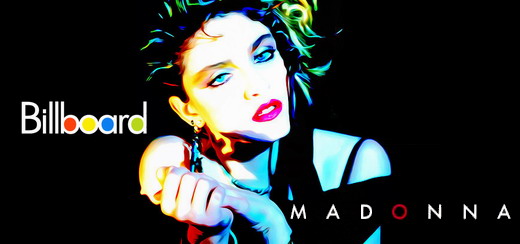 30 years ago, Madonna released her first album.
Billboard.com takes a look at the chart success of Madonna's magnificent debut…
July 27 is a "Holiday" for Madonna fans: Her self-titled debut album was released on this day in 1983.
"Madonna" debuted at No. 190 on the Billboard 200 chart dated Sept. 3, 1983, and eventually climbed all the way No. 8 the following year. The Sire/Warner Bros. Records release spent a staggering 168 weeks on the chart — the longest run of any Madonna album.
It spun off three top 20 hit singles on the Billboard Hot 100 chart and four entries on Billboard's Dance/Club Play Songs tally.
Its first single, "Everybody," was actually released the previous year, in late 1982. The song became a hit in dance clubs, especially in Madonna's then-home of New York. The cut reached No. 3 on Dance/Club Play Songs in early 1983 and was initially embraced by the city's dance radio station, WKTU. The outlet was arguably the first American radio station to play the track. WKTU reported it as a new "Playlist Top Add On" in the Dec. 11, 1982, issue of Billboard magazine, reflecting their station's playlist for the week ending Nov. 30, 1982. (Fun fact: At the time, former Billboard associate publisher Michael Ellis was the music director of WKTU.)
Madonna told Rolling Stone in 2009 about hearing herself on WKTU for the first time…
I was living on the Upper West Side, 99th and Riverside, and at about 7 at night I had the radio on in my bedroom, on 'KTU, and I heard 'Everybody.' I said, 'Oh my God, that's me coming out of the that box.' It was an amazing feeling.
"Everybody" was followed by the double-sided single "Burning Up"/"Physical Attraction," a No. 3 hit on Dance/Club Play Songs in spring 1983. (It was common then for singles to be promoted as so-called "double-sided" singles, when a vinyl record would be sent to club DJs with a different song on each side.)
Next came another double-sided single: "Holiday"/"Lucky Star," which became her first No. 1 on Dance/Club Play Songs in late summer 1983, just as her album was starting to take off. It was the first chart-topper her storied career as the queen of Billboard's Dance/Club Play Songs survey. In her career, she's earned a whopping 43 No. 1s — a record no other artist has neared. Her most recent No. 1 was 2012's "Turn Up the Radio," from her "MDNA" album.
"Holiday" eventually became Madonna's first major mainstream hit in America and her first single to chart on the Billboard Hot 100. It debuted at No. 88 on the Oct. 29, 1983, chart and peaked at No. 16 on Jan. 28, 1984.
The hits started to come fast and furious for Madonna after her breakthrough success with "Holiday." "Borderline" came next, and gave Madonna her first top 10 on the Hot 100. It reached No. 10 on the June 16, 1983, tally. "Borderline" was her first of a record 38 top 10 hits on the Hot 100. (In second-place on the all-time list: the Beatles, with 34 top 10s.)
While "Lucky Star" had been a club hit already, it was then time for it to be promoted to pop radio. It sailed to No. 4 on the Hot 100 the week of Oct. 20, 1984.
One month later, on Nov. 17, 1984, Madonna would debut her fourth hit on the Hot 100: "Like a Virgin," the title track and first single from her second album.
But, that's a chart story for another day…

Madame X is available in Box Set, CD, Vinyl and Cassette!
Get your copy HERE!