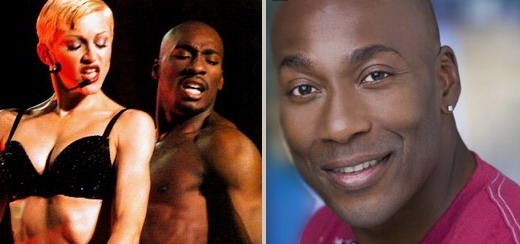 Openly gay and HIV-positive Chicago native Carlton Wilborn has danced with Madonna (on tours and in the movie Truth or Dare), acted with Richard Gere (in the movie The Hoax) and written books (including the autobiography Front & Center: How I Learned to Live There, which, among other things, details his dealing with being sexually abused as a child).
In a recent expansive interview with Andrew Davis for Windy City Times, Wilborn—who is also a life coach—candidly talked about his life as well as a new movie he's in called The Boarder and of course… Madonna.
WCT: With Madonna's tours—especially the first one—did you simply answer a casting call?

Carlton Wilborn: Absolutely. It was in the newspaper back then. The Blond Ambition tour, which was in 1990 [and the subject of the movie Truth or Dare], was a straight-up cattle call. I think around 500 dancers showed up for that—all guys. What was to my benefit was that I had already auditioned for Whitney Houston's tour, and I was accepted. Whitney had paused the travel date, and it was stalling; two weeks later, she still hadn't decided. So I decided to try out for Madonna's tour—and it was OK if I didn't get it because I had Whitney's tour; my confidence was ramped! [Snaps fingers] I just went to play.

Three years later, the Girlie Show tour happened—and it was just a phone call. I got a call from Madonna. She initially said, "I'm in New York, and I'm about to go back on the road. I can't find any in L.A." That was literally the premise—she needed to find dancers in L.A.

I got the info from her, and hung up. Ten minutes later, she called back: "I'm so sorry; I didn't even think to ask you. Are you interested in going back out?" I said yes. For that tour, I actually choreographed and ran the auditions.

A good buddy of mine, Christopher Childers, and I had done a lot of shows together, and I convinced him to audition. He got it, and one of the numbers we did on the Girlie Show tour was a number called "The Beast Within" that was designed for us. It was really homoerotic.

WCT: I remember that show—and [Dancing with the Stars judge] Carrie Ann Inaba being a backup dancer. Then there was that sequence for the song "Why's It So Hard?"

Carlton Wilborn: Oh, yeah! [Sings the song]
For more on Carlton, see CarltonWilborn.com.

Madame X is available in Box Set, CD, Vinyl and Cassette!
Get your copy HERE!