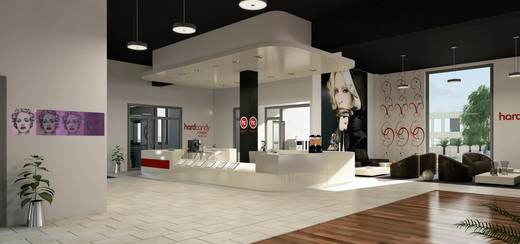 Hard Candy Fitness will open its new center at the former Truman Plaza in Berlin on September 16th 2013.
Last week they gave a press conference to reveal all the details!
Madonna announced today that she will open up the first Hard Candy Fitness Club in Germany this September at the former Truman Plaza, a former US army site in September 2013. With the slogan 'Harder Is Better,' Berlin's Hard Candy Fitness Club will offer several programs of the highest quality inspired by Madonna's personalized and innovative Addicted to Sweat workouts.

The gym has been designed in line with Madonna's vision for luxurious surroundings where members can enjoy a unique exercise experience.

Madonna, along wither her personal trainer Nicole Winhoffer, have pioneered world class, highly effective workouts that are also fun and entertaining.
Madonna, who has visited Berlin several times, is inspired by the city's dynamism and creativity. These qualities make the German capital a perfect fit for Hard Candy Fitness.

Alongside the unique workouts, Hard Candy Fitness offers state-of-the-art amenities with the latest, top-of-the-range equipment. The Berlin club's three large terraces also provide plenty of space to exercise and relax outdoors. And then there are the 25-meter pool, steam room, sauna and café that are a standard part of every Hard Candy Fitness Club. While working out or relaxing at this particular club, which spans almost 2,500 square meters, members can also enjoy stunning views of the man-made lake specially created for the new Fünf Morgen Urban Village on the site of the former Truman Plaza.

Hard Candy Fitness has been equipped with the finest materials, and designed with style and flair to create a modern and inspiring atmosphere. The Hard Candy Fitness clubs are designed for members who expect to work out hard and then relax in luxury. These attributes become evident as soon as they set foot in the club. The lighting, artworks, music, and exclusive atmosphere are the first steps toward feeling sensational before the workout even begins.

Hard Candy Fitness in Berlin: "Fitness never tasted so sweet"
– State-of-the-art cardio and strength-training equipment
– Group fitness studios and specialized dance floors
– Results-focused personal training
– Functional training areas for customized workouts
– The Hard Candy Energy Bar and lounge areas
– Sauna and steam room
– 25-meter pool
– Three large terraces for outdoor workouts and relaxation
Official Facebook Page at: https://www.facebook.com/HardCandyFitnessBerlin
More details at http://www.hardcandyfitness.com/

Madame X is available in Box Set, CD, Vinyl and Cassette!
Get your copy HERE!