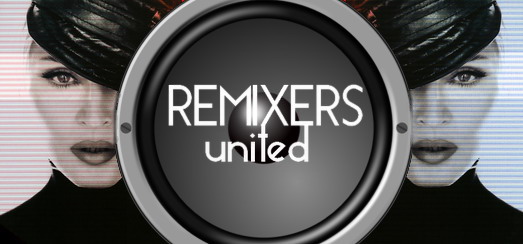 Madonna remixers, listen up!
Remixers United, created by fans for fans, is currently seeking talented, Madonna-loving remixers to be part of the fourth volume of Madonna: Remixers United.
Madonna: Remixers United 4 is currently in pre-production for release later this year on Christmas Day 2013 (not for sale, for promo only,) coming on the heels to 2 highly successful releases in 2013, Madonna: Remixers United 3 previously released on March 8, 2013 and Remixers United Presents: Madonna, The 1st Album Tribute released May 31,2013.
Presently, Madonna: Remixers United 4 is being slated for a 4 disc/40 song release. The goal is to find up to '20' talented remixers for inclusion on this massive project with each remixer mixing 2 songs from Madonna's vast catalogue. Are you up for the challenge? Our prior major release of M-RU3 during the week of March 8, 2013 reached 15,000+ fans in just that week alone and we continue to grow. So, we are looking for remixers that are comfortable with the exposure, have some background in remixing (you do not have to have remixed Madonna in the past) and have some sample of work (audio remixes) that can privately be sent directly to the Executive producer, DonnyO, or the 2 other producers, Dubtronic and Lukesavant via "Soundcloud.com"
Official rules (crucial and must be followed)

For consideration on Madonna: Remixers United 4
– Each Madonna remix must be either a brand new remix or a "previously unreleased remix" from 'your' catalogue.

– No two remixers can remix the same song, ***Example***: if someone wants to remix Hung Up, the first remixer that decides and formally notifies either the Exec Producer or the 2 other producers, that remixer will be the only remixer who can remix Hung Up. Reason: Part of the enjoyment of listening and remixing on these projects is to try to eliminate competition remixing. That is not the focus. This crucial rule has worked quite well for the project as a whole in the past. Upon your messaging us of your interest, please think about which Madonna songs you wish to remix. Please provide 3-4 options that you would be 100% comfortable with, as we may choose you but deny 1 of your song choices because another remixer may have already chosen one of your options and you may need to be comfortable remixing an alternate.

-We (Remixers United) do not provide you with the tools (acapellas, samples, software) needed to remix, we expect that you have these already and are capable of producing a remix primarily independently. We may however in 'some circumstances' aid you in general feedback which could include sharing of acapellas that are widely released/leaked or websites that are publicly known for having 'remixer tools', such as acapellas.

– All deadlines must be met and are stated early on in the process for allowance of meeting the deadline. This is all supposed to be a lot of fun and can be exhilarating. Please keep in constant contact with us about your mix or mixes so that we can all stay on track. Remember, this is a group effort and not only are we the producers counting on you, but so are your fellow remixers.

– Remixer casting ends Aug 31, 2013, Official start of remixer producing period.
– 1-2 minute previews due from all remixers by October 31, 2013
– Completed full remixes due by December 6, 2013
– Official track list released and Artwork begins December 7, 2013
– Official release date of Madonna: Remixers United 4 is December 25, 2013

DO NOT RELEASE YOUR FINISHED REMIX THAT IS TO BE INCLUDED ON MADONNA: REMIXERS UNITED 4 PRIOR TO DECEMBER 25, 2013!!! On December 25, 2013 you are free to promote your individual remixes and/or the whole Madonna: Remixers United 4 on any site you desire. Additionally, once your 1-2 minute previews are promoted and posted you may share the "previews only" on any site you desire. By the December 7, 2013 deadline for final tracks, you must also provide the official track name for your submission, once you decide this name, it cannot be changed as the artwork will begin to be produced and no track name changes can occur after this date. So name your tracks wisely and confidently.

– It is highly suggested that if you don't already have a Soundcloud.com account that you start one, it is free. On Soundcloud, you can share tracks privately with us and you as a remixer get an early sense of how the whole project is coming along, including receiving all full tracks not yet released for your own private listening pleasure (this practice has been in place since RU1) Also, Soundcloud is our preferred method of communication in addition to emailing. Soundcloud allows for us to verbally communicate and have immediate reference to the mix for listening, comments and so forth.

– For consideration: Please submit your prior Madonna remix work or non-Madonna prior remix work to the following links:

DonnyO (Exec Producer) http://soundcloud.com/donnyo/dropbox/profile
Dubtronic (Producer) http://soundcloud.com/dubtronic-1/dropbox/profile
Lukesavant (Producer) http://soundcloud.com/lukesavant/dropbox/profile

Additionally, you must provide an email address to DonnyO (Exec Producer, send email to: [email protected])
From time to time, we email all remixers outside of Soundcloud for updates about the project.

Only remixers that send their remix work for consideration to these 3 links will be considered. You are highly advised not to post your submissions directly on our facebook page which is public. Please use the soundcloud links just provided.

– If you are one of the lucky few that have been privately invited back, received a new private invitation or have previously been on a prior release of Madonna: Remixers United, you do not have to submit samples of your work, you are welcome to be part of this project, however you must still notify DonnyO, Dubtronic or Lukesavant of your intent to participate and intended Madonna songs you wish to remix. Do this sooner than later.
Thank you and we look forward to hearing all of your submissions for consideration!!!
Thank you,
Remixers United Team
WE DO NOT AUTHORIZE THE PIRACY OR DISTRIBUTION OF ANY REMIXERS UNITED MATERIAL FOR UNLAWFUL USE, SALE, FURTHER DISTRIBUTION OR IN ANY WAY THAT WOULD VIOLATE COPYRIGHTS OF ANY INTERESTED PARTIES ASSOCIATED WITH MATERIAL PRODUCED FROM REMIXERS UNITED. REMIXERS UNITED MATERIAL IS NEVER FOR SALE BUT FOR PROMO ONLY FROM THE WORKS OF THE MUSICAL ARTIST PAID TRIBUTE TO IN THE SPECIFIED ALBUM SERIES OR RELEASE.
Previous volumes:
– The First Album Tribute 30-Year Anniversary
– Remixers United Vol.3
More details at www.remixersunited.com and on their Facebook Page

Madame X is available in Box Set, CD, Vinyl and Cassette!
Get your copy HERE!