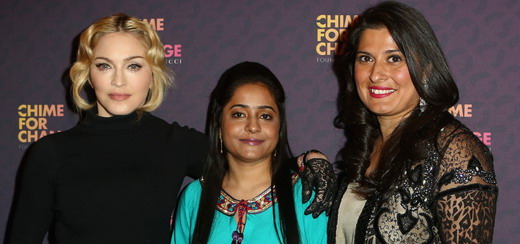 On June 1, 2013 Madonna announced her plans to support girls' education in Pakistan and Afghanistan through her Ray of Light Foundation at The Sound of Change Live concert which was presented by CHIME FOR CHANGE, a campaign for improved Education, Health and Justice for women and girls worldwide.
Madonna took the stage with Humaira Bachal, the courageous young Pakistani woman who has overcome extreme adversity to educate girls in Pakistan. During her speech, Madonna challenged everyone to join her "Revolution of Love" to "end violence, promote peace, demand justice and help ensure education for girls everywhere."
She asked viewers to help contribute to the building of a new and bigger school for Humaira's students and personally committed to funding the completion of the school's construction if viewers funded the first floor.
To help build Humaira's school, visit: http://ichime.in/madonnahumaira
Madonna also announced her plans to support Afghan women through the Afghan Institute of Learning and has offered to match donations 2:1 in support of this project. To donate, visit: http://www.catapult.org/team/madonna
To learn more about the Ray of Light Foundation and Madonna's Revolution of Love, please visit www.rayoflight.org
Source: Madonna.com

Madame X is available in Box Set, CD, Vinyl and Cassette!
Get your copy HERE!