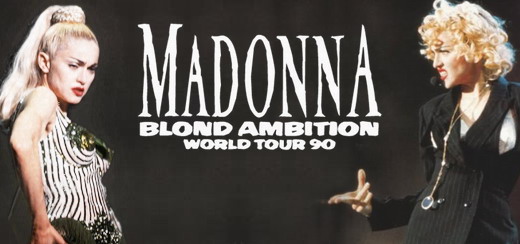 23 years ago, on April 13th 1990, Madonna kicked off one of her most iconic tours ever in Chiba, Japan. Of course we're talking about the Blond Ambition Tour! Four months, three continents, 57 dates, 4 cancelled shows due to throat problems, 18 songs and the iconic pony tail!
Costume design by the incredible Jean Paul Gautlier…
Stage preparations and dress rehearsals took place at the Disney Studios, Burbank, California, before the tour kicked off in Japan.
In support of her albums "Like a Prayer" and "I'm Breathless", Madonna performed 57 concerts in three continents: Asia, North America and Europe.
The first show in Japan did not go unnoticed, as it was right during the rainy season…
The Yokohoma concert was broadcasted on Japanese TV and later released on LaserDisc…
When she arrived in the USA, Madonna was still rocking the pony tail.
Here is some footage from the opening night in Houston…
The show's explicit overtone caused problems. In Toronto, police were alerted that the show might possibly contain lewd and obscene content (particularly a masturbation scene) and threatened charges unless parts of the show were changed. The show went on unaltered, however, and no charges were made after the tour manager gave the police an ultimatum: "Cancel the show, and you'll have to tell 30,000 people why. All of this can be seen in the "In Bed with Madonna" documentary.
Once in Europe, Madonna changed her hairstyle and she switched to short blonde curls, which gave her an even better look towards the end of the show after dancing and sweating for almost two hours.
The Pope called for a boycott of the show in Rome and when Madonna arrived at the Ciampino Airport, she addressed the press…
The European Blond Ambition Tour concert in Barcelona was broadcasted in various countries on TV, the Nice show was later released on LaserDisc and the incredible Paris footage shot by Alek Keshishian was used in the "In Bed with Madonna" documentary.

Madame X is available in Box Set, CD, Vinyl and Cassette!
Get your copy HERE!