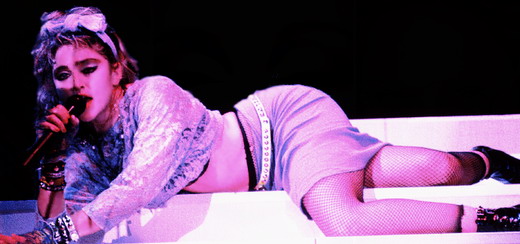 28 years ago, on 10 April 1985, Madonna kicked off her first tour "The Virgin Tour" at the Paramount Theatre in Seattle, in support of her first two albums "Madonna" and "Like a Virgin". After 40 dates, the tour ended on 11 June 1985 at Madison Square Garden in New York City.
Early on there were plans to visit the UK and Japan, but the tour was finally restricted to the United States and Canada.
In a 2009 interview with Rolling Stone, Madonna said…
The whole tour was crazy, because I went from playing CBGB and the Mudd Club to playing sports arenas. I played a small theater in Seattle, and girls had flap skirts on and tights cut off below their knees and lace gloves and rosaries and bows in their hair and big hoop earrings. I was like, "This is insane!" After Seattle all of the shows were moved to arenas. I've never done a bus tour. Everyone says they're really fun.
Setlist…
Dress You Up
Holiday
Into the Groove
Everybody
Angel
Gambler
Borderline
Lucky Star
Crazy for You
Over and Over
Burning Up
Like a Virgin
Material Girl
Even in 1985, Madonna was not loved by the press.
Here are some not-so-friendly reviews…
Rolling Stone – Madonna seduces Seattle by Michael Goldberg (May 23, 1985)
Her first show features all the hits and more..

Just how successful Madonna's first full-fledged concert was depends on how much you like to look at a pretty girl. Kicking off her U.S. tour in front of nearly 3'000 screaming teenyboppers at Seattle's ornate Paramount Theatre, Madonna was a sweaty pinup girl come to life. She wiggled her tummy and shoock her ass. She smiled lasciviously and stuck out her tongue. She rolled around on the stage and got down on her knees in front of a guitarist. And when she raised her arms, scanty see-through blouse also rose, revealing her purple brassiere. Oh yeah, she also sang.

Musically, the seventy-minute, thirteen-song performance was a satisfying, if unspectacular, re-creation of Madonna's records. She sang the hits ("Lucky Star", "Holiday", "Borderline", "Like A Virgin", "Crazy For You", "Material Girl"), soundtrack songs ("Gambler" from Vision Quest, "Into The Groove" from Desperately Seeking Susan) and hot album cuts ("Burning Up", "Everybody") in the same thin, sometimes squeaky and always tempting voice that by now you either love or hate. And her recently assembled band – a drummer, two guitarists, three synthesizer players – faithfully reproduced the exquisite disco sound of her records. One doesn't expect musical revealtions from Madonna – and one doesn't get any.

What Madonna is really about is sex, and there was plenty of that. The show began with glamourous close-ups of her projected onto five large screens that hung behind the band. Madonna then made her appropriately melodramatic entrance: a pink silhouette of her appeared on one of the screens, which rose, revealing the star, who descended a white staircase to the front of the stage, belting out "Dress You Up". Wearing a kind of neopsychedelic outfit – a coat embroidered with yellow-and-green and white-and-orange designs, a turqoise micro-miniskirt, a lace top, purple tights and black high-heeled boots – she looked like Susan, the character she plays in Desperately Seeking Susan.

Madonna's clumsy dance steps, funky costumes and camped-up-come-ons made her appealing and – surprise! – likeable. She's not some pefect, unattainable sexual icon; she's a real person, like her fans. (At least 80 percent of the girls had done their damnedest to mimic their idol's looks, from bleaching and tousling their hair to wearing such Madonna-associated items as see-through blouses, fingerless-gloves and crucifix earrings, which were on sale for twenty dollars in the lobby.)

"Will you marry me?" Madonna asked the enthusiastic crowd when she returned for the encore. As the audience screamed "Yes!" she sang a spirited version of "Like A Virgin" that included a bar or two of "Beat It" stuck in the middle.

Afterward, at a small celebration in her manager's hotel suite, Madonna was aglow. Sipping champagne, laughing about some writer who's written that she has set women back thirty years, she looked like a very happy star. "I was excited," she said of her first concert. "Excited and nervous."
New York Times – Madonna Sings At Radio City by Robert Palmer (June 7, 1985)
Madonna's rise from obscurity to the top of the pop charts has been so rapid that current concert tour, which arrived at Radio City Music Hall last night for a three-performance engagement, is the first chance her fans have had to see her in the flesh. And seeing her, cheering her on, and singing along with her hits was just what the night's exuberant crowd seemed to have come for. It was evident that they had come primarily to listen to her sing.

Two albums of expertly crafted dance music and a series of come-hither videos that featured her undulating midriff have made Madonna this year's most talked-about new star. The albums were put together by some of New York's cleverest and most successful dance-rock producers, with musical backing by a hand-picked corps of studio professionals. They present Madonna as a kind latter-day disco temptress, the "material girl" who can have just about any man she wants and who wants one with lots of money. The songs are catchy, in a mid-sixties Motown sort of way, and Madonna's vocal performances often recall the little-girlish sensuality projected by the young Diana Ross. In her videos, and on stage, she is more the vamp, wriggling and writhing in her revealing outfits, puckering her lips, looking sultry and so on.

The Music Hall crowd, primed by the records and videos, shrieked delightedly when they first caught sight of Madonna, before she had sung a note. They kept shrieking for every song, their Pavlovian responses suggesting the results of an experiment set up by behavioral psychologists in order to prove that Skinner was right after all.

Because the fact of the matter was that Madonna – backed by a competent but rather ordinary touring band – simply didn't sing very well. Her intonation was atrocious; she sang sharp and she sang flat, and the combination of her unsure pitch and thin, quavery vocal timbre made the held notes at the end of her phrases sound like they were crawling off somewhere to die. In her high octave range, she had a more attractive sound, with just a smattering of street-corner edginess to it. But this woman needs to see a good vocal coach before she attempts another tour. And one hopes that the next time she performs here, she will have learned not to toss tambourines into the air unless she's going to be able to catch them.
Variety (1985)
The power and influence of MTV was much in evidence as Madonna, music television's biggest star, strutted her stuff at the Universal Amphitheatre. We do mean strut. Music was clearly ancillary to this show, with rock's trashy, somehow charming sex queen pulling out all of her moves. The familiar, writhing, navel-stretching, girl-in-heat images of the videos were jacked up a risqu? notch or two as Madonna figuratively made love to the infatuated SRO crowd.

Looking like she stepped off the cover of Prince's psychedelic new Around the World in a Day LP, with peacock paisley top, denim micro-mini, blue suede ankle boots and crucifixes hanging from all points, Madonna played the boy toy role to a hilt, wriggling and snaking on all fours, introducing her "box" – a stage prop that served no apparent purpose other than to support this double entendre – and breathlessly asking the paramour crowd between songs: "Are you excited? … How excited? …"

All this is not to downplay the music. Madonna's hits – of which there are already a remarkable number, considering her brief career – are bonafide hits, strong catchy dance tunes sung in a voice that makes up in erotic personality for what it lacks in body and strength.

Renditions of the catalog were up to par with the records themselves, except for "Burning Up," a non-hit but easily the hottest song of the night, sung with an urgency that blew past all the singer's chronic teases.

But, for the most part, Madonna's singing was like a soundtrack to a more visceral display of herself, her persona, her nonstop dancing and her surprisingly explicit sexual dare, which included a visual climax – so to speak – to every song.

Somehow, despite the hard-core moves, Madonna did not really come off as naughty or menacing so much as solicitous and good-hearted, a kind of flirtatious, sugary sex fairy whose outrageous poses were really just a gift for the kids, a fantasy offering to help them grow up.

At show's end, Madonna made this explicit, revealing herself to be a good girl despite it all, following a coolly corrupt rendition of "Material Girl" with a surprising, almost plaintive question: "Do you really think I'm a Material Girl? … I'm not … Take it. I don't need money …," she cried, tossing handfuls of play bills into the crowd. "I need love …"

Madame X is available in Box Set, CD, Vinyl and Cassette!
Get your copy HERE!