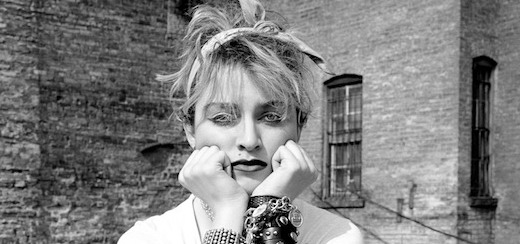 Last year, W Hotels Worldwide and vitaminwater, in partnership with Rock Paper Photo, announced MADONNA: A Transformational Exhibition. The exclusive traveling, multi-media exhibition features never-before-seen photographs of the music and fashion legend's iconic 1980s street style shot by celebrated photographers Richard Corman and George DuBose.
The exhibition already made stops in Mexico City, Singapore, Paris, Bangkok and Hong Kong. Have a look at some pictures of the premiere party in Paris!
On Thursday April 11th, they will be making their next top on its traveling, multi-media tour at W New York – Times Square.
Fashionista chatted with Richard Corman on how those photos came about and what Madonna was like back in the day…
How did you first meet Madonna? How did you end up shooting her?
I met Madonna through my mother, who was a major casting director in New York and she was casting a movie for Martin Scorsese called The Last Temptation of Christ. Madonna was this kid that was dinging around New York City that somebody had told my mom about and she came in and auditioned for the Virgin Mary. At the time I had just left apprenticing at Avedon's studio and I was always on the lookout for interesting people to photograph. She didn't get the part, but my mother called and she was just vehement that I get in touch with this young woman who she'd met because she said she'd never met anybody like her, that she was an absolute original, and that she was just so charismatic and off the charts, so that's how I was introduced to Madonna. I was given her phone number and the next day we met and we spoke. She knew that I was interested in photographing her and we talked about what I wanted to do what, she wanted to do, and that's how it all began.
Did you have any particular inspiration or look you were going for?
No, I was really winging it. When I went down there, in order for me to get into the building I had to call her to let her know I was across the street. I went into the building and the seas parted–there must have been 20 kids sitting on the stoop and in the hallway and then I went up to meet her. I really didn't know what I was getting into, but as soon as I met her, as soon as she served me espresso on a silver plated tray with Bazooka bubblegum, I knew I was in for a ride. The way she dressed, her sense of style was something that was unique at the time. Everything we did we just did together, there were no stylists or hair and makeup people. This was just two young artists meeting and taking pictures and just creating something…if we did this today, there would be 40 people around us. Back then, it was so organic.

Who were the kids in the photos? Did they know who she was?
Every day she would run up to the roof with [those kids] and bring her boombox and dance and sing with them. They knew she was this young singer that was running around town singing everywhere she could because she was so vigilant and so fierce in her attitude to get out there. She adored these kids and they adored her. She really was the pied piper of the Lower East Side. As soon as they heard her going up to the roof, all the doors opened in this tenement walk-up and they would follow her to the roof, so I was really almost a voyeur. What I photographed, some of it was contrived, but most of it was literally happening before my eyes. She said, 'Should I have the kids come up?' and I said, 'Absolutely; do as you would do.'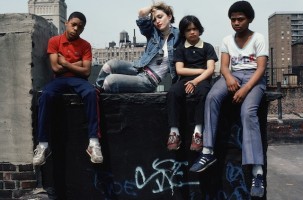 Was she dressed as she would normally dress?
She was wearing what she would always wear. Her makeup was beautiful–beautiful red mouth, beautiful smokey eyes–it's the same thing I would do on a fashion shoot today. The roots in her hair are so today. The reason why I'm showing them for the first time globally is because I think they're relevant today. I think this is what's happening today from a fashion and style sensibility. I'm not interested in bringing back old pictures and paying homage to madonna; I'm really paying homage to a period in time where there was this hysterical, creative spirit going on in new york, and I believe it's happening today, too. It's all of her styling. One shot, where she's sitting on the roof top, was from when she was auditioning for a part in an updated version of Cinderella and people were interested in casting her so that was her as if she was going to the ball and she had gone to some vintage store to pull an old gown for this shoot.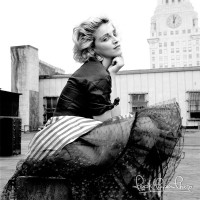 How did you get involved with W Hotels and Alec Monopoly? Why do you think your Madonna photos were chosen?
My illustrious gallery Rock Paper Photo pulled this collaboration together: they met with the W and Madonna seemed to fit the bill. They brought Alec Monopoly in, who, to me, is just a genius and what he's done is he's allowed me a totally different light to redefine the work, in the best way. He's the Keith Haring; he's the Basquiat of the moment. He's everyewhere and he and I have the most amazing relationship where I've given him images to paint on. There are people who've said, 'How dare you let somebody paint on your photographs,' and I would respond, 'How dare I not," and it's really given it a new definition. It makes it current, it makes it relevant. Back in the day, I was photographing Basquiat and Keith Haring–that whole group and they were all inspiring one another. Madonna was a catalyst in that group as well, so it was all of these originals that were collaborating.
For the first time on its traveling tour, visitors will be able to purchase select MADONNA photos showcased at the W Hotel properties featuring Alec Monopoly's signature 'Monopoly Man' tag. All proceeds will benefit Jeffrey Fashion Cares and will be available for purchase on www.rockpaperphoto.com/madonna.
Following the private event on the 11th, the photo exhibit will be free and open to the public at W Times Square with select photographs also on display at W Union Square, W Downtown, W Hoboken and W New York through May 12, 2013.
—
Elisabeth Laurence interviews Richard Corman for Lives of Style…

Madame X is available in Box Set, CD, Vinyl and Cassette!
Get your copy HERE!