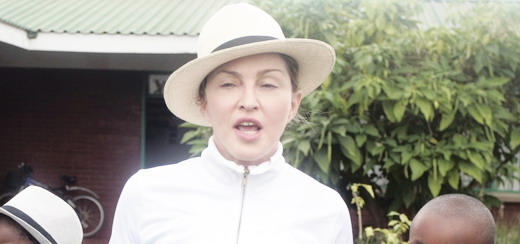 On Madonna's fifth day in Malawi, she visited the Consol Homes Orphan Care Centre outside the Malawian capital Lilongwe, and spoke to the media of the reasons she had returned to the country.
Here's a transcript by Madonnarama…
Hello,

I just wanted to say how happy I am to be here, in Malawi. It's been a few years and lots has changed. I see a lot of change for the good.

I'm happy to be here at Consol Homes where a lot of progress has been made and all the other places that we've visited all week, I've seen a lot of amazing things happening and met with a lot of amazing people.

I feel very welcome here and I want to say that my reasons for being here have never changed.

I'm here because I care deeply about the children of Malawi. That is my main priority. So regardless of the challenges, the ups and the downs, the things that I've learned – I've learned a lot in the last seven years – I have not forgotten my commitment to the children, the orphans, specifically all children of Malawi.
It's my goal to continue to work with them and do everything I can, specifically in the areas of education and healthcare.

Thank you for being so welcoming.

Madame X is available in Box Set, CD, Vinyl and Cassette!
Get your copy HERE!