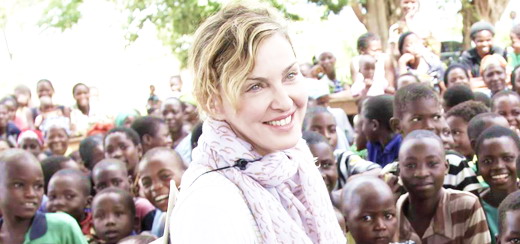 Madonna arrived Monday in Malawi together with her family to tour the 10 school wings she has helped to build with the non-profit organization BuildOn. She has been posting pictures on Instagram since her arrival.
On Tuesday, April 2nd, she visited the Mkoko Primary School in Malawi's central Kasungu district. As the Malawians people danced around her, she said…
Zikomo! (Thank you!)
I love Malawi, I am committed to help end poverty here.
Yesterday, April 3rd, she visited the Home of Hope orphanage, where she adopted David Banda, in the western district of Mchinji near the border with Zambia.
She said…
I'm happy that David is back to see his brothers and sisters
Today, April 4th, Madonna spent her fourth day in the southern African country of Malawi, picking up ailing children and joking with them when she visited an overcrowded children's ward in Blantyre, the country's largest city.
She greeted them in Chichewa, Malawi's main language…
Muli bwanji? (How are you?)
With her son Rocco, Madonna also visited the Elizabeth Central Hospital, which she has been supporting for five years through its chief pediatrician, Dr. Eric Borgstein.
She added…
Eric Borgstein is a hero of mine. He is doing a wonderful job.
The ward performs at least 500 surgeries per year on poor children, said Borgstein.
Madonna is the largest individual donor to the hospital and funds programs run by Borgstein that include treating children with cancer, said Trevor Neilson, president of the Global Philanthropy Group that is managing Madonna's projects in Malawi.
Madonna visiting the Elizabeth Central Hospital (4 April 2013)
Madonna visiting the Home of Hope orphanage (4 April 2013)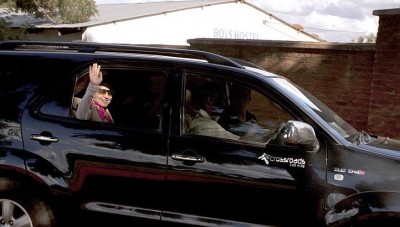 Madame X is available in Box Set, CD, Vinyl and Cassette!
Get your copy HERE!