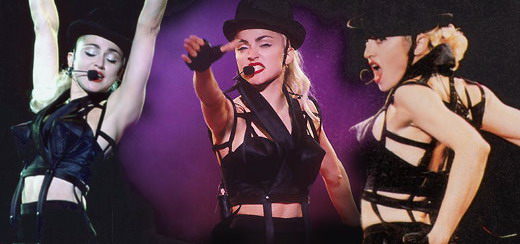 A new documentary "The Man Behind the Throne" directed by Kersti Grunditz about choreographer Vincent Paterson features some never-before seen rehearsal footage of the "Keep it Together" performance from the Blond Ambition Tour.
World-renowned choreographer/director/producer Vincent Paterson '72 has created iconic moments in the careers of some of the world's top international artists, including Michael Jackson, Madonna and Bjork. He worked with Madonna on various projects, including the Blond Ambition Tour and the iconic "Vogue" performance from the 1990 MTV Awards.
Have a look…
Madonnarama can also confirm that the full documentary contains a longer section of the rehearsals with Madonna.
The documentary will not be released online due to restrictions in music licenses set by Warner and Sony, but they have contracts on rights for broadcast and festivals.
Madonna fans, the film will air on Sunday, March 31 at 10 p.m. ET/PT on CBC News Network and the US premiere will be at the Camera Dance West – Media Dance Film Festival in LA on May 3rd.
Here is the official trailer…
Follow sceeenings and airdates on www.themanbehindthethrone.com and like it on www.facebook.com/themanbehindthethrone

Madame X is available in Box Set, CD, Vinyl and Cassette!
Get your copy HERE!