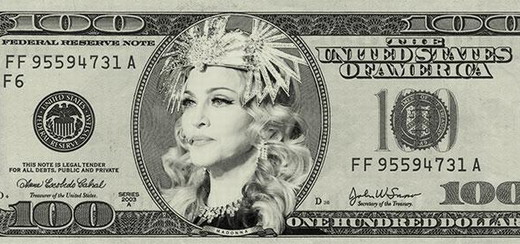 Billboard ranks the highest-paid musicians of the past 12 months and Madonna stands on top!
1. Madonna – $34,577,308.62

Thanks largely to her blockbuster MDNA tour, the Queen of Pop reigns at No. 1 on the Moneymakers list for a second time. (She first crowned the tally for earnings in 2008.) MDNA was last year's -biggest tour ($305 million gross), and the No. 10 top-grossing trek of all time. The 88-date tour earned Madonna an estimated $32 million in 2012. The globetrotting tour also supported her MDNA album, which debuted at No. 1 on the Billboard 200 and generated $1.5 million in physical and digital album sales for the artist. Her first studio release under a 360 deal with Live Nation, MDNA was released and promoted through Interscope, with U.S. sales buoyed by a promotion in which tour ticket buyers had an option of receiving the album as part of their purchase.

2. Bruce Springsteen – $33,443,606.64
3. Roger Waters – $21,160,131.06
4. Van Halen – $20,184,709.91
5. Kenny Chesney – $19,148,525.24
6. Dave Matthews Band – $18,903,334.14
7. Tim McGraw – $18,329,167.89
8. Jason Aldean – $17,578,651.96
9. Coldplay – $17,300,144.34
10. Justin Bieber – $15,944,293.10
Source: Billboard

Madame X is available in Box Set, CD, Vinyl and Cassette!
Get your copy HERE!