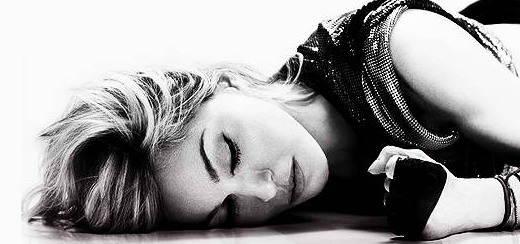 Paloma Faith disgusted by Madonna
Paloma Faith has criticised stars like Madonna who charge fans high prices for gig tickets. She told the Mirror…
Because I'm a socialist, I think it's disgusting when Madonna and co set ticket prices at £300. I don't believe in elitism.
Brahim Zaibat in VMan magazine
Madonna's boyfriend has been photographed by Sebastian Faena and is featured in the latest issue of VMAN magazine.
More at VMan.com
Madonna and the Hard Rock Cafe
From 21 February to 1 March 2013 the Hard Rock Café in Charlottenburg-Berlin will be showing off twenty celebrity outfits from stage performances or music videos, including a Madonna cowboy outfit.
Source: Qiez
Brahim and Madonna's Valentine's plans
Brahim Zaibat, walked the runway at Wednesday's Jeremy Scott Fall 2013 fashion show at New York Fashion Week, where he revealed to ET his Valentine's Day plans with his girlfriend of two years.
Go out, have dinner or something like this, watch a movie — like everybody else. Valentine's Day for me is every day. There is no one day for love. If you love, it's every day.
So who's the more romantic of the two?
"Both of us. Equal — we are equal," he laughed. "Give her love every day I think is the most romantic. There is nothing more romantic than giving love every day I think."
Life&Style had a picture of Madonna and boyfriend, Brahim Zaibait, attending the Ryan Leslie concert in NYC on Valentine's Day.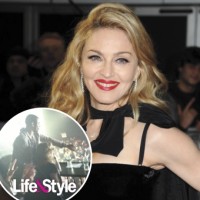 MDNA Tour dancer Lilou
Lilou told French website Ouest France how he got picked by Madonna as one of her MDNA Tour dancers…
She liked one of my shows and that's why I got booked for her tour in 2012. I also choreographed some parts of her show. It's great to see other dancers execute your own choreography.
Nicole Winhoffer on Madonna
Madonna's personal trainer Nicole Winhoffer, who worked on the "Addicted to Sweat" DVDs, recently told The Huffington Post…
To work with Madonna, a woman that is so dedicated, that is so persistent and is so detailed oriented and is so hardworking is something that is inspiring. I get to learn every single day. She always asks questions, I have to know the answers and find solutions. She has taught that anything is possible and you learn so much about yourself working for her. She wants the best from everyone around her. She's always looking for new things and always thinking outside the box.
Most Viewed on Wikipedia
Wikipedia has posted the most viewed pages on their website in a one hour period, since January 1, 2010 (excluding duplicate entries and DOS attacks). Madonna is number four on the list!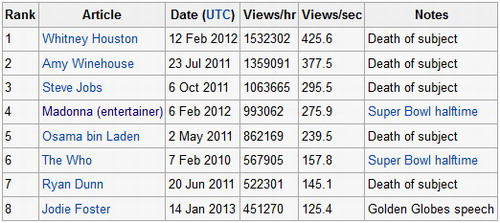 Thanks @runaway_lover
BBC Radio 2's 100 Most Played Albums Vote
This February, BBC Four, Radio 2 and 6 Music are celebrating The Golden Age of the Album.
Madonna's True Blue has been selected. You can vote here!
Vote for The Most Entertaining Tour Of All Time
Ryan Seacrest has launched a "Most Entertaining Tour of all Time" poll on his website. Madonna's Blond Ambition Tour has been selected. You can vote here!
Truth or Dare by Madonna Intimates
Available at Macy's
St. Petersburg City Court Sides With Madonna in Lawsuit
The St. Petersburg City Court upheld the rejection of an 333 million-ruble ($11 million) suit against Madonna for violating a local law banning homosexual "propaganda" as lawmakers debate similar federal legislation.
The court in St. Petersburg, the second-biggest Russian city and the hometown of President Vladimir Putin, affirmed a Nov. 22 district court decision, said Daria Dedova, one of the suit's plaintiffs, in a phone interview today. The court reduced the court fees for each plaintiff from 60,000 rubles ($2,000) to 7,500 rubles, according to a court spokesman.
Source: Bloomberg.com
Hard Candy Fitness Moscow & Santiago Grand Opening
Thanks Sergey
Truth or Dare at WalMart Store in Phoenix Arizona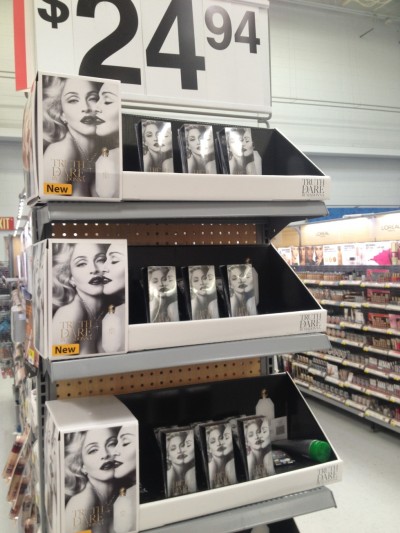 Thanks Johnny
Madonna for Dolce&Gabbana Summer 2013
Dolce&Gabbana's Summer 2013 collection includes some Madonna inspired T-shirts for women. Prices go from 165€ to 295€ and are available at Luisa Via Roma.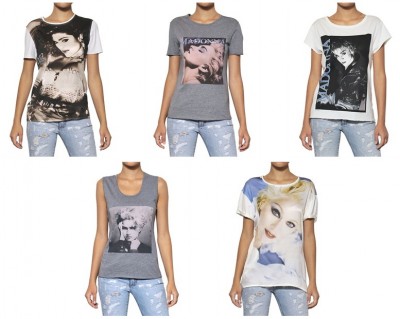 Hung up on Glee
The latest Glee episode "Diva" featured Madonna's Hung up…
MDNA Tour auction
According to the New York Post, Madonna will be auctioning off items from her record-breaking MDNA Tour to benefit Sandy victims. The items may include the majorette costume and the caged basque she wore onstage, as well as props for the set (but not the gun she used for the gig).
Madonna's Halftime Show Most Watched Ever
According to SB Nation, Madonna's halftime show remains the most watched ever at 114 million viewers. In comparison 100 million US viewers tuned in to watch Beyonce. This year's halftime show scored a 48.2/71. That's down from the 48.1/72 of Madonna's 2012 halftime performance.
MDNA Tour Watch
Madonna MDNA Tour watch now available at the official Madonna store…
Tick-tock-tick-tock! The Madonna MDNA fashion watch features the MDNA logo on the front of a white-faced, silver-backed time piece, with a white wristband. Comes in a soft pouch featuring the MDNA World Tour artwork.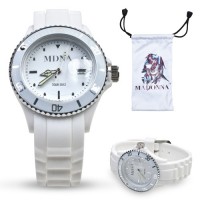 Madonna tops Rolling Stone's "The Greatest Super Bowl Halftime Shows" Readers' Poll
Madonna had a very ambitious tour plan for 2012, and the single best way to promote it was a Super Bowl halftime show. She went all out for the performance, bringing in Cee Lo Green, LMFAO, Nicki Minaj, M.I.A. and even acrobats. The set was wall-to-wall hits with her pretty flaccid new single "Give Me All Your Luvin'" in the middle. M.I.A. tried to perk up the song by sticking her middle finger up on camera, which didn't exactly thrill Madonna or the NFL – though next to Nipplegate, it was a pretty tiny scandal. The next day, tickets went on sale for her world tour and sold out everywhere.
More…
24 Years of Express Yourself
Fan MDNA Tour
Madonnarama reader Philip's MDNA Tour experience in the Golden Triangle has been covered by GayPV…
Madonna wins court judgment for $40,000
Madonna's first-ever concert in Kyiv last August left lots of fond memories for fans, but a legal nightmare for the show's organizers. Melnitsa International, who brought the pop queen to Ukraine, lost a lawsuit on Jan. 18 for apparently violating Madonna's copyright.
The company was ordered by a Kyiv district court to pay Hr 1.09 million($136,000) in damages, including Hr 322,866 (about $40,000) to Madonna herself.
The lawsuit against Madonna's concert organizers was instigated by the state Ukrainian Agency for Copyright and Related Rights. The agency's role is to collect royalties in Ukraine from concerts, clubs, radio stations and so on, and pass the cash on to official representatives of artists.
By law, concert organizers have to pay 5 percent of their take to copyright holders on top of the sum indicated in the direct contract with the singer.
The regulating agency claimed that Madonna's concert organizers breached her copyright, as well as the rights of 46 authors of the songs performed during the concert, because they failed to sign an agreement with the state body before dealing with Madonna, and instead paid her royalties to an irrelevant company.
What got the company in legal trouble is choosing to deal with a private copyright management company, House of Music Authors. Maria Borodina, a lawyer for House of Music Authors, said her company also has contracts with international copyright agencies that represent artists like Madonna. She says she was "shocked" by what she considers to be a biased court decision.
Oksana Yefimchuk, a lawyer at Jurimex, who specializes on copyright issues, says that most copyright agencies in Ukraine, especially government ones, have bad reputations. "The money they collect often doesn't reach copyright holders and is hanging on their banking accounts," she says.
Source: KyivPost
Madonna is back on Instagram
The first pictures on Madonna's official Instagram account were posted back in November 2012 for the promotion of her MDNA Tour. Last week, she decided to change it up a bit and posted new pictures.

Madame X is available in Box Set, CD, Vinyl and Cassette!
Get your copy HERE!